Visakhapatnam, bestowed with incredible beaches, beautiful hill caves, stunning valleys, religious temples, vibrant lakes and astonishing natural beauty, promises to offer an unforgettable 2-day vacation that is incomparable to any other place in India. Whether you are a solo traveller, a couple or travelling with family, the city never lets you get bored at any time of the day.
Nestled on the eastern part of Andhra Pradesh, Visakhapatnam, shortly recognized as Vizag, is a one-stop destination for all sorts of entertainment and has everything that you need to experience a wonderful time on your holiday. It is one of the few places that offer the best of both modern and traditional world to nature admirers, pet lovers and environmental enthusiasts.
Walk around the ancient sites to revisit the glorious moments of history again. Enjoy a visit to the religious temples to offer your prayers to God. Take your kids to the zoo and amusement parks. Explore the fine-dining eateries on your way. You can also complete your 2 days in Vizag with some shopping. Other than that, there are several adventure activities for adventure seekers as well. All-in-all, it won't be wrong to say that the city will leave you speechless with its enriching, exciting and refreshing experience.
Combining the old heritage with rich culture, the city maintains good connectivity to the neighbouring towns and other states through airways, railways and roadways. You can choose your favourite mode of transport and travel at your convenience.
The Best 8 Places to Visit on your 2-day Trip to Visakhapatnam are: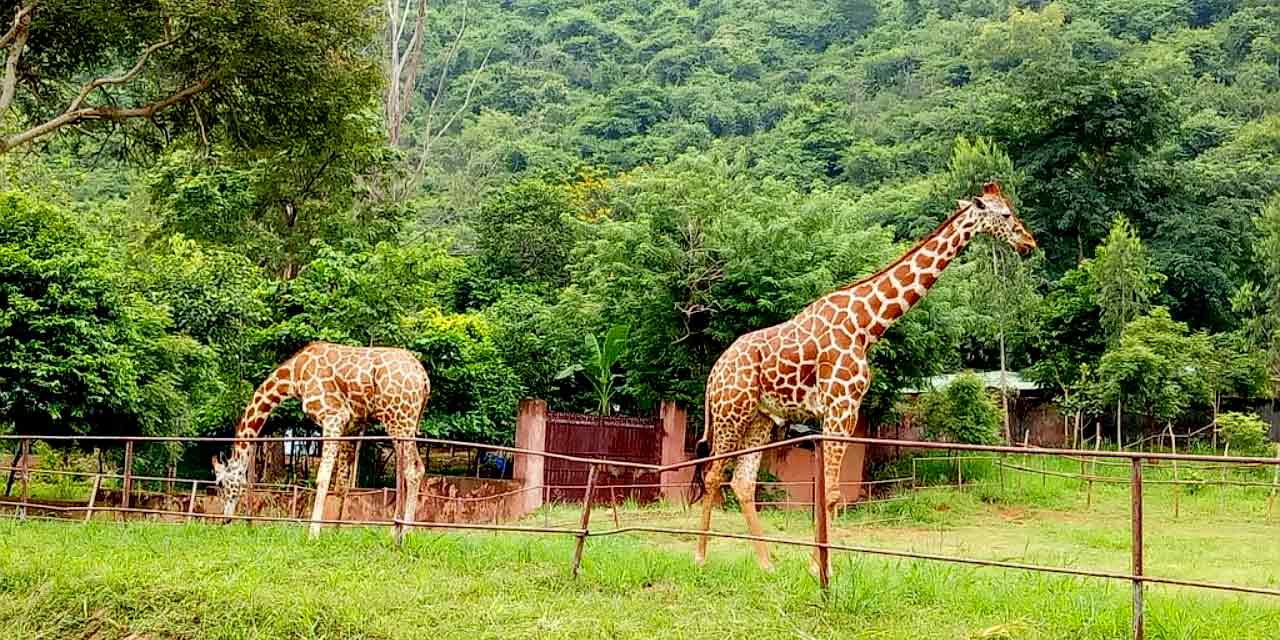 Famous for its wildlife sanctuary, Indira Gandhi Zoological Park is the third largest zoo in India that you can plan to explore on your 2-day visit to Visakhapatnam. Spanning over an area of 25 acres, the zoo opened its gates for the public on May 19, 1977, and is named after Indira Gandhi, former Prime Minister of India.
An ideal place for animal lovers, the Indira Gandhi Zoological Park houses nearly 800 species of animals that are categorized into different sections as mammals, primates, ungulates, carnivores, reptiles and many more. Besides, there is also a separate section for butterflies and moths to spread awareness about wildlife conservation. You can also enjoy a mini train journey inside to have a quick view of the park.
To enter the zoo, you need to pay INR 20 per person for adults and INR 10 per person for children aged between 3 to 12 years old. Tourists can visit anytime from 9:00 AM to 5:00 PM on all days of the week except on Monday.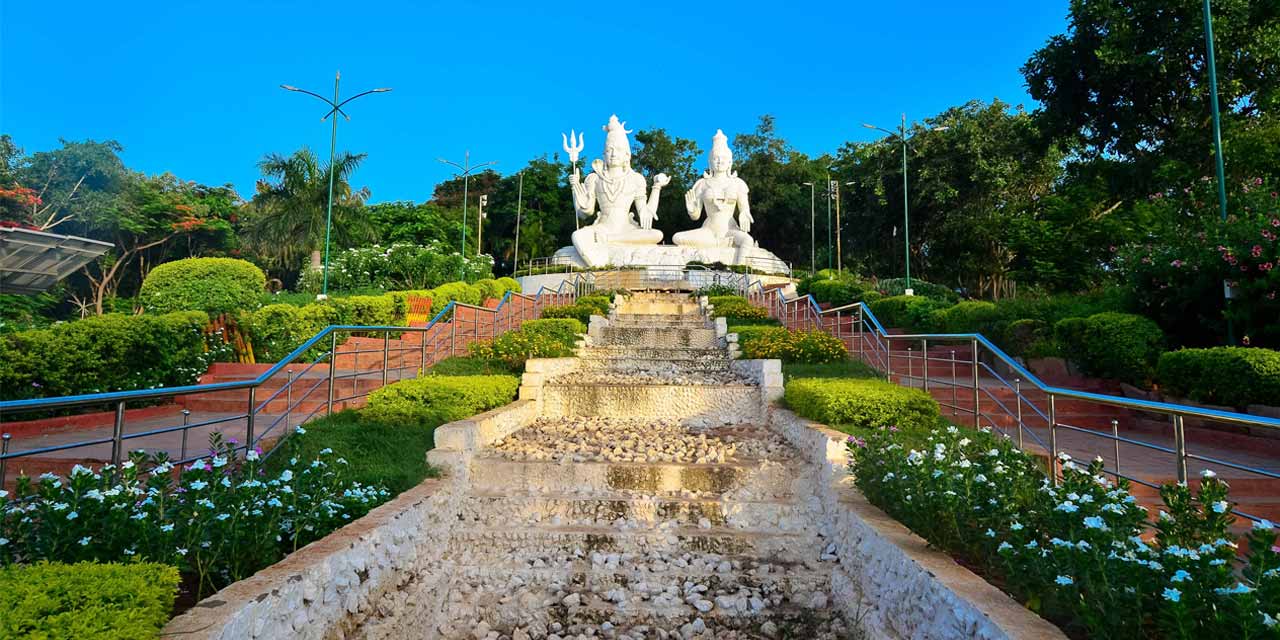 Be sure to visit Kailasagiri Park in Visakhapatnam if you are in the city for 2-days. Overlooking the sandy beaches and dense forests, the Kailasagiri Park lets you enjoy a bird's eye view of the bay from the top of the hill, which is perched at 360 feet above the sea level. It is a great picnic spot for families to have some fun time with their children.
From an amusement park offering a wide variety of recreational games to adventurous sports such as paragliding and horse riding, there are so many things to see and do throughout the day. Another highlight of the park is the statue of Lord Shiva and Parvathi, which stands at a height of 40 feet.
The entry fee to visit Kailasagiri Park is INR 5 per person for pedestrians, INR 20 for 2 wheelers and INR 50 for 4 wheelers. It is open for its visitors from 6:00 AM to 7:30 PM on all days of the week.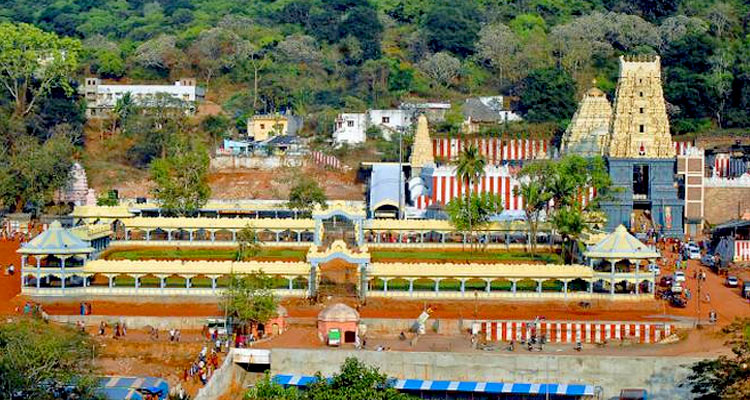 Simhachalam Temple, boasting of an excellent hilltop location with lush green surroundings all around the place, offers holy vibes to the devotees of Lord Narasimha. Also recognized as Simhadri Temple, the temple holds much importance among locals and is a must-visit pilgrimage centre for the Hindu community.
Located on the outskirts of Visakhapatnam, Simhachalam Temple draws thousands of tourists every day, owing to its strong traditional values and rich significance of history. It follows a strict discipline throughout the year and has detailed prayer routines for all days. Here you can also enjoy a nice view from the top other than worshipping Shri Varaha Lakshmi Narasimha Swami, who is believed to be an incarnation of Lord Vishnu himself.
To seek the blessings, you can visit the temple at any time. However, to avoid the crowd, it is advisable to go early in the morning. The entry fee for special darshan at the temple is INR 100 per person and it is open for its visitors from 7:00 AM to 4:00 PM and from 6:00 PM to 9:00 PM on all days of the week.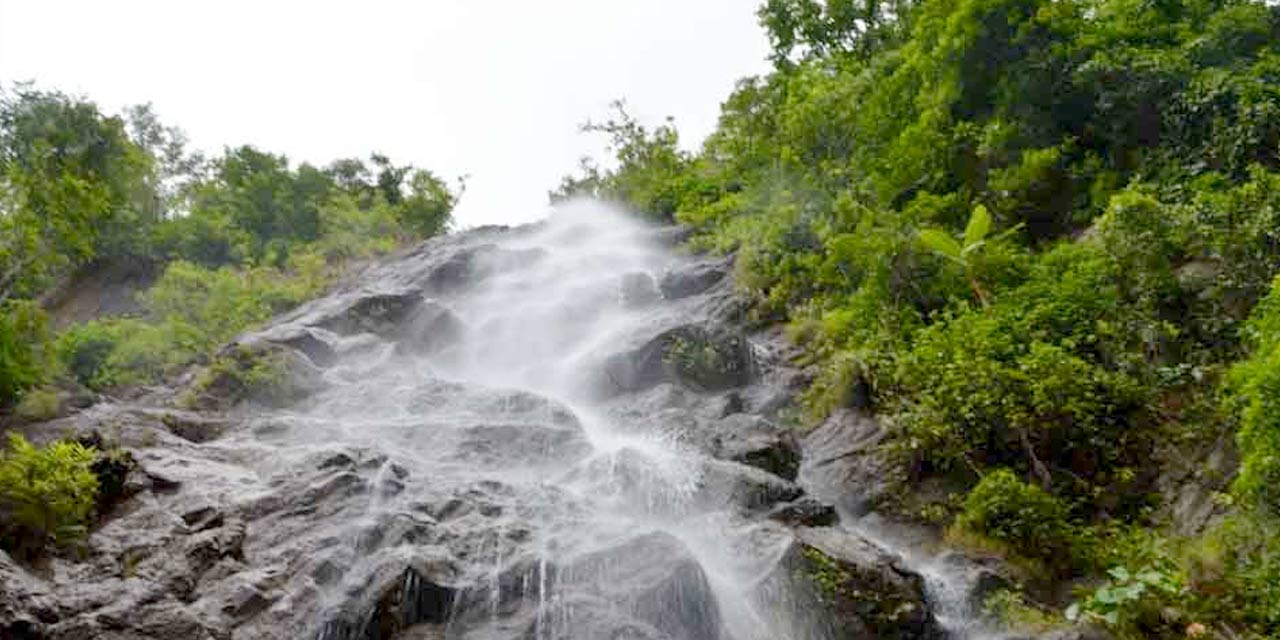 A standout among the topmost places to visit in Visakhapatnam, Katiki Falls is an excellent destination for tourists to beat the heat of warmer areas in the summer season. It is a go-to place for a half-day excursion and offers a pleasant atmosphere to soothe your mind and soul.
The enchanting waterfall falling from a height of 100 feet provides calmness to eyes and the cool breeze when combined with lush greenery allows you to breathe in the fresh air. Get ready to dance to the tunes of birds singing as you soak your feet into the water. There are also several food eateries where you can stop to satisfy your appetite with delicious snacks and beverages.
The best time to visit Katiki Waterfalls is between September to February. During this time, the weather remains dry all the time. Also, you don't need to pay anything to enjoy the unexplored beauty of the waterfalls. It welcomes its visitors from 6:00 AM to 7:00 PM on all days of the week.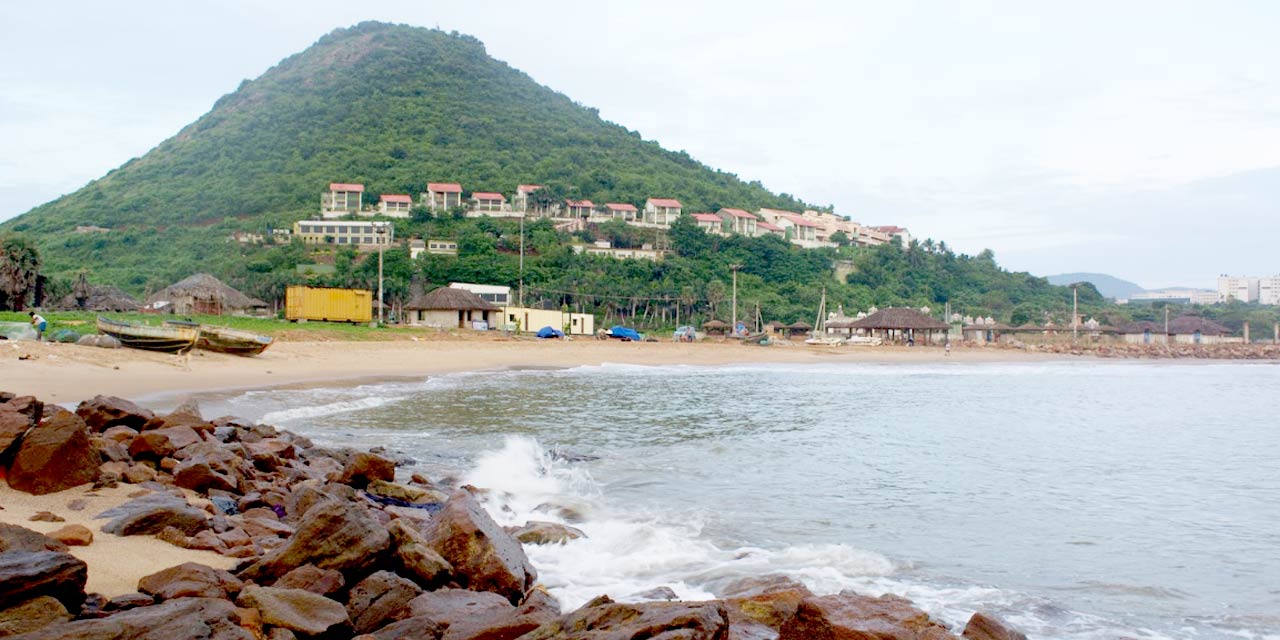 No trip is complete without enjoying some beach life at the sandy beaches and the Vizag tour is no different. Situated 8 km from the centre of the city, Rishikonda Beach is one of the cleanest beaches of Visakhapatnam and offers beautiful views to tourists of all ages.
Rightly known as the Jewel of the East Coast, the slushy shoreline, awe-inspiring hills and green plants inspire you to sit back and relax at the beach for long hours.
Scattered with golden sands and outstripped by volcanic sounds, the beach also allows people to try their hand at various water sports such as snorkelling, boating, kayaking, diving, parasailing, jet skiing and windsurfing. Additionally, you can take a refreshing plunge in the water under the supervision of professionals. There is no entry fee to visit Rishikonda Beach in Visakhapatnam and it is open for its visitors throughout the day.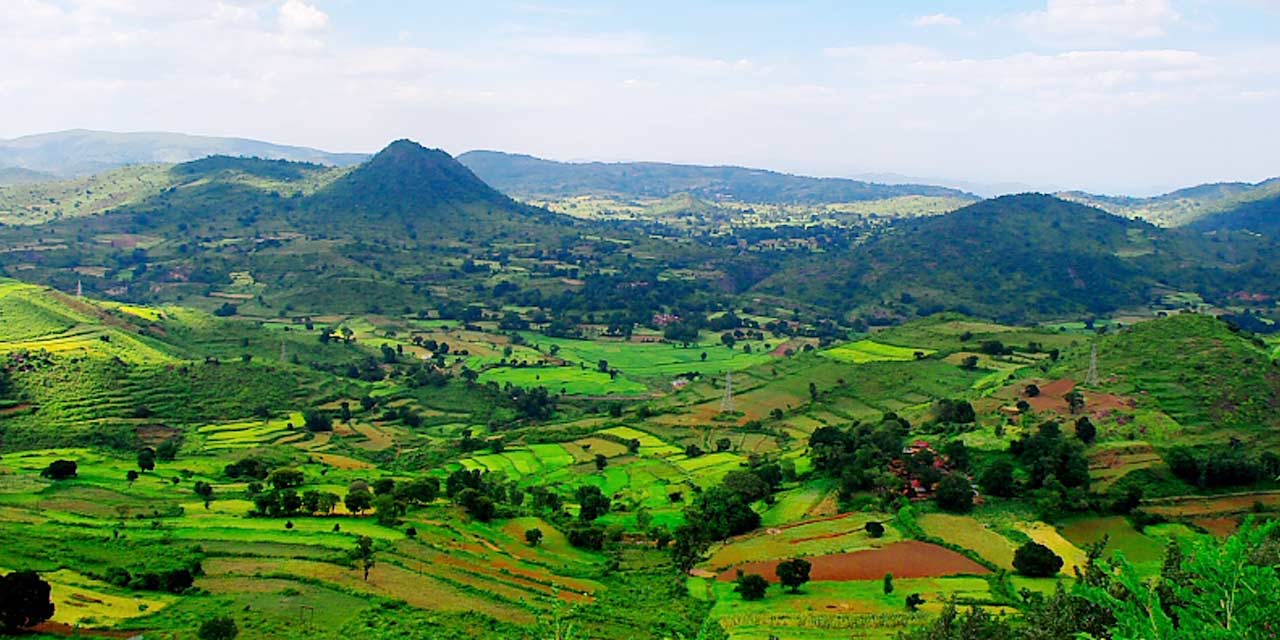 Treat your eyes with the best of views at Araku Valley. Perfect for honeymooners, experience seekers and sightseeing lovers, the Araku Valley is a mesmerizing wonder for all those who are looking to relax and rejuvenate amid serenity and tranquillity. It is an idyllic destination for tourists to enjoy leisure weekend on their 2-day trip to Visakhapatnam and is no less than a heaven for photographers.
Widely known for its exquisite taste of coffee, the first thing that catches the interest of visitors in Araku Valley is the tall coffee trees that encourage you to indulge in its subtle aroma with a sip. In addition, there is a botanical garden for kids to enjoy the ride in the toy train, a tribal museum for history buffs and several adventurous activities for adventure junkies. Do not forget to try the chicken cooked in bamboo; it tastes fantastic.
There is no entry fee to visit Araku Valley in Visakhapatnam and it welcomes its visitors throughout the day. You can plan a trip to Araku Valley between September and February to make the most out of it.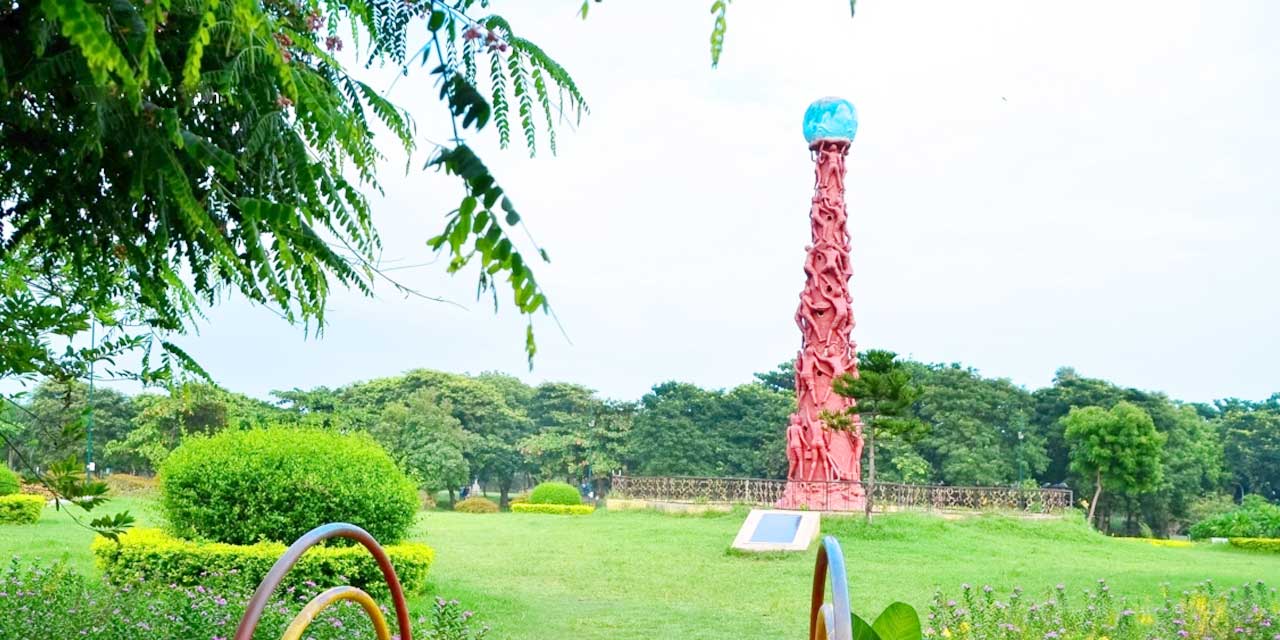 Enjoy some joyous and happy moments with your family at VUDA City Central Park. A popular recreation centre for locals, the VUDA City Central Park is spread over an area of 55 acres and is well-maintained by the local development authority.
Admire the natural beauty while enjoying morning and evening walks. Laze around in its beautiful garden, which are more than 2500 shady trees along with plenty of colorful flowers and plants. Spend some time at the fun-filled rides. For adults, there is a musical fountain and for children, a separate kid's area with a skating rink is also there for some enjoyment.
The entry fee to visit the VUDA Park in Vizag is INR 20 per person for adults/children from 9 AM to 2 PM and INR 60 per person for adults/children from 2 PM to 8:30 PM. It welcomes its visitors from 9:00 AM to 8:30 PM on all days of the week.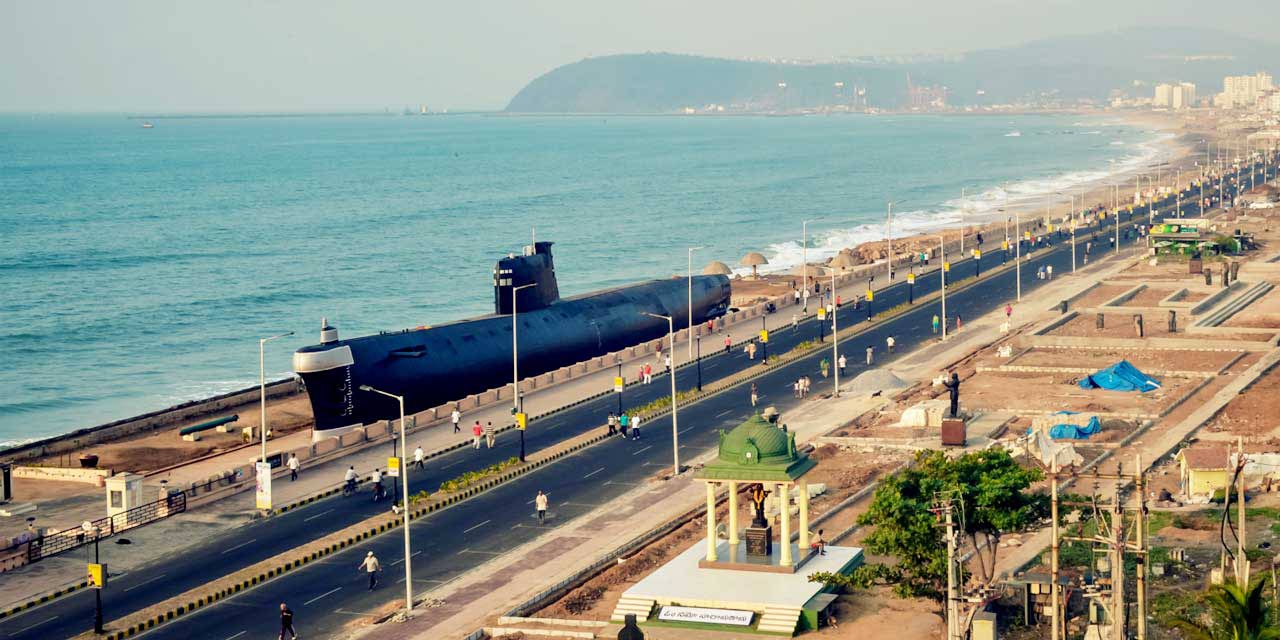 If you want to discover everything about the day-to-day lifestyle under the sea, then there is no place better than the Submarine Museum. Nestled in the south-eastern state of India, Submarine Museum is a place where you can learn more about the strengths and sacrifices of the warriors through several pictures, articles and artefacts.
Owing to its history, the museum plays a vital role in spreading knowledge about the technologies used in India for Naval Forces. The overall architecture makes it look unique from other museums and motivates you to join the team of Navy people.
The entry fee to visit Submarine Museum is INR 40 per person for adults and INR 20 per person for children below 12 years. It is open for its visitors from 2:00 PM to 8:30 PM from Tuesday to Saturday and from 10:00 AM to 12:30 PM and from 2:00 PM to 8:30 PM on Sunday. The museum is closed on Mondays. You can also bring your camera along at INR 50.
---
The 'Gem of South India' has a lot more for its travellers than just a few places of interests, thus exploring everything in 1-2 days might not be possible for anyone. If you are planning to spend more days in the city, you can choose from a variety of Vizag tour packages.
We at Vizag Tourism, a division of Holidays DNA, offer the best travel deals at pocket-friendly prices. Our team of experts helps you plan your itinerary catering to your holiday budget and duration in mind. You can also take assistance from our professionals to cover the best sightseeing places on your 2-day visit to Visakhapatnam.
For your utmost comfort, we have also curated a list of top car rental companies in Vizag for commuting within the city. What else do you need? Just fill the Contact Us form to know more about our services!