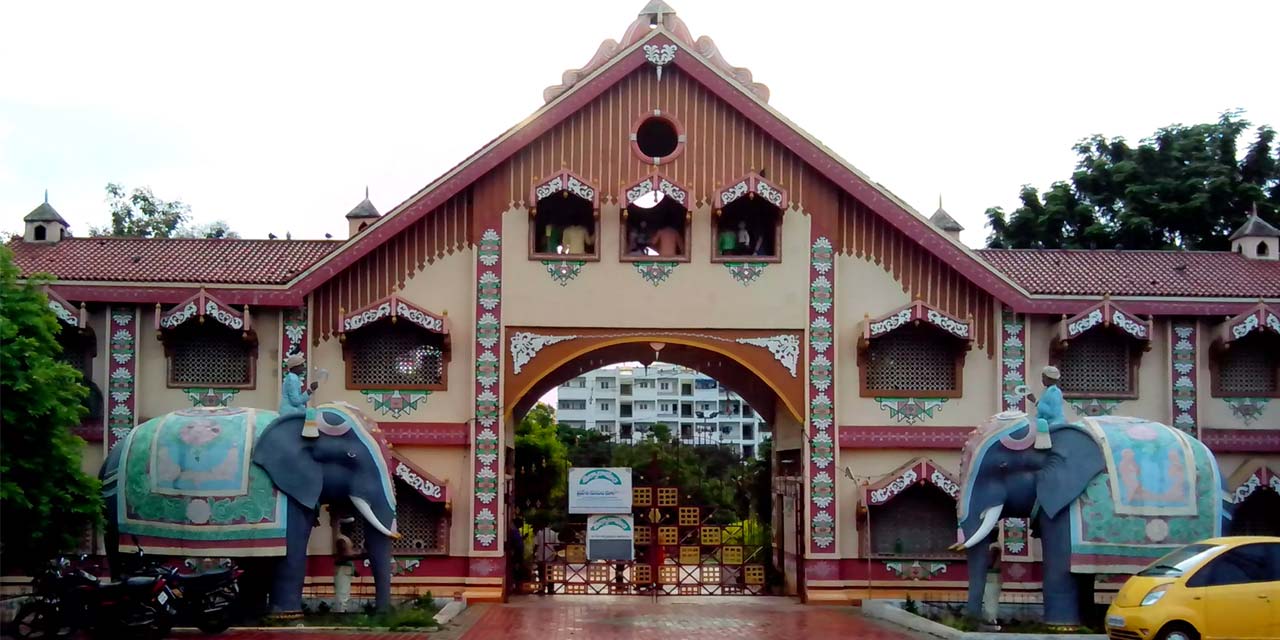 Shilparamam Jathara Vizag Entry Fee
Shilparamam Jathara Vizag Phone
N/A
---
Rating:
| 4/5 stars
Based on total 54 reviews
Shilparamam Jathara Vizag Address: NH16, Pothinamallayya Palem, Visakhapatnam, Andhra Pradesh, 530041 India
---
Shilparamam Jathara Vizag is an art and craft village in Madhurawada, Visakhapatnam and is a popular sculpture park. The idea behind building this village was to create and preserve traditional crafts and give them an environment to facilitate their growth. This crafts village was started in the year 2009 and is spread over a sprawling 28 acres (110,000 m2) of land in Madhurawada. Shilparamam Jathara aims to showcase the traditional art and culture for its visitors and to create awareness about its beauty.
The entrance to the village has been made to replicate a village house with three windows at the top. You can see sculptures of villagers looking down from these windows. Shilparamam is surrounded by beautiful landscape and the entrance to the village is decorated artistically. There are 36 stalls at the village that display woodworks, clothes, jewelry and local handicrafts of each region of the country. Each stall also keeps a variety of traditional produce.
Sculptures at Shilparamam Jathara in Vizag
Visitors to the village will find handmade sculptures by regional and local artists here. One of the displays here shows the entire family of a potter engaged in their craft on the pottery wheel. Some other interesting sculptures at the village include a life-like pair of bulls, the sculpture with the face of Mother Teresa, and that of a hermit.
Walking around this park, you will be able to spot several sculptures that are a beautiful work of art like that of two ladies sitting atop a circular platform. At the background of this sculpture and hidden among trees is the sculpture of a giant multicolored grasshopper. There are giant elephant statues here that form the perfect backdrop for visitors to take pictures. A long list of sculptures of villagers which lines the pathway looks quite impressive.
Life scenes have been recreated in this village through the means of sculpture, like that of a snake charmer sitting under a tree. Another magnificent scene created at the park is that of ladies from a village gathered around the village well. There is a model of a traditional fishing boat too at the village with sculptures of fishermen around it.
Wildlife has been depicted beautifully at Shilparamam Jathara through sculptures like that of a chicken hatching out of an egg. Kids visiting the place love the section titled jungle adventure which has statues of animals. This village is known not only for its sculptures made out of clay but also for those that have been created out of metallic waste like chains, nuts, and bolts.
Other activities at Shilparamam Jathara
The jogging track at the village is used by morning walkers who love to breathe in the fresh morning air while their eyes feast on the lush green environs. Children have a fun time at the village, enjoying the rides in the kid's play area. There are bouncy, trampoline and several swings in this area.
One of the highlights of Shilparamam Village is its Bird Enclosure that houses several bird species both domestic and international. There is an amphitheater in the village which has a total capacity of 1000 members and is used for organizing cultural events. Recently a night bazaar has also been started here for visitors to shop, enjoy lip smacking delicacies and have some entertainment.
Image Gallery of Shilparamam Jathara Vizag
Places to visit near Shilparamam Jathara
1. Kailasagiri: Huge idols of Lord Shiva and Goddess Parvati in white welcome the visitors to this picturesque park. Located atop a hill, Kailasagiri is a popular picnic spot for the locals and a place to enjoy the scenic beauty for tourists. A toy train with glass ceilings in the cabins takes the visitors around the park which is connected to Appughar via a ropeway.
2. Rishikonda Beach: This gorgeous beach has rightly earned itself the moniker Jewel of the East Coast. It is known for its scenic beauty and is frequented by water-sports lovers. Windsurfing and jet skiing are some of the water sports that you can enjoy here along with a mesmerizing view of the water with the backdrop of green hills.
3. Dolphin's Nose: Dolphin's Nose is a rocky headland which looks like the nose of a dolphin. It is around 174 meters in height and protrudes majestically out of the Bay of Bengal.
4. Simhachalam Temple: The temple also goes by the name Simhadri, and is located 16 kilometers away from Vizag. The architectural style of this temple is a mélange of Oriya and Dravidian styles of architecture. The deity in the temple is covered in sandalwood paste for most part of the year.
Entry Fee and Timings of Shilparamam Jathara
Shilparamam timings are from 10 am to 8:30 pm on all days of the week. There is an entry fee of Rs. 20 per person to visit it.
Location of Shilparamam Jathara
The village is located at NH16, Pothinamallayya Palem, Visakhapatnam
How to reach Shilparamam Jathara in Vizag
You can take a bus, auto or a cab from the city which is 14 km away from Vizag railway station. For a hassle free travel experience, you can book a private cab from top car rental companies in Vizag and visit all the popular sightseeing places of Vizag comfortably.
---
Make the most of your Vizag tour by booking a Vizag tour package with us. We at Vizag Tourism, a division of Holidays DNA offer packages at best rates that are quite affordable and also easily customisable. For more information about our offerings, please fill the Contact Us form.
Location Map for Shilparamam Jathara Vizag