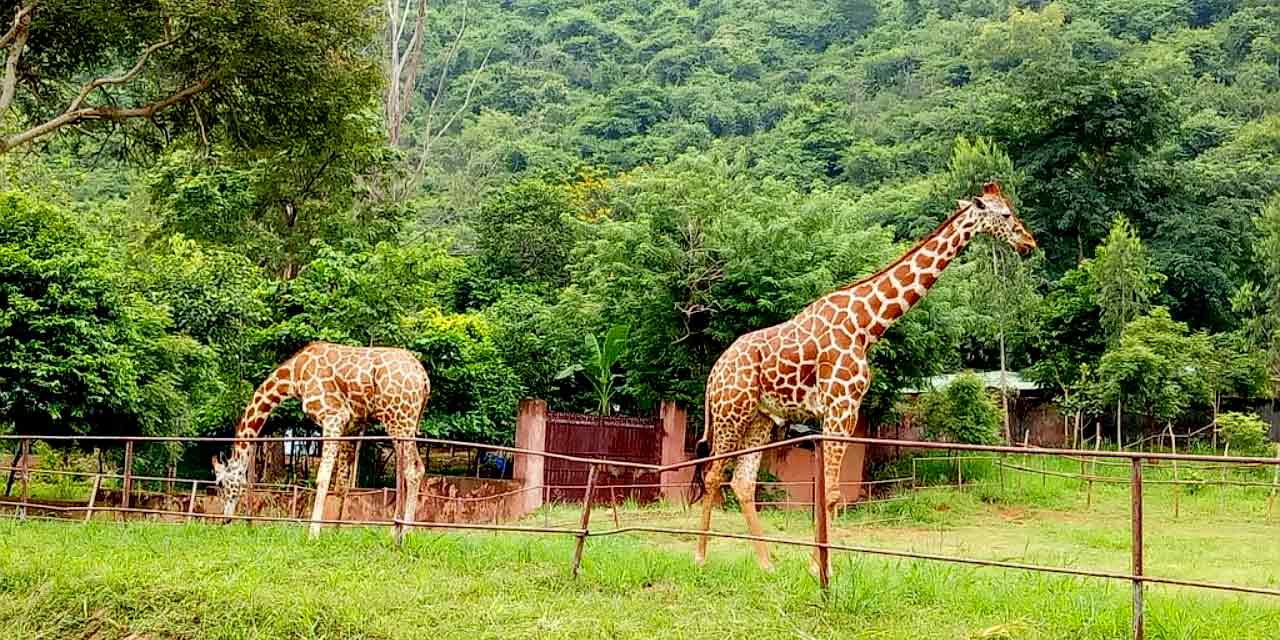 Indira Gandhi Zoological Park Vizag Entry Fee
20 per person for Adults
10 per person for Children ( 3 - 12 years)
20 for Still Camera
100 for Video Camera
200 for Car (with 5 Occupants)
30 for Battery Car (Adult)
10 for Battery Car (Child)
Indira Gandhi Zoological Park Vizag Phone
---
Rating:
| 4/5 stars
Based on total 68 reviews
Indira Gandhi Zoological Park Vizag Address: Near Dairy Farm, Yendada Nursery, Visakhapatnam, Andhra Pradesh, 530040, India
---
Everyone loves to visit the zoo. Kids love to see the animals they have seen only in picture books and the adults accompanying the kids love to see the look of immense delight on the faces of these kids. One such zoological park that has everything to make it one of the fun places to visit in Vizag is the Indira Gandhi Zoological Park.
Surrounded by the Eastern Ghats on three sides and set in the laps of the Kambalakonda Forest Reserve this park is spread over a luxurious 625 acres and is home to almost 80 species of wildlife, making it one of the largest zoological parks in Andhra Pradesh.
With the Bay of Bengal nearby, the location of this park makes it an ideal spot for spotting several exotic bird species too. The weather and the climatic conditions of this area have allowed the fauna in the zoo to flourish and create a salubrious home for the animals.
This zoological park was named after the former Prime Minister of India and was opened for visitors on 19th May 1977. Since then it has been one of the preferred destinations of visitors who love to see wildlife in their natural habitat. There is even a mini-train inside the park to view all of its premises.
Layout of Indira Gandhi Zoological Park Vizag
One of the interesting facts about this park is that it has been divided into separate sections like carnivores, primates, ungulates, mammals, and birds. This division makes it easier for visitors to visit each section according to their preferences.
There is a section for butterflies and moths as well in this zoo but it is open only during the early hours of the day as butterflies and moths cannot fly during the late hours. The walls of this section are covered with information about these creatures to make the visit even more interesting and to create awareness about their characteristics.
Wildlife at the Indira Gandhi Zoological Park Vizag
The wildlife in the park includes a large number of birds, herbivores, primates, and reptiles. Bird watchers would be delighted to spot Pelicans (rosy and grey), ducks, painted storks, peafowl, spotted doves, parakeets, vultures, eagles, budgerigar, macaws, and even flightless birds like ostriches in this park.
Common langur, rhesus monkey, bonnet monkey (common Indian monkey), Olive baboon, ring-tailed lemur (Lemur catta), Goeldi's marmoset, and Mandrill are some of the primates that inhabit this zoo. Recent additions to the primate world at the zoo are three new primate species of Chimpanzees, which have come from Tisch Zoo in Jerusalem.
The herbivore population of the zoo includes animals like barking deer, wild boar, elephant, sambar deer, spotted deer, gaur buffalo, swamp deer, nilgai, Hippopotamus, Eld's deer (thamin deer), and giraffe. Visitors can also spot carnivores like Tiger (leucistic and Bengal), cheetah, leopard, Jaguar, and Puma from the feline family. Jackals, hyenas and wild dogs from the lesser carnivore family are also present here.
Along with a separate section that houses butterflies and moths, the zoo also houses several species of snakes and reptiles like python, land tortoise, terrapin, monitor lizard, mugger crocodiles, and gharials. These animals look menacing at first sight but seeing them here adds to the thrill of the visit.
The varied animal populace of the zoo makes visitors feel like they are amidst a forest. If you are a fan of the nocturnal beauties then you must visit the Nocturnal Animal House to see animals like owls, civets, and porcupines.
Image Gallery of Indira Gandhi Zoological Park Vizag
Fun activities at Indira Gandhi Zoological Park Vizag
There is a mini train ride that the visitors can take to cover the park in a short time. Not only does it save the trouble of walking around the park on foot, but it is also a fun adventure activity for the kids. As the train moves through all the sections in the zoo you can see the lion perched atop his cave and the baboons squealing with delight as they hang lazily from trees.
Do not forget to carry your camera with you to the zoo as some species here are quite special and worth capturing with your camera. You would want to click a picture not just of the animals in Indira Gandhi Zoological Park but also of the beautiful surroundings at the park.
Several activities are organized at the park on days that celebrate wildlife, nature, and environment like the World Wildlife Week, World Forestry Day, and World Sparrow Day. There is an education center called 'Bioscope' at the park which works towards raising awareness in people about protecting wildlife.
This center also has an auditorium, an interpretation center, and a well-equipped library for those wanting to gain more knowledge about the animals at the park. Various competitions are organized at the zoo for school children and these include quiz competitions, debates, drawing, and essay writing competitions.
There is fresh purified drinking water available at the park at various locations for the convenience of the visitors. Benches and shades have been put at several places to let the visitors relax. If you do not wish to roam around the park on foot you can also take the eco-friendly vehicles that are available at a fee of INR 200 per person.
Best time to visit Indira Gandhi Zoological Park Vizag
Like all other wildlife sanctuaries and zoological parks across the country, winter is the best time to plan a visit to this park. It is easier to visit the park at this time since the daytime temperature is perfect for staying outdoors and a sunny day gets the animals out of their lairs.
The peak season at the park is from October until mid of May and since the weather at this time is very pleasant the park gets a lot of tourists from all over the world.
September or October is also the time when Wildlife Week is celebrated at the Indira Gandhi Zoological Park. It is an event which is greatly enjoyed by people of all age groups and also by wildlife enthusiasts. Various competitions and quizzes are organized all through the week which aims at creating awareness about nature and wildlife.
Indira Gandhi Zoological Park Timings
Indira Gandhi Zoological park is open from 9:00 AM to 5:00 PM from Tuesday to Sunday. The park is closed on Mondays.
Indira Gandhi Zoological Park Entry Fee
The entry fee to visit Indira Gandhi Zoological park is Rs. 20 for adults and Rs. 10 for children. Camera fee is Rs. 20 for Still camera and Rs. 100 for Video camera.
You can also take your car inside the park at a charge of Rs. 200 for 5 occupants. Else you can opt for a battery operated car inside the zoo for Rs. 30 per adult and Rs. 10 per child.
Places to Visit near Indira Gandhi Zoological Park Vizag
There are a host of activities to indulge in and places to see near the Indira Gandhi Zoological Park. You can spend some time at the beaches close by like the Yarada Beach, Bheemunipatnam Beach, Gangavaram Beach, RK Beach, and Kondakarla Ava Beach.
The INS Kurusura Submarine Museum, Kailasa Giri, Dolphin's Nose, and Araku Valley are some other attractions that you can add to your list if you have some time on hand. The park also offers accommodation options for those who wish to enjoy bird watching and wildlife safari that takes place early in the morning.
Location and How to Reach Indira Gandhi Zoological Park Vizag
The park is located near Dairy Farm, Yendada Nursery, Vizag. You can take a bus or a private cab from top car rental companies in Vizag to the park which is at a distance of 11 km from the Visakhapatnam Railway Station and at a 6 km drive from the RTC Complex.
---
Have a great time at Vizag by booking an all-inclusive Vizag Tour package with us. We at Vizag Tourism, a division of Holidays DNA ensure you have a memorable holiday experience while exploring the popular sightseeing places in Vizag. To know more about our offerings, please fill the Contact Us form.
Location Map for Indira Gandhi Zoological Park Vizag