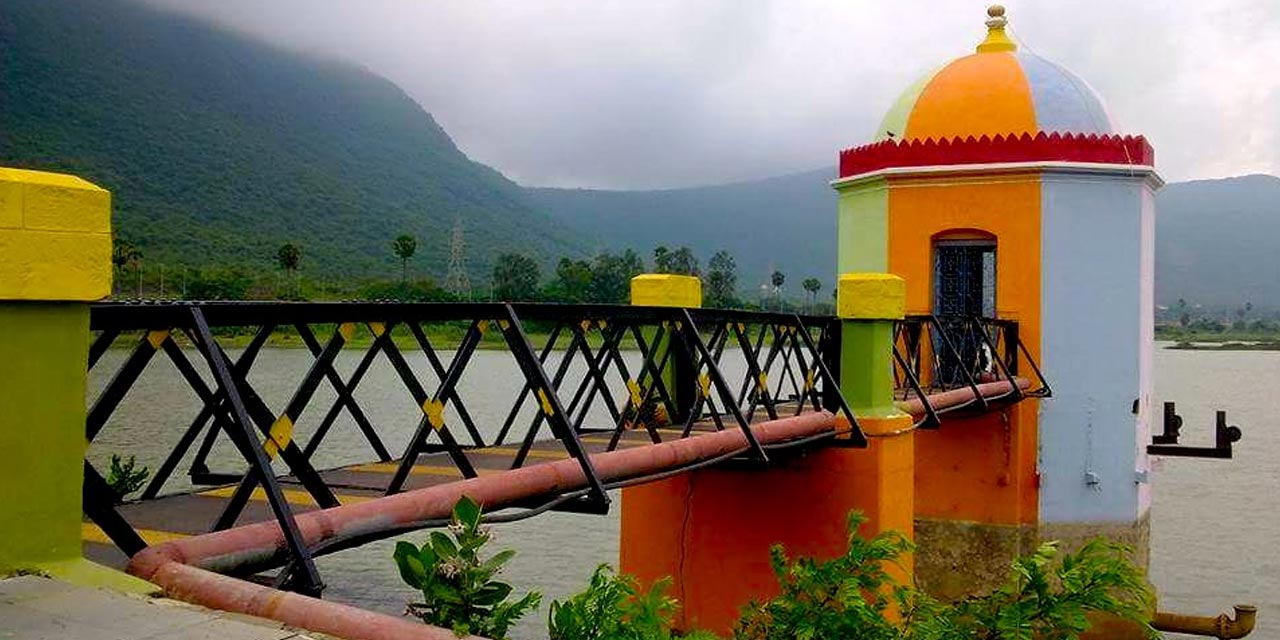 Mudasarlova Park Vizag Entry Fee
10 per person
Mudasarlova Park Vizag Phone
N/A
---
Rating:
| 4.2/5 stars
Based on total 67 reviews
Mudasarlova Park Vizag Address: Mudasarlova Rd, Mudsarlova, Chinna Gadhili, Hanumanthavaka, Visakhapatnam, Andhra Pradesh, 530040 India
---
Out of all the famous tourist attractions in Visakhapatnam, Mudasarlova Park is one such place that keeps you occupied with its full-fledged entertainment and fun all day long without any delay.
Nestled in the picturesque valley of Vizag, Mudasarlova Park offers a delightful and peaceful break to all those who are looking to spend some time amidst lush-greenery, palm trees and verdant hills.
A well-maintained park sprawling over an area of 20 acres of land, Mudasarlova is an urban park that attracts tourists from all walks of life and has become an ideal getaway to relax and rejuvenate after having a time of your life at the popular sightseeing places in Visakhapatnam.
Constructed during the British rule in 1902, it is one of the oldest parks in the city that is under the control of local government authority and is frequently visited by locals on weekends. Perfect for both couples and families, the Mudasarlova Park has a dedicated park for children to mingle with others of their own age.
There is an 8-acres of mango orchard where you can see an array of mango varieties and a massive hall to organize public events such as exhibitions and seminars. Other than that, you can also enjoy a short stroll to the open-air theatre to see live performances, events and all sorts of functions for your enjoyment.
Things to do at Mudasarlova Park, Visakhapatnam
1. Walk hand-in-hand with your loved ones in the beautiful garden that the park boasts of for the comfort of its tourists. A perfect place to enjoy a fun-filled picnic, the garden is filled with a wide variety of flowers, trees, water fountains and birds in cages.
2. Experience village life at the theme-based village of Mudasarlova Park. Here you can click innumerable pictures to cherish your visit for a lifetime.
3. Visit the golf course to enjoy a round of golf. Encompassed with scenic beauty all around, it has an excellent golf course for golfers to try their hand at golf.
4. Take some time out for Mudasarlova Cheruvu Lake that is situated right next to the park. You can sit around the lake for hours and admire the mesmerizing view of sunset in the evening.
Image Gallery of Mudasarlova Park Vizag
Entry Fee and Timings of Mudasarlova Park, Visakhapatnam
To enter Mudasarlova Park in Visakhapatnam, you need to pay INR 10 per person. It is open for its visitors from 8:00 AM to 5:30 PM on all days of the week. The recommended exploration time is 2-3 hours.
Best Time to Visit Mudasarlova Park, Visakhapatnam
Winter is the best time to visit Mudasarlova Park on your Vizag tour. During this time, It's easier for locals and tourists to roam around the place since the daytime temperature ranges between 15-degree Celsius to 30-degree Celsius, which makes the overall climate delightful and enjoyable.
Places to Visit near Mudasarlova Park, Visakhapatnam
There are several things to indulge in and places to see around Mudasarlova Park in Visakhapatnam. If interested and have time, you can first experience the beach life at the nearby beaches such as Yarada Beach, Ramakrishna Beach, Rushikonda Beach, Gangavaram Beach, Bheemunipatnam Beach and Kondakarla Ava Beach.
Coming to its historical attractions, Visakhapatnam has plenty of museums that are worth visiting. These include TU 142 Aircraft Museum, Naval Museum, INS Kurusura Submarine Museum, Visakha Museum, Rajiv Smriti Museum and Eastern Art Museum.
A few other attractions like Dolphin's Nose, Dolphin's Nose Lighthouse, ISKCON Temple, VMRDA City Central Park, Kothapally Waterfalls and Simhachalam Temple can also be added to your list if you visit Visakhapatnam for more days.
How to Reach Mudasarlova Park, Visakhapatnam?
Located at a distance of 6 km from the town, Mudasarlova Park can be easily accessed by road if you're coming directly from the airport or the railway station of the city. You can choose to travel by a local bus or simply book a private taxi from the list of top car rental companies in Visakhapatnam for a hassle-free commutation.
Visakhapatnam Junction, which is approximately 12 km away from the park, can be covered in 24-25 minutes while on the other hand, Visakhapatnam International Airport is about 20 km and takes 40-minutes to reach the park at your convenience.
---
Book a budget-friendly Vizag tour package with us to cherish your visit forever! We at Vizag Tourism, a division of Holidays DNA, design travel packages keeping everyone's interest in mind. Our professionals are experts in customizing the itineraries so that you can make the most of the trip. To know more about our offerings and deals, we request you to fill the Contact Us form.
Location Map for Mudasarlova Park Vizag