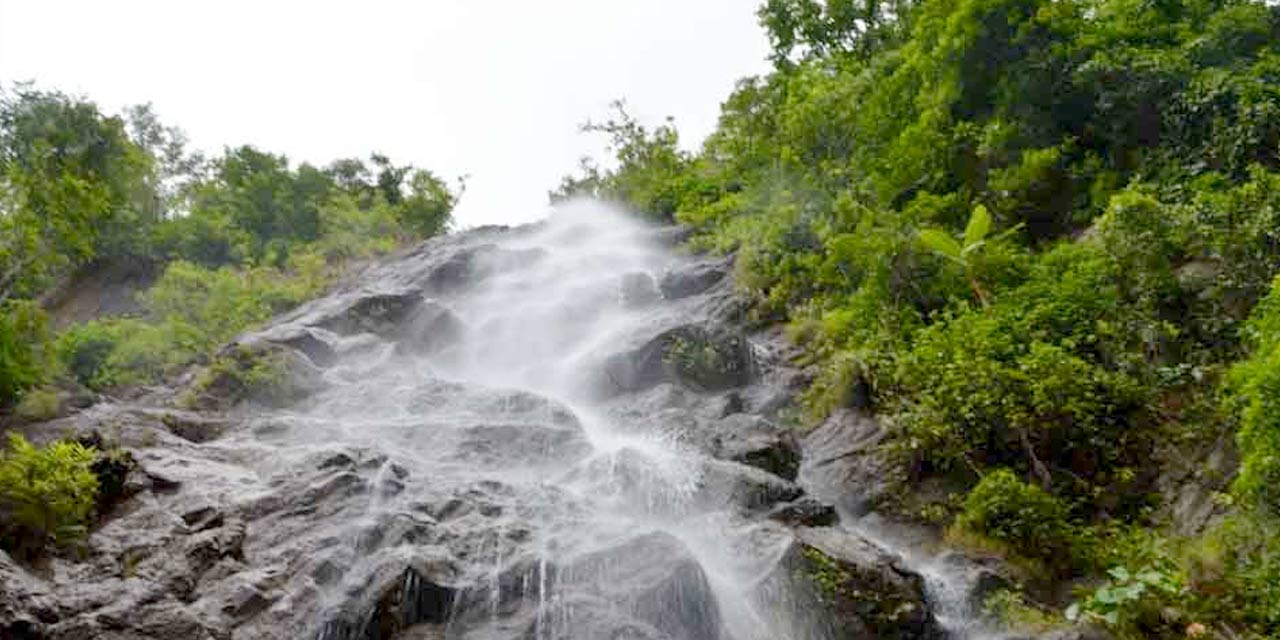 Katiki Falls Vizag Entry Fee
No Entry Fee
250 - 300 per person for Jeep ride

Note: Usually Jeep will take nearly 10 persons on share basis
Katiki Falls Vizag Phone
N/A
---
Rating:
| 4/5 stars
Based on total 64 reviews
Katiki Falls Vizag Address: Katiki Waterfalls Rd, Visakhapatnam, Andhra Pradesh, 531149, India
---
In today's day and time, we are constantly on the search for places and ways to unwind, relax and rejuvenate. Visakhapatnam is one of the few places in India that gives you endless options to truly escape from the monotonous humdrum of our daily lives into the wilderness of forests, cool clear waters of the Bay of Bengal, hills, beaches, historical excavations among so many others. The list is endless.
One such exciting location that you should surely visit is the Katiki Waterfalls. Paradise awaits you among dense forests and steep hills to cascading water from the top of the hill, at the end of the trail. In the lap of nature, you can eat, sleep, relax, and simply take a big breath of fresh air. The falls derive its name from its location, Katiki. It is about 50 feet high and originated from the Gosthani River.
Things to do at Katiki Waterfalls
Katiki waterfalls is a nature lover's paradise. It is as if the entire location has been tailor-made to suit the adventurous, trotting through dense forest and creating some beautiful memories.
If you are not up for some heavy task, be rest assured that Katiki accommodates you as well. Katiki waterfalls promote ultimate relaxation and take your stress away from you. Some things that you can do at Katiki waterfalls include:
1. Trekking: To reach the waterfall, you need to trek up a hill. It is a very short trek, hardly twenty- or thirty-minutes duration and fairly easy in comparison to trekking up to reach waterfalls. This ensures that Katiki welcomes people of all ages, sizes and capacities but gives you a short duration of strenuous task with the highest form of relaxation. While you trek up the hill, make sure to witness some of the unique birds, animals and trees around you.
2. Camping: Katiki waterfalls is a prominent place for camping. Live the dream of camping in the woods by setting up tents here with your friends and family. The joy of cooking your own food over a raging bonfire, while you sit around sharing ghost stories, under a starry night sky is surreal. Some of the best memories are made sitting on logs around bonfires, roasting food, singing, dancing and sharing stories.
3. Food: Katiki waterfalls are famous for one item that can be uniquely found here. It is called Bamboo chicken which is a special recipe that is made of marinated chicken that has been infused with the smell and flavour of bamboo sticks. It sells off faster than hotcakes, leaving you craving for more.
Entry fee and Timings of Katiki Waterfalls
There is no entry fee to visit the Katiki falls. However, jeeps are available for visitors as an alternative to trekking to the falls. It takes about 10 people per ride at a cost of Rs. 250 to Rs. 300 per person.
Katiki falls can be visited from 6:00 in the morning to 7:00 in the evening on all days of the week.
Image Gallery of Katiki Falls Vizag
Places to visit near Katiki Waterfalls
The route to Katiki waterfalls brings you in the vicinity of some of the best places to visit in Vizag. Other than the main city there are plenty of other attractions that are worth a visit. These include:
1. Borra Caves: While travelling to Katiki Waterfalls from Vizag, you need to avail jeep from the Borra Caves Junction which is less than a kilometre's distance from the falls. The place is nothing short of a paradise with hills surrounding a green horizon, deciduous forests and the variety of fauna that offers a pleasing sight. The best part of this place is the variety of speleothems.
2. Araku Valley: Araku lies en route to Katiki waterfalls and makes for a wonderful place to stop by for a weekend or a few days. It is ideally a hill station and the awaiting natural location for visit is pure feast to the eyes, mind and soul. A complete rejuvenation is guaranteed upon visiting some of the iconic places at Araku Valley such as Chaparai Waterfalls, Ananthagiri Hills, Padmapuram Botanical Garden among other places.
Location and How to Reach Katiki Waterfalls
Katiki waterfalls is located at the address Katiki Waterfalls Rd, Visakhapatnam, Andhra Pradesh, 531149, India. There are a few modes of transport that are quite comfortable to reach the waterfalls. These include:
Cabs: You can hire a cab from top car rental companies in Vizag and travel to Katiki village. From here you need to either trek up to the falls or take a Jeep ride.
Auto-rickshaws: There are ample auto-rickshaws that you can avail yourself to reach the village of Katiki.
---
Katiki Waterfalls is one of the best places to plan a day out with your family and friends. They also make for great weekend plans if you want to escape the week long stress into the forest, camping under a starry night and munching on Bamboo Chicken as you hear the rush of water from the falls nearby.
For those who wish to explore the important tourist attractions of Vizag in a hassle free manner, Vizag Tourism, a division of Holidays DNA offers Vizag Tour packages at affordable rates. You can choose the package according to your preference and have a memorable holiday experience. Please fill the Contact Us form for more details.
Location Map for Katiki Falls Vizag