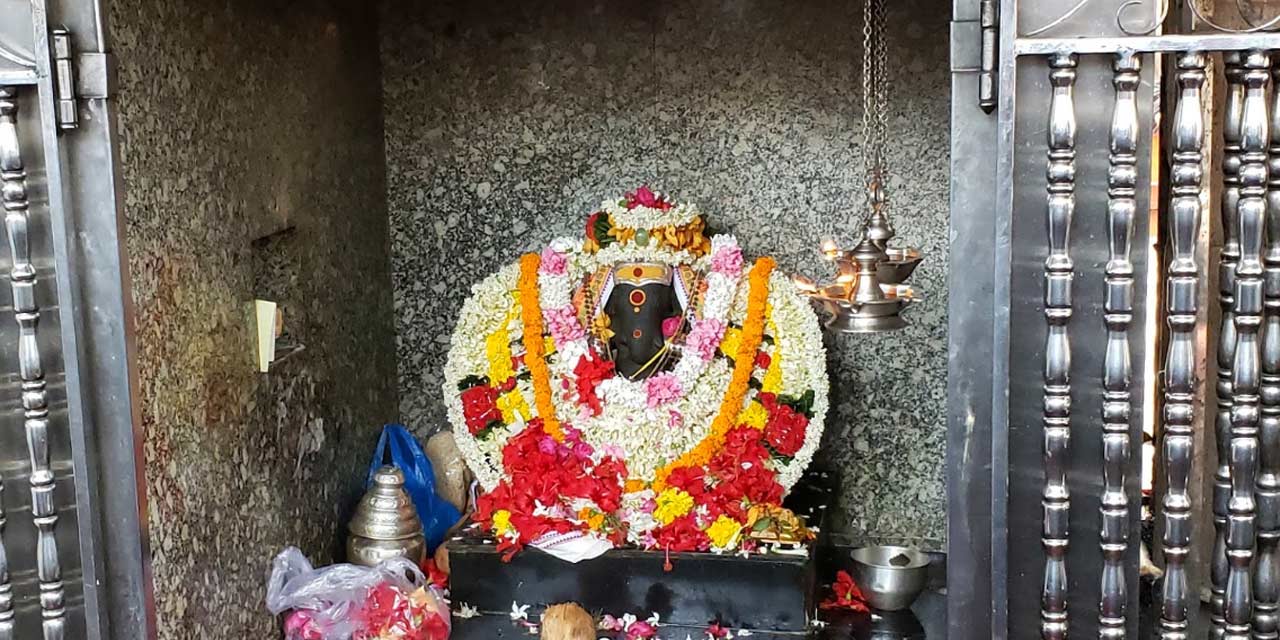 Sree Sampath Vinayagar Temple Vizag Entry Fee
Sree Sampath Vinayagar Temple Vizag Phone
N/A
---
Rating:
| 4/5 stars
Based on total 67 reviews
Sree Sampath Vinayagar Temple Vizag Address: 10-1-33 Waltair Appliance, road, Visakhapatnam, Andhra Pradesh, 530003 India
Vizag Tour Packages
Sree Sampath Vinayagar Temple Vizag Timings
Day
Timing
Monday
6:00 am – 10:30 am
5:30 pm – 8:30 pm
Tuesday
6:00 am – 10:30 am
5:30 pm – 8:30 pm
Wedesday
6:00 am – 10:30 am
5:30 pm – 8:30 pm
Thursday
6:00 am – 10:30 am
5:30 pm – 8:30 pm
Friday
6:00 am – 10:30 am
5:30 pm – 8:30 pm
Saturday
6:00 am – 10:30 am
5:30 pm – 8:30 pm
Sunday
6:00 am – 10:30 am
5:30 pm – 8:30 pm
Links:
Website
|
Map
---
Nestled in one of the busiest areas of the city, Sree Sampath Vinayagar Temple is one of the popular temples in Visakhapatnam that offers holy and divine vibes to the devotees of the Lord Ganesha. A must-visit tourist attraction on your Vizag tour, this temple is dedicated to the Hindu community and has a presiding deity of Lord Vinayaka, which is made up of black marble.
Widely known for its significance, Sree Sampath Vinayagar Temple is a place where you can see several people performing all the rituals for their new vehicle before they start using it. Even students come to this temple to score well during the annual examinations. Such is the belief among the citizens over there. Unlike other temples, this temple doesn't boast of great architecture but is still visited by more than 2 million devotees every year.
Tourists who are in Visakhapatnam for a day or two should take some time off for this holiest shrine at least once for sure. It is generally said that Lord Ganesha fulfils the wishes of all those who worship the deity with full faith and desire. The temple also hosts a grand celebration of the Ganesh Chaturthi festival every year, which gives another reason for people to flock to this place. Other festivals such as Ugadi and Dussehra are also celebrated with great fervor at the temple.
History of Sree Sampath Vinayagar Temple, Visakhapatnam
Laid its foundation in 1962, Sree Sampath Vinayagar Temple was built by the owners of S.G. Sambandan & Co. who used their funds to construct this temple. The sole purpose behind the formation of this temple was to have a place where they can offer their prayers and get rid of the Vaastu Dosha at any time of the day.
Soon, after that, the local fishermen started visiting this temple on an everyday basis to seek blessings for the wellness of their business before going to the market. While doing so, they observed a few miracles in their lives and hence, continued performing deep aradhana for the betterment of their future. Five years later, Sri Chandrasekharan Saraswati renovated this shrine and placed the presiding deity with his own hands.
However, the temple gained its recognition among the people in the year 1971 when Admiral Krishnan, who was working as an in charge of Eastern Naval Command at that time, broke 1001 coconuts in front of "Ganapathi" to save the city from Pakistani attack. After a few days, when the Pakistani submarine Ghazi tried attacking Vizag, it sank off the sea and people residing there had a sign of relief. Since then, devotees from all around the world visit this temple to get their wishes fulfilled.
Entry Fee and Timings of Sree Sampath Vinayagar Temple, Visakhapatnam
There is no entry fee to visit Sree Sampath Vinayagar Temple in Visakhapatnam. It welcomes its devotees 24 hours a day. However, for darshan, the temple opens its door from 6:00 AM to 10:30 AM in the morning and from 5:30 PM to 8:30 PM in the evening.
Image Gallery of Sree Sampath Vinayagar Temple Vizag
Travel Tips for Sree Sampath Vinayagar Temple, Visakhapatnam
Avoid wearing tank tops or short skirts whenever you're planning to visit this temple. We advise you to wear something that can easily cover your stomach, shoulder and knees.
Do not worry about food. There are two fine-dining restaurants "Satyam Restaurant" and "Dharani Veg Restaurant" where you can satisfy your appetite with a wide variety of food items. A supermarket is also there to take care of your basic necessities.
Places to Visit near Sree Sampath Vinayagar Temple, Visakhapatnam
While there are several places to explore in and around Visakhapatnam, the city has a few tourist attractions that you cannot ignore whenever you are around Sree Sampath Vinayagar Temple. These include Dolphin's Nose, Dolphin's Nose Lighthouse, INS Kurusura Submarine Museum, VUDA Park, Kailasagiri Park, Sivaji Park, Ross Hill Church, Matsyadarshini Aquarium, Visakha Museum, Lane of Fame and many more.
How to Reach Sree Sampath Vinayagar Temple, Visakhapatnam?
Getting to Sree Sampath Vinayagar Temple is quite easy. With a wide variety of transport options available, you can easily access the temple via an auto-rickshaw or a cab.
Choose to walk by foot if you're coming directly from the bus stand or railway station. Since Visakhapatnam Bus Stand is only 1.2 km drive away and Visakhapatnam Railway Station is only 2 km drive away, you don't need to worry about the commutation from there to reach this temple.
Visakhapatnam International Airport, which is approximately 12 km away, receives various domestic and international flights from all over the world. You can opt to fly to the airport to get down to Visakhapatnam in 2-3 hours. After arriving at the airport, look for a private taxi from top car rental companies in Visakhapatnam to experience hassle-free travelling in a relaxed and comfortable manner.
---
Catering to everyone's holiday budget and other requirements, we at Vizag Tourism, a division of Holidays DNA, carefully design the Vizag tour packages that help you make the most of your visit at competitive prices. You can also customize your itinerary to explore the best sightseeing places in Visakhapatnam at your convenience. To know more about our offerings, we request you to fill in the Contact Us form.
Location Map for Sree Sampath Vinayagar Temple Vizag