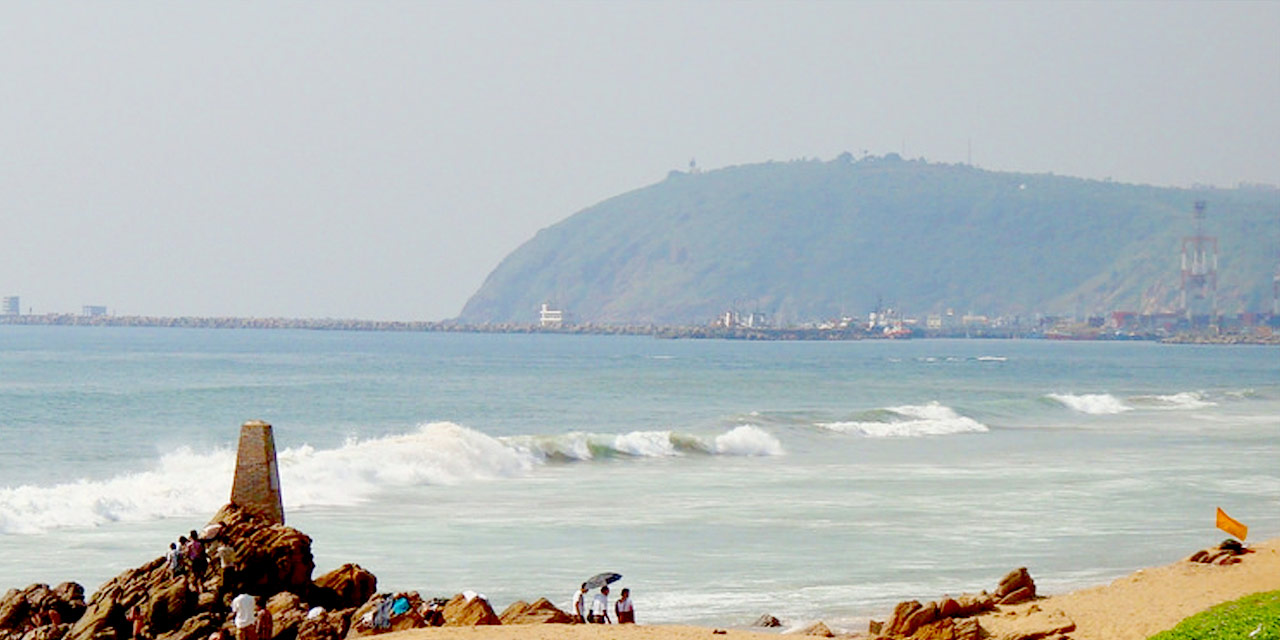 Dolphin's Nose Vizag Entry Fee
Dolphin's Nose Vizag Phone
---
Rating:
| 4/5 stars
Based on total 57 reviews
Dolphin's Nose Vizag Address: Gangavaram, Visakhapatnam, Andhra Pradesh, 530005, India
---
A hidden gem nestled in the southern part of the city, Dolphin's Nose is one of the popular tourist places to visit in Visakhapatnam that treats your eyes with an enchanting view of the breathtaking landscapes, lush-greenery, harbour and the entire city from the top of the hill.
Positioned at a height of 358 meters above the sea level, Dolphin's Nose boasts of an amazing location with a cool and breezy atmosphere where you can relax, rejuvenate and soothe your senses with a view to die for.
Owing to its scenic beauty, surreal setting and tranquil environment, this attraction has become a must-visit place for holiday makers of all ages. It is a paradise for nature lovers and is no less than a heaven for instagrammers.
Do not forget to pay a visit to the Dolphin's Nose Lighthouse, which is located above the Dolphin's Nose hill. Else, you will miss regretting your trip after coming back home.
Things to do at Dolphin's Nose, Visakhapatnam
1. There is nothing like witnessing the romantic sunset with your loved ones. So, why not enjoy it the most at Dolphin's Nose that gives you an opportunity to say goodbye to the sun with hues spreading all over the place.
2. Have a fun-filled day out with your loved ones. It is a great place for couples and families to spend some quality time together.
3. Capture the mesmerizing scenery with a jaw-dropping background in the backdrop. The place offers innumerable opportunities to get yourself photographed.
Places to Visit near Dolphin's Nose, Visakhapatnam
With so many places to explore around the Dolphin's Nose in Visakhapatnam, it sometimes gets difficult to decide on the popular sightseeing attractions. So, here we have summed up the top 5 tourist places that you can visit in your free time if you're interested. These include:
1. Yarada Beach: Your Vizag tour won't be complete if you didn't take some time off for Yarada Beach. An ideal destination to disconnect yourself from 9 to 5 life for some time, Yarada Beach offers a relaxing and rejuvenating experience for all those who are after a mix of sun, sea and sand.
2. Ross Hill Church: Another famous landmark of Visakhapatnam is Ross Hill Church that attracts tourists from different walks of life. Featuring great architecture, the Ross Hill Church is a British era catholic church that provides serenity to experience seekers.
3. Dargah Konda Hill: For all those who don't believe in caste and religion, the Dargah Konda Hill is the place to go! Situated on the top of the hill, the spiritually enlightening atmosphere of Dargah Konda is sure to leave you speechless when you make your presence felt here.
4. Visakhapatnam Zoo: Known for its wildlife Sanctuary, the Visakhapatnam Zoo or Indira Gandhi Zoological Park houses a wide variety of animals, butterflies and moths. It covers an area of 25 acres and was opened for its public in the year 1977.
Other points of interest include Simhachalam Temple, INS Kurusura Submarine Museum, VUDA Park, Rama Krishna Beach, Victory at Sea War Memorial and many more.
Image Gallery of Dolphin's Nose Vizag
Entry Fee and Timings of Dolphin's Nose, Visakhapatnam
There is no entry fee to visit Dolphin's Nose in Visakhapatnam. It is open for its tourists from 3:00 PM to 5:00 PM on all days of the week.
Travel Tips for Dolphin's Nose, Visakhapatnam
Always wear comfortable shoes as you might need to climb nearby 70 steps for the Lighthouse.
Carry your food and beverages along. There are no eateries to explore in and around the place.
Make sure to bring a good quality smartphone or camera with you. It is a great place to capture some amazing clicks.
Use the locker/storage facility to keep your belongings safe and roam around without worrying about your valuable things.
Best Time to Visit Dolphin's Nose, Visakhapatnam
Widely recognized as the largest city in Andhra Pradesh, Visakhapatnam is visited by thousands of people every year. However, to make the most of your Vizag tour, it is recommended to plan your trip during the winter season that starts in the October month and continues until March.
At this time, the weather is extremely pleasant and delightful and the temperature varies between 15-degree to 30-degree Celsius. Moreover, the air is free of humidity as well, making it perfect for people to enjoy the splendid beauty of this place.
How to Reach Dolphin's Nose, Visakhapatnam?
Since Visakhapatnam maintains good transport connectivity to the prominent cities of India via road, it can be easily accessed by private and state-owned buses. For your convenience, the APSRTC department runs a frequent bus service from Hyderabad, Chennai, Bengaluru, Vijayawada and Mumbai to Visakhapatnam and vice-versa.
Visakhapatnam International Airport, which is 8.8 km away, is the nearest airport to reach Visakhapatnam in the least possible time and it serves various direct and connecting flights for both domestic and international travellers. After arriving at the airport, choose to hire a local mode of transport to get down to your favourite destination.
Last but not the least, you can also catch the train to enjoy a hassle-free journey to Visakhapatnam. The Visakhapatnam Railway Station is 16.6 km from Dolphin's Nose.
---
Suiting to everyone's holiday budget, we at Vizag Tourism, a division of Holidays DNA, have also curated a list of top car rental companies in Visakhapatnam from where you can book a private vehicle to cover the itineraries of your choice. Our travel experts have also designed the all-inclusive Vizag tour packages that are available at pocket-friendly prices. Please fill in the Contact Us form to know more about our services.
Location Map for Dolphin's Nose Vizag