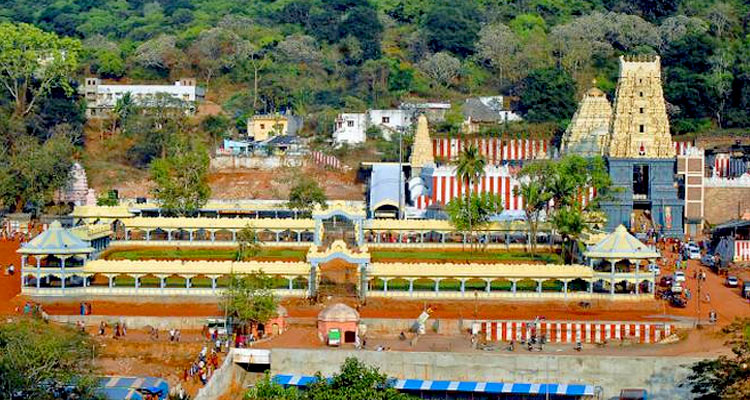 Simhachalam Temple Vizag Entry Fee
Simhachalam Temple Vizag Phone
---
Rating:
| 4/5 stars
Based on total 60 reviews
Simhachalam Temple Vizag Address: Simhachalam Hill, Near Gopalpattam Police Station, Visakhapatnam, Andhra Pradesh, 530028, India
Vizag Tour Packages
Simhachalam Temple Vizag Timings
Day
Timing
Monday
7:00 am – 4:00 pm
6:00 pm – 9:00 pm
Tuesday
7:00 am – 4:00 pm
6:00 pm – 9:00 pm
Wedesday
7:00 am – 4:00 pm
6:00 pm – 9:00 pm
Thursday
7:00 am – 4:00 pm
6:00 pm – 9:00 pm
Friday
7:00 am – 4:00 pm
6:00 pm – 9:00 pm
Saturday
7:00 am – 4:00 pm
6:00 pm – 9:00 pm
Sunday
7:00 am – 4:00 pm
6:00 pm – 9:00 pm
Links:
Website
|
Map
---
We all want to break the monotony of everyday life and spend some time in the serenity of nature, right? Something which can relax our mind. Something which can help us de-stress our inner soul and look forward to daily chores. How about planning a trip to Visakhapatnam and visiting the Simhachalam Temple on your Vizag tour?
Originally known as Varaha Lakshmi Narsimha Temple, Simhachalam Temple is a famous shrine that offers holy and mystical vibes to the devotees of Lord Narsimha and has an exceptionally calm atmosphere to attract tourists from all around the world.
Dedicated to the Hindu community, the Simhachalam Temple boasts of an excellent hilltop location with lush greenery all around the place. One of the popular tourist places to visit in Visakhapatnam, the temple holds much importance among the locals for its strong traditional values and follows a detailed prayer routine for all days of the year.
The magical environment allows you to forget everything as soon as you step inside the temple and the backdrop of the beautiful landscapes makes the overall setting look even more amazing. Here you can also enjoy a spectacular view from a height of 800 meters above the sea level along with offering your prayers to Lord Narsimha, who is believed to be another form of Lord Vishnu. This place is widely recognized for its rich significance of history and is undoubtedly a must-visit attraction for holidaymakers of all ages.
Another highlight of this temple is its annual celebration of the Akshaya Tritiya festival that happens to be in the month of April or May every year. On the occasion of this festival, the covering of sandalwood is removed from the idol of Lord Narsimha and the deity comes in its original form for 12 hours i.e., from 4 AM in the morning to 4 PM in the evening and a grand pooja is also organized. Once the Abhishek of the idol is completed, the devotees are allowed to catch a glimpse of the Lord.
Legend of Simhachalam Temple, Visakhapatnam
Simhachalam Temple has an interesting tale behind its origin. Interestingly, the story revolves around two brothers, Hiranakashyap and Hiranyaksha, whose main aim was to disturb the peace of the world. Hiranyaksha took his control over the earth and seized it from Lord Vishnu.
To save earth from his custody, Lord Vishnu arrived in the form of Varaha and killed Hiranyaksha. This whole incident made his elder brother, Hiranakashyap angry and to take revenge for his younger brother's death, he swore to kill Vishnu and rule over the world.
In order to win a battle against him, Hiranakashyap went to the Himalayas and started offering his prayers to Lord Brahma day and night. Seeing his austerities, Lord Brahma thought of granting him a boon. He asked Lord Brahma to make him as good as immortal. He asked Brahma to fulfil his desire of not getting killed by anyone at any time, no matter what.
After achieving the undisputed power, the demon King, Hiranakashyap wanted everyone to chant his name. Considering himself invincible, he began killing people who were not treating him as God. Scared of his dominating and egoistic nature, everyone in his kingdom started worshipping him.
However, one day, he got to know that his own son, Prahalad is a true devotee of Lord Vishnu. He tried everything to make his son believe that his father is the main deity and he shouldn't offer his bhakti to Lord Vishnu but he failed miserably. After innumerable attempts, he decided to kill Prahalad and ordered soldiers to push him from the top of the Simhadri hill.
When the soldiers were throwing him off the hill, the Lord Narsimha appeared at that point and saved the life of Prahalad. And to express his boundless affection towards Lord Vishnu, Prahalad built a temple on the same hill, which is now referred to as Simhachalam Temple.
History of Simhachalam Temple, Visakhapatnam
Although the exact age of the holy place is not mentioned anywhere, it contains several scriptures that give a rough idea of when the temple was established.
Dating its history back to 1098 AD, the Simhachalam Temple has an inscription that belongs to the era of Chola King Kulothunga. Another inscription shows that the sanctum was constructed in the age of 1267 AD. There is one more inscription that is left by Sri Krishna Devaraya who visited the temple twice at the time of 1516 AD and 1519 AD to celebrate his win against the ruler of Orissa.
Other than that, the temple also features 250 plus ancient texts that are written in Telugu and Oriya language and have something different to say about the construction of Simhachalam temple. Hence, it has become quite difficult to dedicate the name of a single entity to this place.
Image Gallery of Simhachalam Temple Vizag
Architecture of Simhachalam Temple, Visakhapatnam
Possessing a fantastic architecture that deserves high praise, the Simhachalam Temple is beautifully decorated with extremely detailed stone carvings that make the overall structure look even more spectacular.
With a square shrine mounted on the top of the tower, the interior and exterior design of the temple adds charms to its excellence. Made up of dark granite, the temple has a verandah that is delicately carved with floral ornamentation. Other than displaying the popular scenes from the Vaishnavite Puranas, the verandah also houses a stone wheel car.
In addition, there is a 16 pillared mukha mandapam and an excellent natya mandapam that is supported by a total of 96 pillars. Located on the north side of the temple, it is said that natya mandap is a place where all the rituals of God's marriage were performed, making it a worth-visiting place for everyone.
Things to do around Simhachalam Temple, Visakhapatnam
Wondering what to do after an exploration of 3-4 hours at Simhachalam Temple? Well, the city of Visakhapatnam has several places to explore in and around the city. All you need to do is to plan your itinerary accordingly! The top 5 tourist places to visit in Visakhapatnam are:
1. Indira Gandhi Zoological Park – Situated amidst the Eastern Ghats, the Indira Gandhi Zoological Park has more than 80 different species of animals that range from carnivores to mammals, primates and ungulates. The park also has a dedicated zone for moths and butterflies. It is 14.5 km away from Simhachalam Temple.
2. Kambalakonda Wildlife Sanctuary – Perfect for bird watchers, the Kambalakonda Wildlife Sanctuary is an ultimate destination for adventure lovers to enjoy some high-voltage drama with a thrilling trek that takes you through the deep jungle experience coupled with lush green gorges. It is 14.6 km away from Simhachalam Temple.
3. Kailasagiri – Take some time off for Kailasagiri Park whenever you visit Visakhapatnam in Andhra Pradesh. Ideal for a solo traveller, couples and families with children, the Kailasagiri Park is a fantastic place for people to witness a bird's eye view of the Bay of Bengal. It is 15.2 km away from Simhachalam Temple.
4. VUDA Park – Admire nature at its best along with interacting with over 2500 shady trees, colourful plants and vibrant flowers at VUDA Park. A great place to enjoy the morning and evening walks, the VUDA Park is perched right adjacent to RK Beach in Visakhapatnam. It is 16.1 km away from Simhachalam Temple.
5. Visakhapatnam Aquarium – Visakhapatnam Aquarium or Matsyadarshini Aquarium is home to a wide variety of marine species ranging from Red Squirrel Fish to The Lionfish, Butterfly Fish, Long Horn Cow Fish and many more. Established in 1994, the Visakhapatnam Aquarium is an air-conditioned aquarium that features fishes brought from Singapore and Malaysia. It is 17.7 km away from Simhachalam Temple.
Entry Fee and Timings of Simhachalam Temple, Visakhapatnam
There is no entry fee to visit Simhachalam Temple in Visakhapatnam. It is open for its visitors from 7:00 AM to 4:00 PM and from 6:00 PM to 9:00 PM on all days of the week. For special darshan, the temple charges INR 100 per person.
Travel Tips for Simhachalam Temple, Visakhapatnam
Do not carry your mobile phones and cameras along with you. It is strictly prohibited to capture the pictures inside the temple.
Make sure to leave your footwear outside the premise.
Best Time to Visit Simhachalam Temple, Visakhapatnam
One can seek the blessing of Lord Narsimha at Simhachalam Temple at any time of the year. However, visiting it from October to March is generally considered the best. At this time, the temperature varies from 20 degrees Celsius to 25 degrees Celsius and the weather remains partly cloudy, making it ideal for you and your family.
How to Reach Simhachalam Temple, Visakhapatnam?
Getting to Simhachalam Temple in Visakhapatnam is quite easy for both locals and tourists. Located at a distance of only 20 km away from the heart of the city centre, the temple offers several modes of transport options for your convenience.
By Air: To reach Simhachalam Temple in the least possible time, it is recommended to board a direct flight from the major cities of India. Domestic flights such as Air India, IndiGo, Spice Jet, Air Asia and Alliance Air are operational from here. For international travellers, international flights to Singapore, Dubai and Kuala Lumpur have also started.
By Train: If you are starting directly from Visakhapatnam Railway Station, you can either opt to travel by Bus (6A) or simply hire a private taxi from the list of top car rental companies in Visakhapatnam to experience a more comfortable journey. The railway station connects the neighbouring towns and cities by serving regular trains from Mumbai, Hyderabad, Chennai, Bangalore, Kolkata and Delhi.
By Bus: Also known as the 3rd largest bus stand complex in Andhra Pradesh, Dwarka Bus Stand offers the facility of a local bus service to and from the temple on an everyday basis. You can catch the bus number 6A or 40 to reach your destination. For all those who are staying somewhere close to Gajuwaka, the local government runs the Bus number 55 and from Maddilipalem, it is 540 to make a visit to Simhachalam Temple.
---
To make your Vizag tour a memorable one, we at Vizag Tourism, a division of Holidays DNA, offer various all-inclusive Vizag tour packages so that you can have the time of your life while exploring the popular sightseeing places in Visakhapatnam.
Catering to your holiday needs, our travel experts also offer the best travel deals at competitive prices. You just need to pack your bags and we will take care of the rest of the things! To know more, please fill the Contact Us form.
Location Map for Simhachalam Temple Vizag