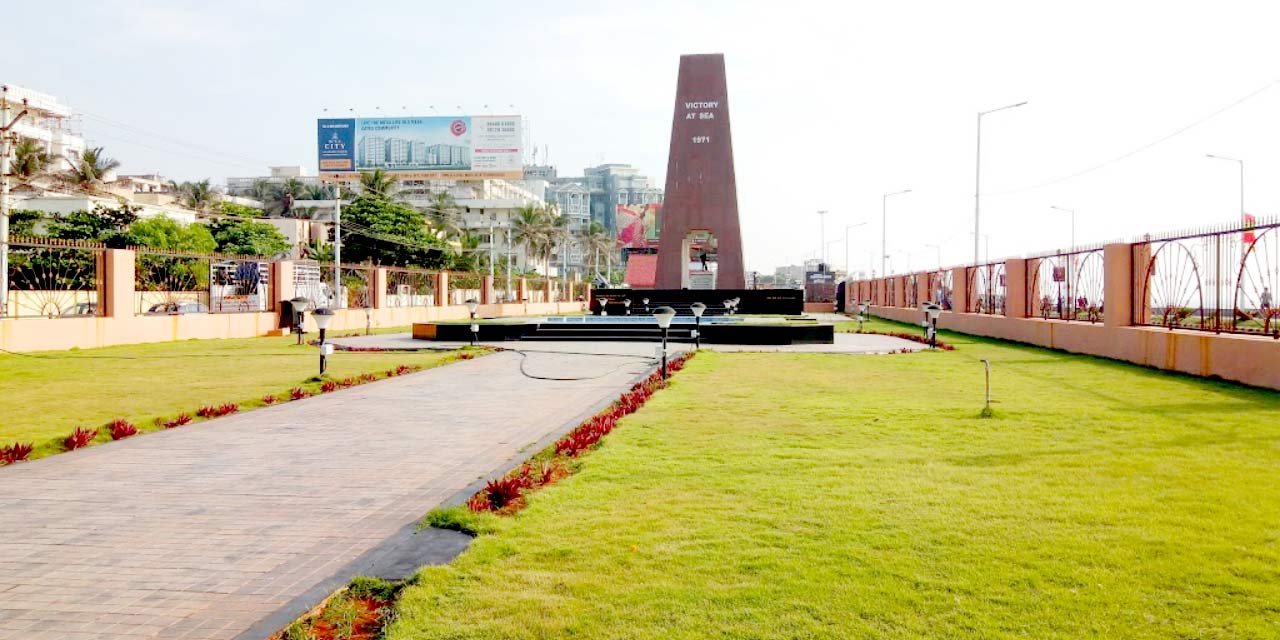 Victory at Sea War Memorial Vizag Entry Fee
Victory at Sea War Memorial Vizag Phone
N/A
---
Rating:
| 4/5 stars
Based on total 60 reviews
Victory at Sea War Memorial Vizag Address: 31, Beach Rd, Kirlampudi Layout, Chinna Waltair, Pedda Waltair, Visakhapatnam, Andhra Pradesh, 530003, India
---
Take some time off to visit the Victory at Sea War Memorial in Visakhapatnam and get to know more about the famous historical battles.
Dedicated to the Indian Navy, Victory at Sea War Memorial is one of its own kind of memorial in South India that gives you a chance to pay respect to the courageous soldiers who fought for their country during the Indo-Pak war back in 1971.
A must-visit tourist attraction on the Vizag tour, the Victory at Sea War Memorial generates a sense of patriotism as soon as you enter the place. Home to a wide variety of missiles, tankers and fighter plane models, the Sea War Memorial is a well-maintained memorial that attracts tourists from all around the world for its significance.
Constructed in the year 1996 in the honour of all Indian war martyrs, the Victory at Sea War Memorial boasts of an excellent location on the beach road and offers a pleasant atmosphere around the park to enjoy a day out with your friends and families. Here you can take a leisure walk in the morning and witness the mesmerizing view of the sunrise from the beach.
There is also a lush-green garden to sit back, relax and admire nature at its best. In addition, you can stroll around the beach side food stalls to treat your taste buds with mouthwatering seafood and other snack items. Do not forget to bring your children along. It is an excellent spot for kids of all ages to understand the history in detail.
Architecture of Victory at Sea War Memorial, Visakhapatnam
Featuring a tri-service representation of artifacts, the Sea War Memorial displays a T-55 tank that was used in the second world war. Other exhibits include the P-21 ground to ground missile that is powered by a rocket engine to create havoc in the battle and the RZ-61 missile that is used for the rehearsal of parade on Republic day.
Places to Visit near Victory at Sea War Memorial, Visakhapatnam
If you are looking for a perfect mix of sun, sea and sand, there is no place better than Ramakrishna Beach in Visakhapatnam. Also recognized as RK Beach, the Ramakrishna Beach is a perfect base for people of all ages to spend some time away from the overcrowded areas. The serene waters, relaxing ambiance and cool environment allow you to escape and unwind while having a fun time with popular water activities. It is just a few steps away from the Sea War Memorial.
Another tourist attraction that looks as fascinating as the Victory at Sea War Memorial is INS Kurusura Submarine Museum. A wonderful place to take a glance at the submariners' lives under the water, the INS Kurusura Submarine Museum gives you a lot of information about how navy people survive with limited space and resources.
Other places such as VUDA Park, Kailasagiri Park, Matsyadarshini Museum, Tenneti Park, Dolphin's Nose LightHouse and Ross Hill Church can also be explored around the Sea War Memorial if you are in Visakhapatnam for more than 2 or 3 days.
Image Gallery of Victory at Sea War Memorial Vizag
Entry Fee and Timings of Victory at Sea War Memorial, Visakhapatnam
There is no entry fee to visit Victory at Sea War Memorial in Visakhapatnam. It is open for its visitors throughout the week.
Travel Tips for Victory at Sea War Memorial, Visakhapatnam
Do not try clicking the pictures. The photography is restricted inside the premises of the memorial.
It's always good to carry your passport whenever you are planning to visit the Sea War Memorial. You never know when the guards ask you to display your identity.
How to Reach Victory at Sea War Memorial, Visakhapatnam?
Located at a distance of 19 km from the heart of the city, the Victory at Sea War Memorial can be accessed by buses or auto-rickshaws.
Choose to travel by road if you are staying somewhere nearby. The APSRTC department operates a regular bus service that connects neighbouring cities with Visakhapatnam and vice-versa.
For a more comfortable journey, you can catch a train to Visakhapatnam Junction from New Delhi, Hyderabad, Mumbai, Chennai and Bangalore on an everyday basis. After arriving at the Visakhapatnam Junction, which is 5.5 km away from the Sea War Memorial, hire a private vehicle from the list of top car rental companies in Visakhapatnam to commute within the city.
However, if you have a shortage of time, you can directly fly to Visakhapatnam International Airport to reach Visakhapatnam in the least possible time. From the airport, several modes of transportation options are available that take you to your destination.
---
To make your Vizag tour the most rewarding trip of your life, the travel experts at Vizag Tourism, a division of Holidays DNA assist you in customizing the itinerary of your choice that suits your holiday duration. So, what are you waiting for? Book an all-inclusive Vizag tour package with us now!. Please fill the Contact Us form for more details.
Location Map for Victory at Sea War Memorial Vizag