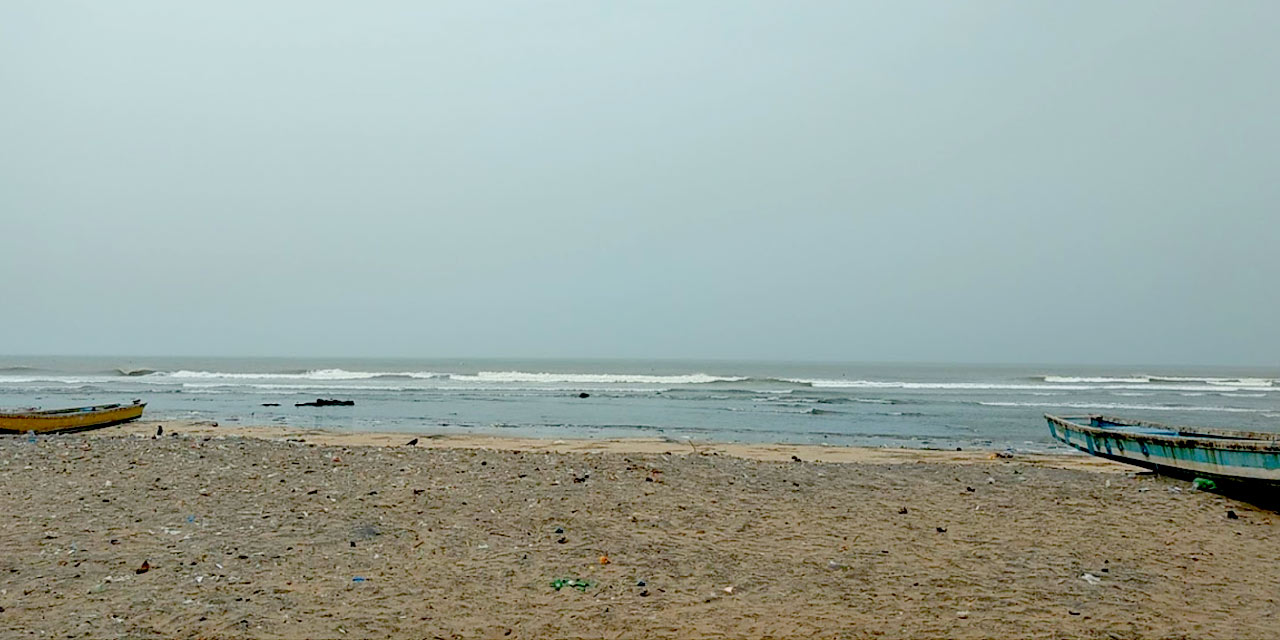 Lawson's Bay Beach Vizag Entry Fee
Lawson's Bay Beach Vizag Phone
N/A
---
Rating:
| 4/5 stars
Based on total 67 reviews
Lawson's Bay Beach Vizag Address: Visakhapatnam, Andhra Pradesh, 530005, India
---
Visakhapatnam qualifies as both an Industrial and tourist city. This city is situated in the east coast of Andhra Pradesh and is standing still as a testimony of time. With ocean on one side and lush green hills on the other, it has become one of the most visited tourist spots for people from across the globe. Named after the Hindu God of Valor; Visakha, Visakhapatnam is also called Vizag.
Apart from being the industrial capital, Vizag is also the headquarters of Eastern Naval Command of the Indian Navy and has the country's oldest shipyards. It's time you pack your bags and head out to Vizag for a breathtaking experience. You'll be thrilled to see the amazing coastal culture of Andhra Pradesh.
About Lawson's Bay Beach
Considered as an extension to Ramakrishna aka R K Beach, Lawson's is the posh beach. The calmness and serenity are much sought after elements here. The ever expanding sea with crystal clear water is ideal for swimming, surfing or just sunbathing.
For the longest time, the locals have been coming here for morning walks and leisure. The tranquility of this place attracts tourists and they come here for picnics on sunny days. The interest that tourists show has attracted the attention of hotel owners and resorts. There is an array of resorts and hotels coming up in the vicinity.
Vizag gives you a mix of both ancient and modern worlds. Whether you are a nature lover, animal lover, pilgrim or an environmental enthusiast, we got you covered.
Image Gallery of Lawson's Bay Beach Vizag
Places to visit near Lawson's Bay Beach
A land of sprawling beaches, ancient temples, hills, beautiful caves and savoring valleys; Vizag has so many things to offer and endure. You can visit quite a few places while you are at Lawson's Bay Beach:
1. INS Kursura Submarine Museum: The most unique museum in South Asia; INS Kursura is a war veteran. INS Kurusura Submarine is a Soviet built-I-641 class Submarine and was inducted into the Indian Navy on 18, December 1969. It was decommissioned on 28, February 2001 after 31 years of glorious service to the nation. The museum was opened for public on the 14th August, 2002. The museum gives you the experience of a real life submarine.
2. Kailasagiri Park: Situated 360 feet above sea level, this park presents you a view of the sea, forests and the city of Visakhapatnam. The man who sells lemonade outside the main gate has been there for over 3 decades and shares a slice of his experiences with a glass of lemonade. You can also go paragliding at Kailasagiri Park. There's a ropeway for tourists which provides you with a bird's eye view of the whole city. To add to your amusement, a toy train for children has been installed which adds up to the fun.
3. Ross Hill Church: One of the prettiest churches in the country, Ross Hill is situated atop the highest hill around. Tourist and religious followers come here for the serenity and peace that it provides. It is a hot spot for photographers and couples alike. To just sit there and observe the pretty sunsets and sunrises is a joy to cherish. Over the years, Ross Hill has had to go through many rounds of renovations and it still stands beautiful.
4. TU 142 Aircraft Museum: Right opposite to the INS Kursura Submarine Museum lies the aircraft museum that has become one of the most loved tourists' sites in just two years of installation. The TU 142 aircraft of the Indian Navy after 30 years of loyal service was decommissioned and converted into a museum. Right before you enter the aircraft, you have an exhibition hall that takes you through the various parts of the aircraft. There is a small gift and souvenir shop right outside the museum which makes limited edition bookmarks and pens.
5. Dolphin's Nose: This 174m high rocky headland which looks similar to a Dolphin's nose is situated in the south of Vizag. The nose seems to be poking the Bay of Bengal making it a worthwhile sight. A lighthouse is placed 64km out at sea which has been used by sailors to find port for years now. You want a spooky lighthouse adventure, your search is over.
6. Gluttons Garage: Situated at a walkable distance from Lawson's Bay Beach, Gluttons attracts both tourists and locals alike. Their food and ambience is amazing. If you have time to kill before the museums open or you just want to relax and hog on food after a long day of sightseeing, you know where to go.
7. Victory at Sea Memorial: We are all aware of the Indo-Pak war that was fought back in 1971. This is when INS Vikrant with other submarines and aircrafts won against the Pakistani attacks. This memorial truly sends a chill down your spine but also keeps the memory of victory alive. Some memoirs are painfully beautiful.
How to Reach Lawson's Bay Beach
Visakhapatnam is accessible via trains, Buses as well as Flights from almost all the major cities in the country. Because of its popularity, availing rented cars or cabs isn't an issue at all. You can book a private cab from top car rental companies in Vizag and travel within the city quite comfortably.
Because Lawson's is also an extension to Ramakrishna Beach, getting any mode of public or private transportation is very easy except for buses. To reach Lawson beach you can do the following:
1. Reach Visakhapatnam by train at the Visakhapatnam Railway Station. You may take a cab or a bus from the station straight to Lawson's Bay.
2. Reach Visakhapatnam by flight and get off at the Visakhapatnam Airport. This airport is connected to various metropolitan cities and a few international cities too.
3. Reach Visakhapatnam by road as the city is well connected by roadways and you can reach this city from any part of the country by road. National Highway 16 is the main road that runs through the city of Visakhapatnam.
---
Don't wait for a vacation to visit Vizag instead set out on any weekend and have a great time. We at Vizag Tourism, a division of Holidays DNA offer Vizag tour packages for you to have a great time at the port city without bothering about the planning hassles. Visit all the popular sightseeing attractions of Vizag and explore the never seen side of the city in a relaxed manner. Please fill the Contact Us form for further details and we will get back to you.
Location Map for Lawson's Bay Beach Vizag