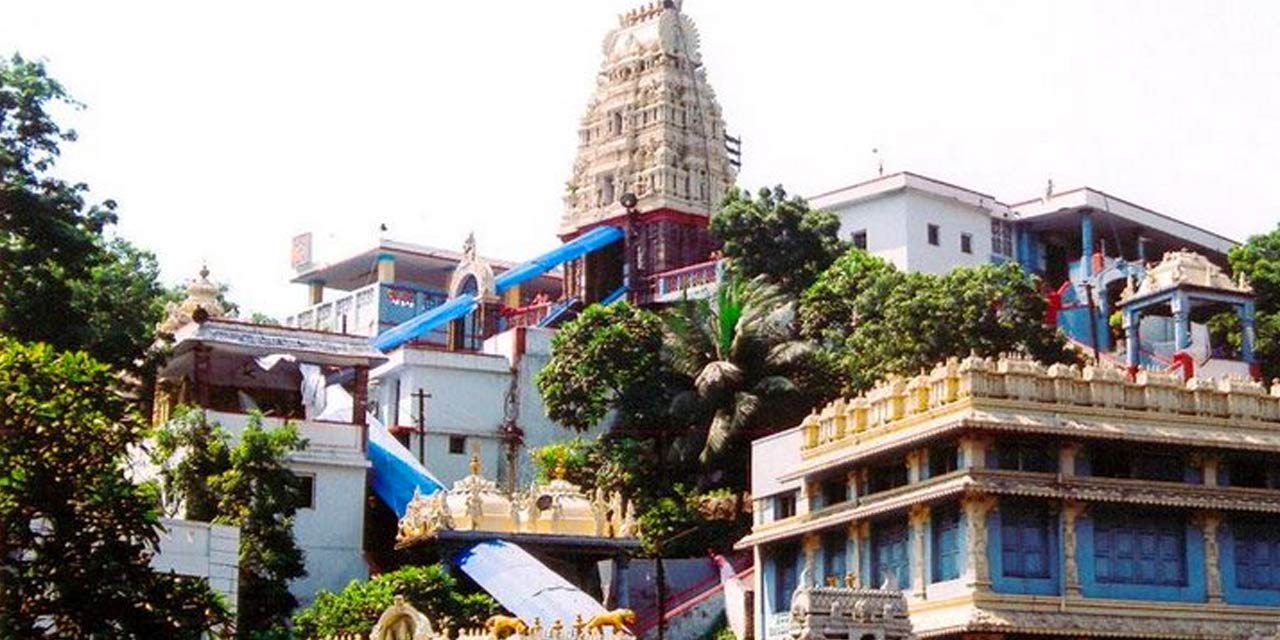 Sri Venkateswara Swamy Konda Temple Vizag Entry Fee
Sri Venkateswara Swamy Konda Temple Vizag Phone
---
Rating:
| 4/5 stars
Based on total 63 reviews
Sri Venkateswara Swamy Konda Temple Vizag Address: Beach Road, Port Area, Chengal Rao Peta, Port Area, Visakhapatnam, Andhra Pradesh, 530001, India
---
Vizag is a city that is blessed with immense natural beauty. There is an emerald green landscape everywhere with hills and beaches adding to its ethereal charm. The city is surrounded by three hills; Sri Venkateswara Konda, Ross hill and Dargah Konda with each hill representing different religions. Sri Venkateswara Swamy Konda temple in Vizag is on Sri Venkateswara Konda hill and is dedicated to Lord Venkateswara.
The temple also goes by the name of Narasimha Swamy Konda temple amongst the local population. According to several Telugu inscriptions, the temple is said to have been built in 1866 by a European Captain Blackmoor.
A striking feature of this temple is its small and steep entrance or gopura that resembles a pyramid. You can see the port-channel which is the entrance of the inner harbor for ships and liners from here.
The temple is located near Vishakhapatnam Harbor which visitors to the temple often add to their itinerary. From the top of the hill, it is a magnificent sight to see ships and hordes of fishermen throwing their nets over water.
Entry Fee and Timings of Sri Venkateswara Swamy Konda temple Vizag
Sri Venkateswara Swamy Konda temple is open from 5:00 AM to 7:00 PM on all days of the week except on Sundays.
There is no entry fee to visit the temple.
Best time to visit Sri Venkateswara Swamy Konda temple Vizag
The best time to visit the temple is between November to February when the weather is pleasant to enjoy the scenic beauty around the temple and to visit the harbor nearby.
Places to visit near Sri Venkateswara Swamy Konda temple Vizag
You can visit the mosque and church in the nearby hills along during your trip to the temple. These nearby attractions are:
1. Ross Hill Church: Situated on top of the central hill, Ross Hill Church is an impressive structure that needs to be visited for its architectural beauty and the breathtaking view it offers.
2. Baba Ishq Madina Mosque: Located on the north hill, Dargah Konda this mosque houses the tomb of the Muslim saint, Baba Ishq Madina. It is about seven hundred years old.
Location and How to reach Sri Venkateswara Swamy Konda temple Vizag
The temple is located in the Port area of Vizag. You can reach the temple through following modes of transport:
By Air: Visakhapatnam airport is located 12 km away from the city center and is well connected to major cities of the country. From the airport, you can hire a cab from top car rental companies in Vizag to reach the temple.
By Rail: Vizag is connected to all the cities of India by rail. The temple is located at a distance of 5km from Vizag station and can be reached by a cab or auto.
By Road: Both private and public buses connect Visakhapatnam to neighbouring states and other important cities of AP. You can also choose to travel by car or cab for a hassle free commutation within the city.
Image Gallery of Sri Venkateswara Swamy Konda Temple Vizag
---
For tourists who want to explore all the popular places to visit in Vizag in a relaxed and hassle free manner, we at Vizag Tourism, a division of Holidays DNA have designed Vizag Tour packages that are quite easy on your pocket. You can also choose to customise the package according to your preferences. To know more about our offerings, please fill the Contact Us form and we will get back to you.
Location Map for Sri Venkateswara Swamy Konda Temple Vizag