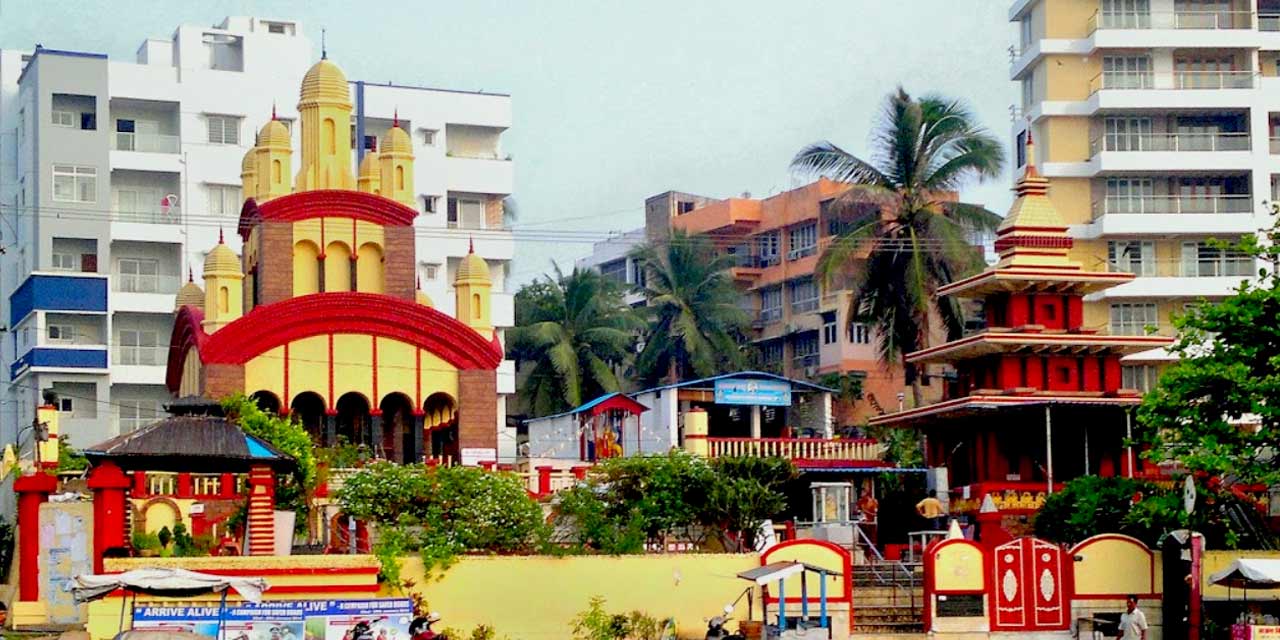 Kali Temple Vizag Entry Fee
Kali Temple Vizag Phone
---
Rating:
| 4/5 stars
Based on total 67 reviews
Kali Temple Vizag Address: Beach Rd, RK Beach, Paanduranga Puram, Visakhapatnam, Andhra Pradesh, 530003, India
Vizag Tour Packages
Kali Temple Vizag Timings
Day
Timing
Monday
6:00 am – 12:00 pm
4:00 pm – 8:00 pm
Tuesday
6:00 am – 12:00 pm
4:00 pm – 8:00 pm
Wedesday
6:00 am – 12:00 pm
4:00 pm – 8:00 pm
Thursday
6:00 am – 12:00 pm
4:00 pm – 8:00 pm
Friday
6:00 am – 12:00 pm
4:00 pm – 8:00 pm
Saturday
6:00 am – 12:00 pm
4:00 pm – 8:00 pm
Sunday
6:00 am – 12:00 pm
4:00 pm – 8:00 pm
Links:
Website
|
Map
---
The city of Vizag offers you a wide range of activities that leave you spoiled for choice. You can take a stroll down its beaches, lose yourself in the forests or climb mountains. When this rejuvenating vacation comes in contact with religion, you have something that is purely magical.
Vizag comes with a long list of tourist attractions; and one of the top most places to visit in Vizag is the glorious Kali Temple. Starting with offering your prayers or taking a stroll through the temple and catching glimpses of some brilliant artwork, it is an experience. The place also makes for great photographic opportunities.
History and Architecture of Kali Temple
Kalimata Temple or Kali Temple of Vizag is a popular pilgrimage destination. The most important reason behind this is the rich history it inherits. The foundation of the temple was, originally, a skeletal structure made of bamboo. The construction of this temple, thence, commenced in the year 1984.
Tall pillars, domes and minarets welcome you into this temple as you set foot into its premises. It houses an office, living quarters for priests and a temple kitchen. While the temple is dedicated to the sanctuary of the Hindu Goddess Kali, there is another temple adjacent. This is dedicated to Lord Siva. The Shivalinga is made of 'rasalinga' which weighs about 10kgs made of complete stone.
Things to do at Kali Temple
The Kali Temple stands apart primarily because of its modernised, engineering brilliance that is breathtakingly beautiful. Amongst the many things you can do here, some of them include:
1. Darshan: Offering darshan or prayers is one of the few things that you can do at the Kali Temple.
2. Destress: The temple is nothing short of a shrine. It is a wonderful place to sit by yourself and enjoy the serenity the temple provides.
3. Photography: Temples make for great photographic opportunities, depicting culture, emotions, people in their truest form.
Image Gallery of Kali Temple Vizag
Location and How to Reach Kali Temple
The Kali Temple is located at the address Rama Krishna Beach Rd, RK Beach, Paanduranga Puram, Visakhapatnam, Andhra Pradesh, 530003, India. There are several methods you can take to reach the Kali Temple. These include:
● Auto-rickshaw: You can take an auto to Kali Temple from anywhere in Vizag.
● Bus: Several state-run buses also ply to Kali Temple. It is the cheapest form of transport. You need to get off at the RTC complex.
● Cab: You can even book a cab from top car rental companies in Vizag and reach the temple while enjoying a comfortable ride.
Entry Fee and Timings of Kali Temple
There is no entry fee to visit Kali temple.
The temple remains open every day of the week from 6:00 AM until noon, and then from 4:00 PM till 8:00 PM in the evening.
---
Vizag is a beautiful place to visit and is guaranteed to make some of the best memories you can imagine. It is ideal for solo trips and trips with friends and families. Kali Temple is a must-visit and surely cannot be missed.
To help you plan your trip just the way you want, we at Vizag Tourism, a division of Holidays DNA offer carefully planned Vizag Tour packages. These packages are budget friendly which make your Vizag tour affordable without compromising on quality. Please fill the Contact Us form to know further.
Location Map for Kali Temple Vizag