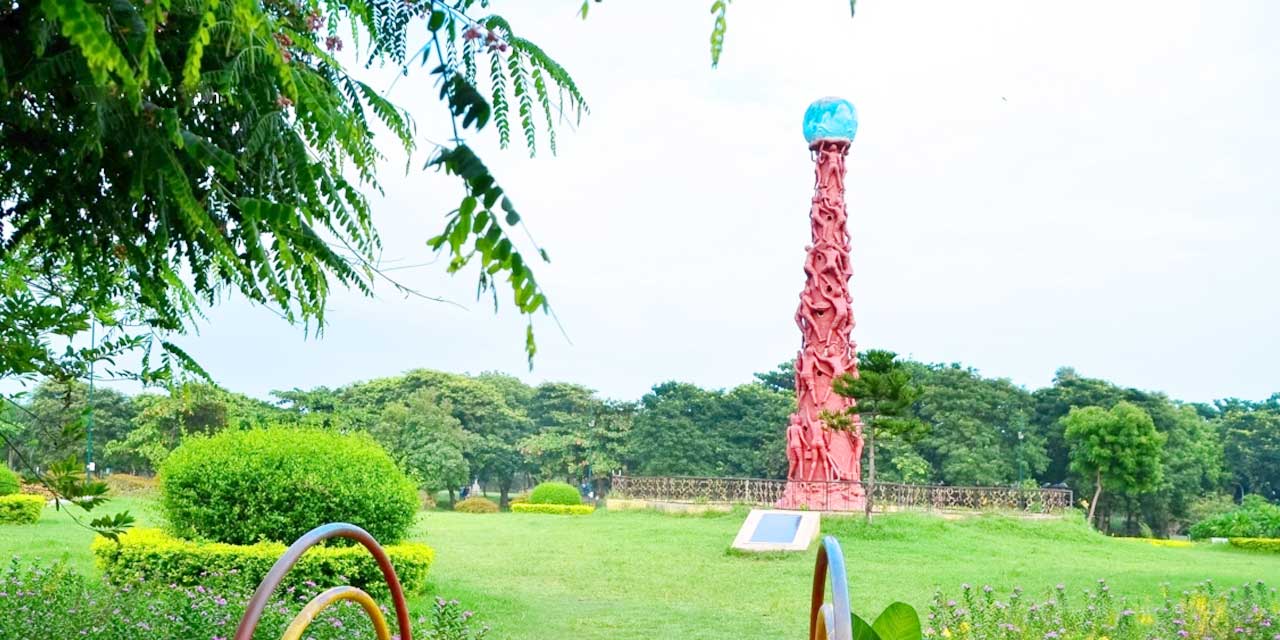 VUDA Park Vizag Entry Fee
20 per person for Adults/Children from 9 am to 2 pm
60 per person for Adults/Children from 2 pm to 8:30 pm (Includes ticket for Musical Fountain Show)
50 for Cycle Rides (for one hour)
No Entry fee from 4:00 am to 9:00 am and 4:00 pm to 8:00 pm for Jogging & Walikng
VUDA Park Vizag Phone
---
Rating:
| 4/5 stars
Based on total 56 reviews
VUDA Park Vizag Address: Beach Rd, Kailasagiri Arch, Chinna Waltair, Jalari Peta, Visakhapatnam, Andhra Pradesh, 530017, India
Vizag Tour Packages
VUDA Park Vizag Timings
| Day | Timing |
| --- | --- |
| Monday | 9:00 am – 8:30 pm |
| Tuesday | 9:00 am – 8:30 pm |
| Wedesday | 9:00 am – 8:30 pm |
| Thursday | 9:00 am – 8:30 pm |
| Friday | 9:00 am – 8:30 pm |
| Saturday | 9:00 am – 8:30 pm |
| Sunday | 9:00 am – 8:30 pm |
Musical Fountain Timings:
Monday to Friday: 6:15 pm, 7:15 pm & 8:30 pm
Saturday, Sunday & Holidays: 6:15 pm, 7:00 pm, 7:45 pm & 8:30 pm
Links:
Website
|
Map
---
Vizag is a popular tourist destination widely known for its beaches, parks, caves, museums and natural beauty. Taraka Rama Park, more popularly known as VUDA park is one of the major attractions of Vizag. Named after the former Chief Minister of Andhra Pradesh, Mr. Taraka Rama Rao, this park is a popular recreation center for locals as well as the tourists visiting Vizag.
Sprawling over 55 acres, VUDA park is developed by Visakhapatnam Urban Development Authority and is situated quite close to Ramakrishna beach, another popular tourist attraction in Vizag. VUDA park is one of the most attractive tourist spots in Vizag. With 37 acres covered with beautiful lawns, over 2500 shady trees, a variety of species of flower plants; VUDA park attracts nature lovers in huge numbers.
One can witness a huge number of people flocking this place for morning and evening walks enjoying the natural beauty here. A famous leisure spot, VUDA park is the perfect place for a family outing. VUDA park is a major hit with children due to the umpteen number of facilities offered for children visiting this park. The children's park, boating and swimming facilities, horse and camel rides attract children to this well maintained park.
Image Gallery of VUDA Park Vizag
The one of a kind roller skating rink, built on international standards is a major attraction here. The Entrance plaza and MGM Dizzy World are other attractions of the VUDA park. The major highlight of the park is the musical water fountain where water dances according to the rhythm of the music attracting people of all age groups.
A perfect place for families looking to spend some leisure time together, VUDA park is a must visit destination in Vizag. With its beautiful lawns, rich flora, children's park, various fun filled rides, artificial caves, and musical water fountain; VUDA park offers something for everyone. An ideal destination for young and old people alike, a trip to VUDA park should not be missed by anyone visiting the beautiful city of Vizag.
Location Map for VUDA Park Vizag