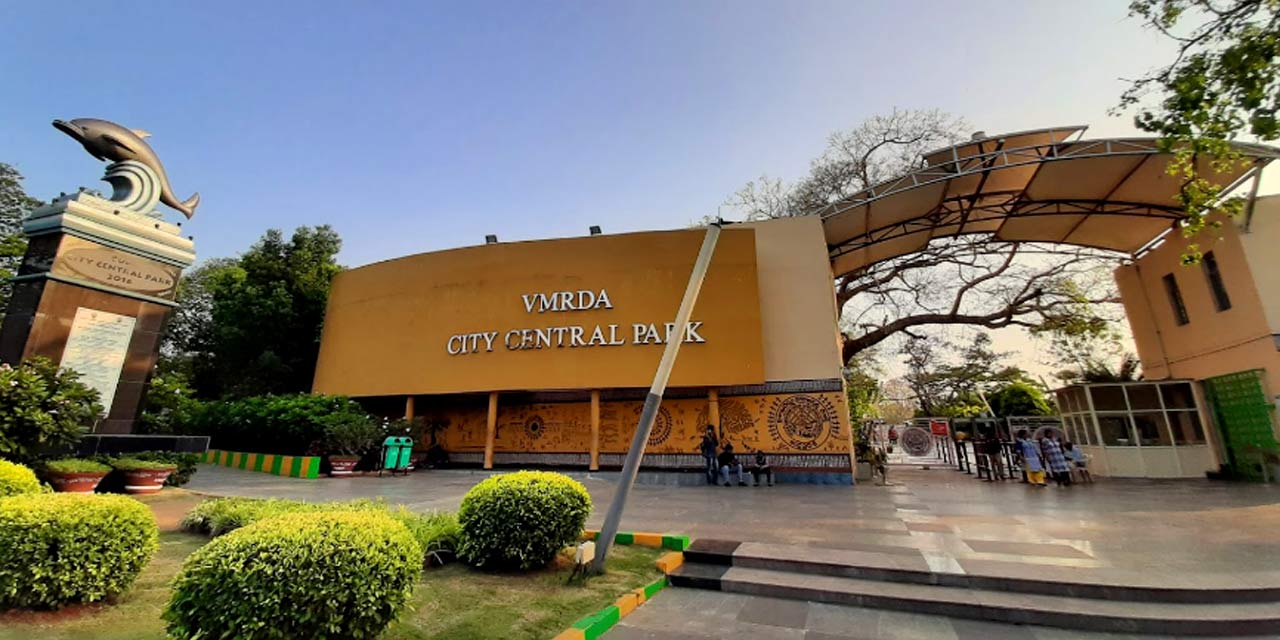 VMRDA City Central Park Vizag Entry Fee
20 per person for Adults/Children from 9 am to 2 pm
60 per person for Adults/Children from 2 pm to 8:30 pm (Includes ticket for Musical Fountain Show)
50 for Cycle Rides (for one hour)
VMRDA City Central Park Vizag Phone
---
Rating:
| 4.4/5 stars
Based on total 74 reviews
VMRDA City Central Park Vizag Address: RTC Complex Rd, Dwaraka Nagar, Visakhapatnam, Andhra Pradesh, 530004 India
Vizag Tour Packages
VMRDA City Central Park Vizag Timings
| Day | Timing |
| --- | --- |
| Monday | 9:00 am – 8:30 pm |
| Tuesday | 9:00 am – 8:30 pm |
| Wedesday | 9:00 am – 8:30 pm |
| Thursday | 9:00 am – 8:30 pm |
| Friday | 9:00 am – 8:30 pm |
| Saturday | 9:00 am – 8:30 pm |
| Sunday | 9:00 am – 8:30 pm |
Musical Fountain Timings:
Monday to Friday: 6:15 pm, 7:15 pm & 8:30 pm
Saturday, Sunday & Holidays: 6:15 pm, 7:00 pm, 7:45 pm & 8:30 pm
Links:
Website
|
Map
---
If you keep visiting Visakhapatnam time and time again but never get a chance to pave your way towards the VMRDA City Central Park, it's the time!
Formerly known as VUDA City Central Park, VMRDA City Central Park is a widely famous amusement park that promises you to offer the best recreational experience surrounded by the natural beauty around the place.
Spread over an area of 22 acres, the VMRDA City Central Park has officially opened its door for its visitors on Sep 14, 2016 and was inaugurated by the ex-Chief Minister of Andhra Pradesh, Chandrababu Naidu. It is a well-maintained and neatly cleaned park within the city of Visakhapatnam and is under the control of the Visakhapatnam Metropolitan Region Development Authority.
A must-visit destination for couples and families with children, the park has astonishing lawns, over 3000 shady trees and 50 plus varieties of plants and herbs that make it look unique and different from other amusement and entertainment parks in Visakhapatnam.
Perfect for a half day excursion, the city central park is considered as a good place to spend some quality time together on the weekends. Here you will find a separate children area for kids to mingle with others of their own age along with lots of fun activities for your enjoyment. There is also a vast range of eateries available where you can stop to munch on your favourite snacks whenever you feel hungry.
Things to do at VMRDA City Central Park, Visakhapatnam
1. Musical Fountain: You cannot afford to miss the musical fountain whenever you are within the premises of the VMRDA City Central Park. Also recognized as the 3rd largest fountain in India, it is the major highlight of this park that dances to the tune of music, thus attracting thousands of tourists every week.
2. Bonsai Garden: Another equally fascinating attraction of this park is Bonsai Garden. Home to more than 100 varieties of miniature bonsais, the Bonsai Garden is indeed a great place to walk through and admire the overall look and feel of this garden. Here, the local government authority is also planning to organize workshops where experts from all over the world will come every year to spread their knowledge and awareness about bonsai plants.
3. Yoga Hall and Amphi Theatre: Enjoy a visit to yoga hall and do some stretching to relax your mind and muscles. There is also a spacious Amphi Theatre where live performances, events and other activities are conducted for your entertainment. It has an accommodation capacity of up to 500 members.
4. Jogging and Cycling Track: Last but not the least, the VMRDA City Central Park has a jogging track of 1 km for fitness fanatics and 850 meters of walking track for all those who love to walk holding hand of their loved ones. Other than that, you can also enjoy bicycling at INR 50 for 1 hour as the park features 0.9 km of cycling track.
Entry Fee and Timings of VMRDA City Central Park, Visakhapatnam
The opening and closing timings of VMRDA City Central Park in Visakhapatnam are from 9:00 AM to 8:30 PM on all days of the week.
Coming to its entry fee, it charges INR 20 per person for adults/children visiting between 9:00 AM and 2:00 PM and INR 60 per person for adults/children visiting between 2:00 PM and 8:30 PM. The afternoon visit also includes the ticket for a musical fountain show.
The park charges INR 30 for car parking and INR 20 for 2-wheeler parking.
Image Gallery of VMRDA City Central Park Vizag
Places to Visit around VMRDA City Central Park, Visakhapatnam
Dolphin's Nose is one of the well renowned tourist places in Visakhapatnam that gives you a chance to observe the astonishing views of the entire city along with admiring lush greenery and beautiful landscapes from a height of 358 meters. Perched on top of the hill, Dolphin's Nose allows you to say goodbye to the sunset in a surreal setting.
Yarada Beach, ideal for beach lovers and experience seekers, draws innumerable tourists every year due to its serene ambiance, tranquil atmosphere and unmissable charm. Here you can relax under the sky, take a short stroll alongside its coastline or simply play with crystal-clear waters with soft golden sand all around you – the options are endless! In addition, the beach also presents several water sport activities to keep you occupied throughout the time. What else do you need?
A few of the other attractions that you can plan to explore whenever you are in Visakhapatnam for a number of days include Ross Hill Church, Kothapally Waterfalls, Simhachalam Temple, Naval Museum, Matsyadarshini Museum, Victory at Sea War Memorial, etc.
How to Reach the VMRDA City Central Park, Visakhapatnam?
Since VMRDA City Central Park is nestled in the heart of the city, it can be easily accessed by both locals and tourists. However, to reach Visakhapatnam, you can opt for your preferred mode of transportation that suits your holiday budget and style. These include:
By Air: Approximately 11 km drive away is Visakhapatnam International Airport from VMRDA City Central Park. The total distance can be covered in half an hour if you follow either Kancharapalem Main Road, NAD Kotha Road or NH16. After arriving at the airport, choose from a wide variety of options available that drops you to your destination without any hassle.
By Train: Visakhapatnam Junction, which is only 2.1 km away, maintains great connectivity to its neighbouring towns and other cities of India through railway trails, making it easy for people to travel to Visakhapatnam from Hyderabad, Chennai, Bangalore, Jaipur, Indore, New Delhi, and Coimbatore at their comfort.
By Road: Operated by the APSRTC department, there are several buses that run to and from Visakhapatnam Bus Stand on a regular basis. That simply means, tourists can get down to Visakhapatnam without worrying about anything. From the bus stand, the VMRDA park is hardly 500 meters away.
---
To make the most of your trip to Visakhapatnam, you can book an all-inclusive Vizag tour package with us and explore the popular sightseeing places in Visakhapatnam.
Keeping tourist interest in mind, we at Vizag Tourism, a division of Holidays DNA, design various travel deals at pocket-friendly prices. Our team has also prepared a list of top car rental companies in Visakhapatnam from where you can hire a private vehicle to commute to wherever you want to go. Please fill the Contact Us to know more.
Location Map for VMRDA City Central Park Vizag