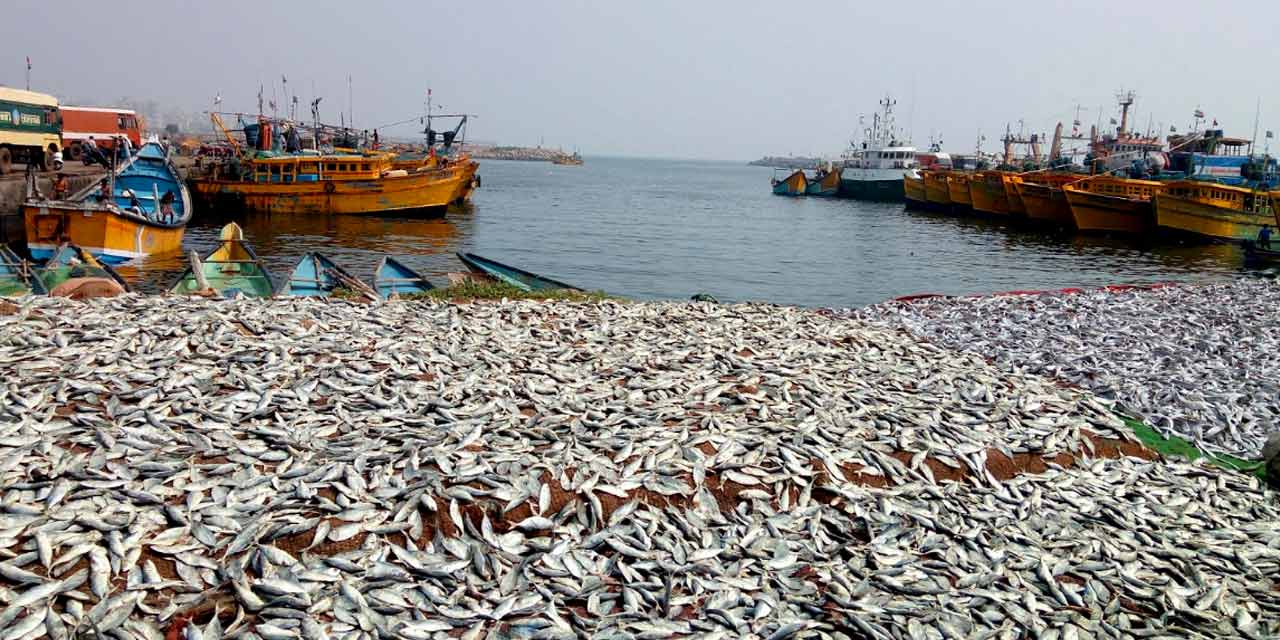 Fishing Harbour Vizag Entry Fee
Fishing Harbour Vizag Phone
N/A
---
Rating:
| 4/5 stars
Based on total 64 reviews
Fishing Harbour Vizag Address: Kurupam Market, No 25-8-220, Town Kotha Rd, Jalaripeta, Port Area, Visakhapatnam, Andhra Pradesh, 530001 India
---
Out of all the places to visit in Visakhapatnam, the Fishing Harbour is one such place that remains over-crowded all the time. Spread over an area of 26 hectares, it was opened in the year 1976 and is under the control of Visakhapatnam Port Trust.
Nestled on the east coast of the city, Fishing Harbour is considered as one of the largest fishing harbours in India that gives you a chance to witness the mesmerizing view of the Bay of Bengal. Here you can also enjoy a mix of sea, land and hills from a distance.
Things to do at Fishing Harbour, Visakhapatnam
If you are a fish lover, this is absolutely the right place for you. With a wide variety of fishes available, you can bring some fishes along with other sea food back home to prepare a mouth-watering dish for your family members.
Enjoy a boat ride to make the most of your visit at Fishing Harbour. Perfect for people of all ages, the Fishing Harbour offers the facility of boating so that you can enjoy a unique and different experience.
Entry Fee and Timings of Fishing Harbour, Visakhapatnam
There is no entry fee to visit Fishing Harbour in Visakhapatnam. Coming to its opening and closing timings, it welcomes its visitors at any time of the day between 5:00 AM in the morning to 6:00 PM in the evening.
Image Gallery of Fishing Harbour Vizag
Places to Visit near Fishing Harbour, Visakhapatnam
Wondering what to do after strolling around the Fishing Harbour for some time? Well, Visakhapatnam, also known as the "City of Beaches" has several tourist attractions that keep you engaged throughout the time on your Vizag tour. All you need to do is to plan your itinerary accordingly so that you don't miss the popular sightseeing places.
Beaches in Visakhapatnam: Experience some beach life at the sun-kissed beaches of Visakhapatnam that are sure to captivate your attention every time you get to see these beaches. A few of them include Rama Krishna Beach, Yarada Beach, Rushikonda Beach, Bheemili Beach, Gangavaram Beach and Kalingapatnam Beach.
Temples in Visakhapatnam: Another thing that reveals the hidden secret to spirituality is the temples in Visakhapatnam. This city is home to a wide variety of temples that connect your mind with holy and divine vibes and make you feel positive from inside. ISKCON Temple, Sree Sampath Vinayagar Temple, Simhachalam Temple, Devipuram Temple and Kali Temple are a few to name.
Museums in Visakhapatnam: Step back in time to discover the history, culture and heritage at the museums in Visakhapatnam. These include TU 142 Naval Aircraft Museum, INS Kurusura Submarine Museum, Naval Museum, Victory at Sea War Memorial, Visakha Museum, etc.
Other attractions such as Dolphin's Nose, Dolphin's Nose LightHouse, VMRDA City Central Park, Telugu Samskruthika Niketanam, Mudasarlova Park, Kothapally Waterfalls and Kailasagiri Park can also be added to your list if you visit Visakhapatnam for more days.
How to Reach Fishing Harbour, Visakhapatnam?
Located in Kurupam Market of Visakhapatnam, Fishing Harbour maintains good connectivity to the city and its neighbouring areas via road.
Visakhapatnam International Airport, which is a 14 km drive away from the port, can be easily accessed in 38-40 minutes by car and Visakhapatnam Railway Station, which is only 4.9 km away, takes only 18-minutes to reach the port.
If you're coming directly from Visakhapatnam Bus Stand, you can catch the local bus that heads towards Fishing Harbour or simply hire an auto-rickshaw to get down to your destination. For your convenience, the APSRTC department also operates several buses that link Visakhapatnam with Hyderabad, Pune, Mumbai, Bangalore, Chennai and several other cities of India at pocket-friendly prices. So, you need not worry if you are travelling to Visakhapatnam on a limited budget.
---
To make it the best trip of your life, we at Vizag Tourism, a division of Holidays DNA, design various all-inclusive Vizag tour packages that allow you to explore the popular sightseeing places in a relaxed and comfortable manner. Our travel experts have also curated a list of top car rental companies in Visakhapatnam from where you can book a private taxi to commute to wherever you want to go within the city. Please fill in the Contact Us form to know more about our offerings!
Location Map for Fishing Harbour Vizag