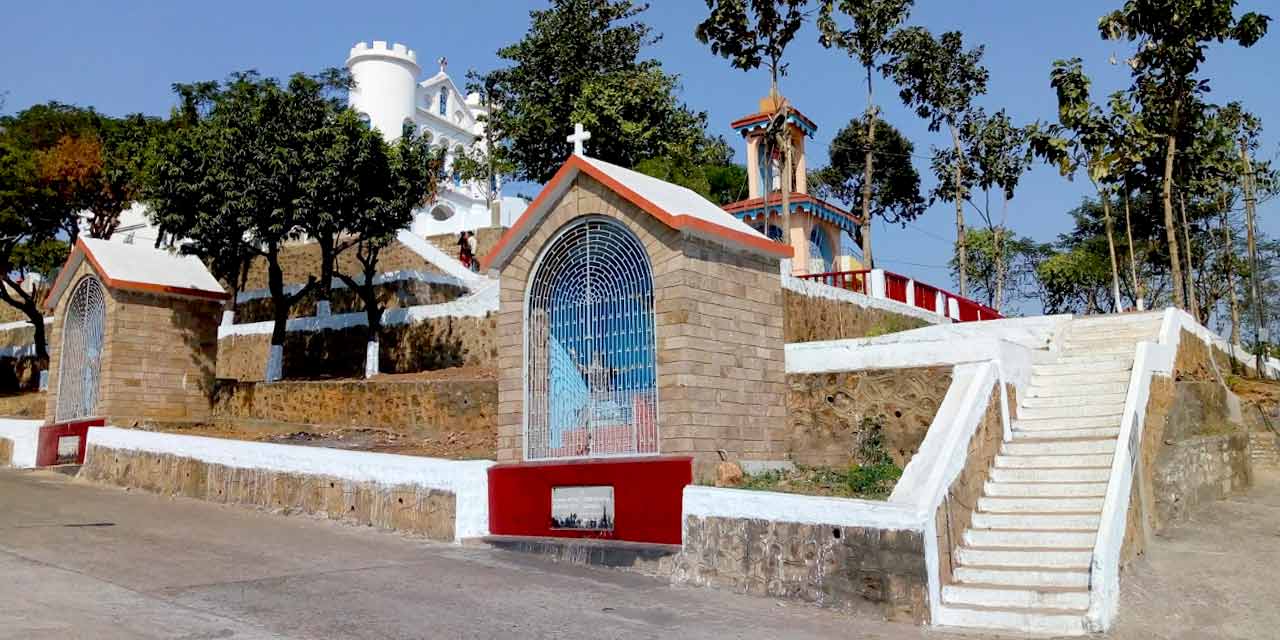 Ross Hill Church Vizag Entry Fee
Ross Hill Church Vizag Phone
N/A
---
Rating:
| 4/5 stars
Based on total 68 reviews
Ross Hill Church Vizag Address: Port Area, Visakhapatnam, Andhra Pradesh, 530001, India
---
Vizag is surrounded by three hills, each with distinctive religious significance, that stand beside each other welcoming you into a world of absolute wonder. Situated on top of the central hill is the Ross Hill Church that is an impressive structure in Vizag that draws tourists and locals in huge numbers.
Along with its religious significance, the Church is famous for its splendid architecture and scenic view it offers of the surrounding beaches, port and the shipyard. A must visit tourist attraction of Vizag, Ross Hill Church should not be missed by anyone visiting the port city.
History of Ross Hill Church
The hill on which the church stands derives its name from a local Judge, Monsieur Ross who is known to have built a house on top of it. Two years hence, Bishop Msgr J. M. Tissot occupied the bungalow and in 1867, an altar was erected and a chapel was constructed by the Vicar General Fr. Richard.
Natural calamities brought unfortunate destruction to the church compelling the reinstallation of a new statue of Our Lady of the Sacred Heart in 1877. April 1942 witnessed Japanese raid over Visakhapatnam during which Bishop Roussillon took a vow to take his people under the protection made available at Ross Hill Chapel. Magically, there were no more raids over the city any longer.
10th February 1946 witnessed the first Thanksgiving Procession. This has become a very important aspect in the lives of the people living in Vizag and it makes it an event to lookout for. The church is almost a hundred years old.
Things to do at Ross Hill Church
Ross Hill Church welcomes you with open arms and the liberty to attain peace and tranquillity in whichever way you find suitable. It thrives on the fact that tourists like to rush to this location to achieve rejuvenation, relaxation and mental peace. The things you can do at the church are:
1. Attend Ceremonies: Tourists can attend prayers and mass as per the timings. The church is open to everyone without discrimination based on caste, creed, religion or gender.
2. Bird's eye view: The best part of visiting Ross Hill Church is the panoramic view of the city and Port that is accompanied with. The horizon is sure to take your breath away.
3. Sunsets and Sunrises: Arrive on time to witness one of the most beautiful sunrises or sunsets you could possibly imagine. The location of the church gives you an advantage to witness this phenomenon and click some good quality pictures.
4. De-stress: The church maintains a code of silence allowing you to attain absolute tranquillity in solitude. Walking up the stairs to the church is a therapeutic experience in itself and finally the peace it brings by the end of it is beautiful.
Image Gallery of Ross Hill Church Vizag
Entry Fee and Timings of Ross Hill Church Vizag
Ross Hill Church is open from 9 in the morning to 6 in the evening on all days of the week. There is no entry fee to visit the church.
Places to visit near Ross Hill Church Vizag
Ross Hill is a perfect example of communal harmony where church, mosque and temple coexist. Along with a trip to the Church, you can visit the below mentioned places when at the Ross Hill:
1. Baba Ishq Madina: It is located on the north hill. Dargah Konda is a mosque and mausoleum of the Muslim saint, Baba Ishq Madina. The mosque is about seven hundred years old.
2. Lord Venkateswara Temple: Dedicated to the Hindu God Vishnu, this temple was constructed in the 17th century. Interesting tales are laced about the origin of this temple and its artistic beauty is definitely worth a visit.
Location and How to Reach Ross Hill Church Vizag
Ross Hill Church is located at the address Port Area, Visakhapatnam, Andhra Pradesh, 530001, India. It is about 20kms away from the city centre. There are several modes of transport to the church. These include:
Bus: Several state buses can take you to Ross Hill Church. You need to remember to get off at RTC Complex from where you need to take an auto or cab.
Cab: You can hire a cab from top car rental companies in Vizag and travel to Ross Hill Church in absolute comfort and convenience.
---
A visit to Ross Hill is truly a rewarding experience and quite informative as you get to see the rich history of Vizag. To help you plan your Vizag tour, we at Vizag Tourism, a division of Holidays DNA offer Vizag Tour packages that are affordable and include a visit to all the popular sightseeing places of Vizag. To know more about our offerings, please fill the Contact Us form.
Location Map for Ross Hill Church Vizag