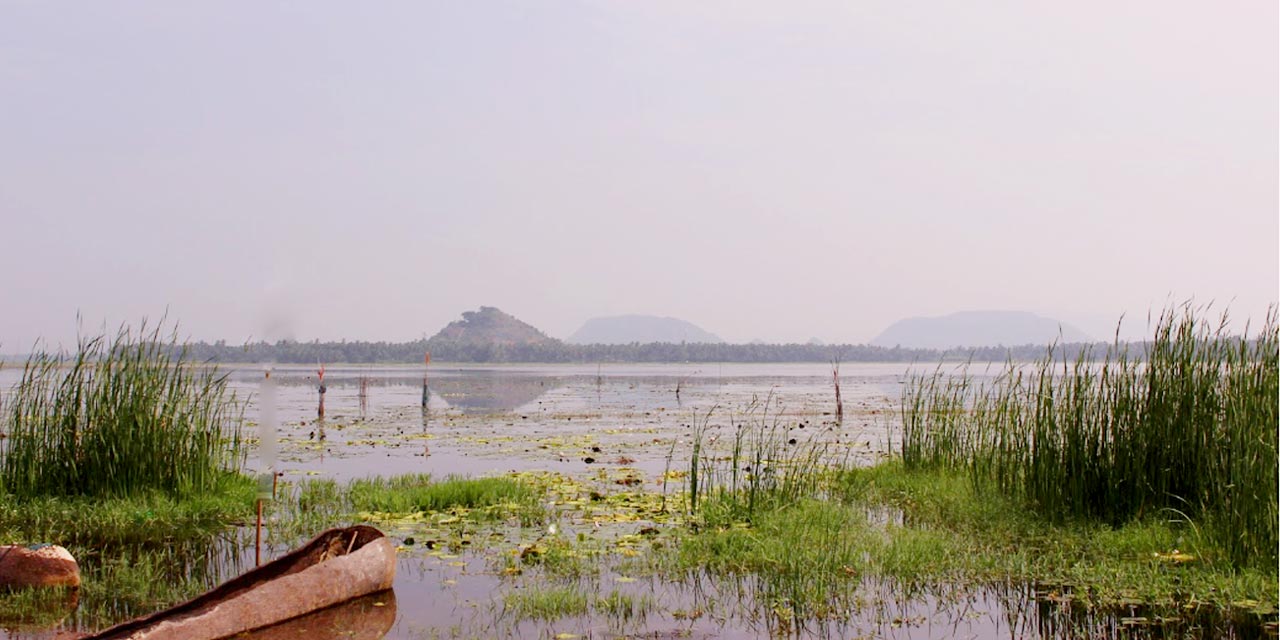 Kondakarla Ava Beach Vizag Entry Fee
Boat Cost
300 - 500 per person for one and a half hour boat ride
Kondakarla Ava Beach Vizag Phone
N/A
---
Rating:
| 4/5 stars
Based on total 76 reviews
Kondakarla Ava Beach Vizag Address: Visakhapatnam, Andhra Pradesh, 530001, India
---
A day at the beach is always a welcome change from the daily humdrum of life and when it is a beach like the Kondakarla Ava beach in Vizag the day cannot get any better. This beach in Vizag is a favorite spot not just for the locals but also for the tourists. It is home to one of the biggest freshwater lakes of the state and this is one big draw for the tourists along with its picturesque setting dotted with coconut trees and salubrious green hills on two sides.
Kondakarla Ava Beach Vishakhapatnam is a white sand beach and the gorgeous landscape here coupled with the tranquil environment makes for a perfect location to spend a quiet day with friends and family.
Another attraction of this beach is the Bird and lake sanctuary here which is home to several exotic bird species like Cormorants, Pochards, Herons, Storks, and Egrets. Several migratory birds visit the beach and can be spotted along with the marine life thriving at the beach.
This lake and bird sanctuary is a recognized Eco-Tourism destination as it has a unique and endangered forest type along with wet evergreen forests. There is a Lord Venkateswara Temple atop the hill at the other side of the lake at the beach and the view of the lake and the surrounding forest from the top of the hill is magnificent.
Boating at Kondakarla Ava beach Vizag
An interesting thing about boating at this beach is that the boats used are made by local fishermen and villagers by joining two logs of palm trees. The seating is created by placing a wooden bed or a plank over it. Though the whole thing looks makeshift it is quite sturdy and gives a rustic feel to the whole experience. The water is filled with lotus flowers that you can pluck while boating.
Ticket price for boating at Kondakarla Ava Beach
The ticket price for boating at the beach is not fixed and is open to bargaining. The rates are different for each season and during peak season the rate can be as high as INR 300 to INR 500 for an hour to a ninety-minute boat ride.
Image Gallery of Kondakarla Ava Beach Vizag
Places to visit near Kondakarla Ava Beach Vishakhapatnam
Tyda Village can be added to your list when you are at the beach. This village is surrounded by dense forests and has hiking, bird watching, and trekking activities. Gangavaram Beach and Yarada Beach are two beaches close to the village and are worth a visit. Another village close to the beach is the Sankaram Village which is home to a Buddhist Heritage site Bojjanna Konda. At a distance of 79 km via Elamanchili, Tuni is the Annavaram temple that can also be visited.
Location of Kondakarla Ava Beach Vizag
The beach is located at Kondakarla village, Atchutapuram Mandal
How to reach Kondakarla Ava Beach from Vizag
The beach is at a distance of 50 km from the city and you can easily take your vehicle or a book a private cab from top car rental companies in Vizag to reach the beach.
---
Have a great time at Vizag by booking an all-inclusive Vizag Tour package with Vizag Tourism, a division of Holidays DNA. We ensure you have a memorable holiday experience while exploring the popular sightseeing places in Vizag. To know more about our offerings, please fill the Contact Us form.
Location Map for Kondakarla Ava Beach Vizag