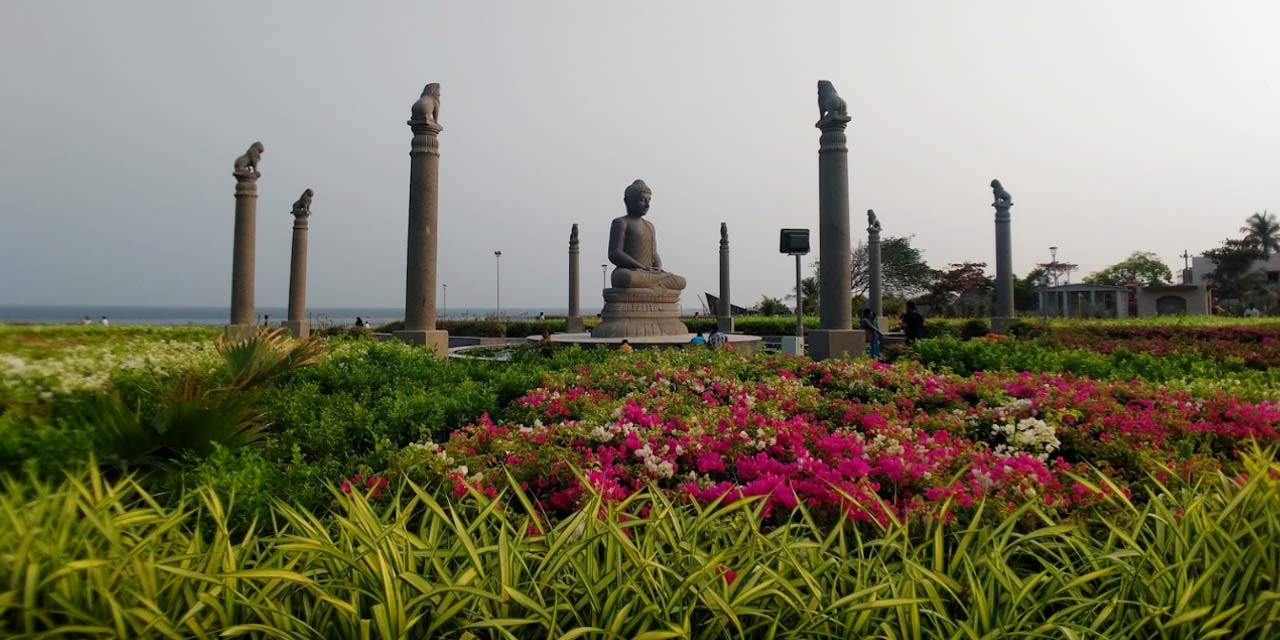 Lumbini Park Vizag Entry Fee
Lumbini Park Vizag Phone
N/A
---
Rating:
| 4/5 stars
Based on total 66 reviews
Lumbini Park Vizag Address: Dr NTR Beach Rd, Opposite To Appughar Bus Stop, Appughar, Sector 9, Jalari Peta, Visakhapatnam, Andhra Pradesh, 530001 India
---
An urban park located in the vicinity of Visakhapatnam, Lumbini Park is a renowned park that promises you to offer the best of both leisure and recreational worlds with amazing surroundings around the place.
Offering a refreshing break from the dull and boring life, the convenient location of Lumbini Park makes it easily accessible for both locals and tourists, being present on the Dr NTR Beach Road of the Visakhapatnam City. Considered as the best children park, it is a place that you shouldn't miss when you are visiting the must-visit sightseeing places in Visakhapatnam.
Perfect for holidaymakers of all ages, the main attraction of this park is its beautiful buddha statue that is placed in the centre. On one side, where the cool breeze from the ocean makes you feel calm, the lush greenery, on the other hand, invites you to sit back and lie down on the green grass in front of the beach.
The wonderful views of the sea along with several other things of the park serves a perfect choice for a half-day excursion. Irrespective of your age, you are sure to have a great time inside the park.
Things to do at Lumbini Park, Visakhapatnam
Enjoy a picnic with your family for a fun-filled day out. It is an excellent destination for people to spend some quality time under one roof.
Visit the garden to interact with a wide variety of flowers. The park has a dedicated area where you can treat your eyes with an array of colourful and vibrant flowers.
Click innumerable pictures with the best natural greenery at your backdrop. You can choose this place for pre-wedding, post-wedding or candid shoots as well.
Burn some extra calories at the gym. If you are a fitness freak and wish to stay fit all the time, you can shed extra weight with state-of-the-art equipment.
Take your children to the kids play area so that they can have a time of their life. The children's park is fully-equipped with various types of swings.
Say Hi to the sunrise in the morning and Bye to the sunset in the evening whenever you get a chance to walk on its walking track.
Entry Fee and Timings of Lumbini Park, Visakhapatnam
To visit Lumbini Park in Visakhapatnam, you need to pay INR 10 per person and INR 5 per person for kids. For children who are less than 5 years, there are no charges. Coming to its timings, it welcomes its tourists from 9:00 AM to 7:00 PM throughout the week.
Image Gallery of Lumbini Park Vizag
Travel Tips for Lumbini Park, Visakhapatnam
Inside the park, there is a parking facility for two-wheelers and four-wheelers. Collect the parking slip after paying the parking amount from the officials.
Use dustbins to throw the food, water bottles or any other waste material. There are several dustbins that are kept at various corners of the park for your disposal.
Best Time to Visit Lumbini Park, Visakhapatnam
As a citizen of Visakhapatnam, you can pave your way towards Lumbini Park at any time of the day. But, if you are travelling to this city as a tourist, we advise you to plan your trip during the winter season i.e., from November to February. At this time, the weather is pleasant, delightful and enjoyable, thus making it a great place for people to relax and rejuvenate inside the park.
Places to Visit near Lumbini Park, Visakhapatnam
Well, in Visakhapatnam, there is no shortage of tourist spots for holidaymakers to explore in and around the town. Catering to your holiday duration, you can customize your itinerary to cover the widely famous places on your trip. For your convenience, we have listed the top 4 attractions that can complement your Lumbini Park visit. These include:
1. Kailasagiri Park: A perfect place to enjoy a bird's eye view of the city along with making the most of your leisure time is Kailasagiri Park. Combining scenic beauty with a peaceful atmosphere, this park is a great destination for people to escape and unwind after exploring the popular sightseeing places in Visakhapatnam.
2. Tenneti Park: Another park that has gained equal recognition is Tenneti Park where you can spend some ME time in the serenity of nature. Open from 6:00 AM to 9:00 PM, it is a clean and well-maintained park that is frequently visited by all those who are die-hard fans of exotic sea views.
3. VUDA Park: Nestled within easy reach of Ramakrishna Beach, VUDA Park, designed and developed by Visakhapatnam Development Authority, is a popular recreational centre that is encompassed by beautiful lawns, shady trees and colourful flowers. There is also a musical waterfall and a skating rink for your enjoyment.
4. INS Kurusura Submarine Museum: Make sure to visit this museum whenever you are on your Vizag tour. Constructed in the year 2001, INS Kurusura Submarine Museum is one of its own kind of museums in India that depicts the everyday life of Navy people living underwater through several photographs, artifacts and written scripts.
How to Reach Lumbini Park, Visakhapatnam?
Since Visakhapatnam is connected to the most prominent cities of India by all modes of transport, you need not worry about your commutation, no matter from where you are coming. The different ways to reach Lumbini Park in Visakhapatnam are:
By Air: Board a direct flight to Visakhapatnam International Airport to get down to your destination in the least possible time. From there, hire a cab to Lumbini Park, which is approximately 18 km drive away.
By Train: Catch a train from Hyderabad, Mumbai, Pune, Vijayawada, New Delhi, Bangalore, Chennai or any other city to experience a hassle-free railway journey to Visakhapatnam Junction. After arriving at the station, book a private taxi from top car rental companies in Visakhapatnam to roam around Visakhapatnam at your comfort.
By Road: Nearly 5 km away from Visakhapatnam Bus Stand is Lumbini Park that can be covered in 15-16 minutes if you come via car. For tourists, the APSRTC department also operates various local buses on an everyday basis at pocket-friendly prices. So, you can choose how you want to travel.
---
Want to enjoy your Vizag tour at competitive rates? You can book an all-inclusive Vizag tour package that is specially designed to fulfil your needs. We at Vizag Tourism, a division of Holidays DNA, do everything to make your visit memorable. Please fill in the Contact Us form for more information.
Location Map for Lumbini Park Vizag