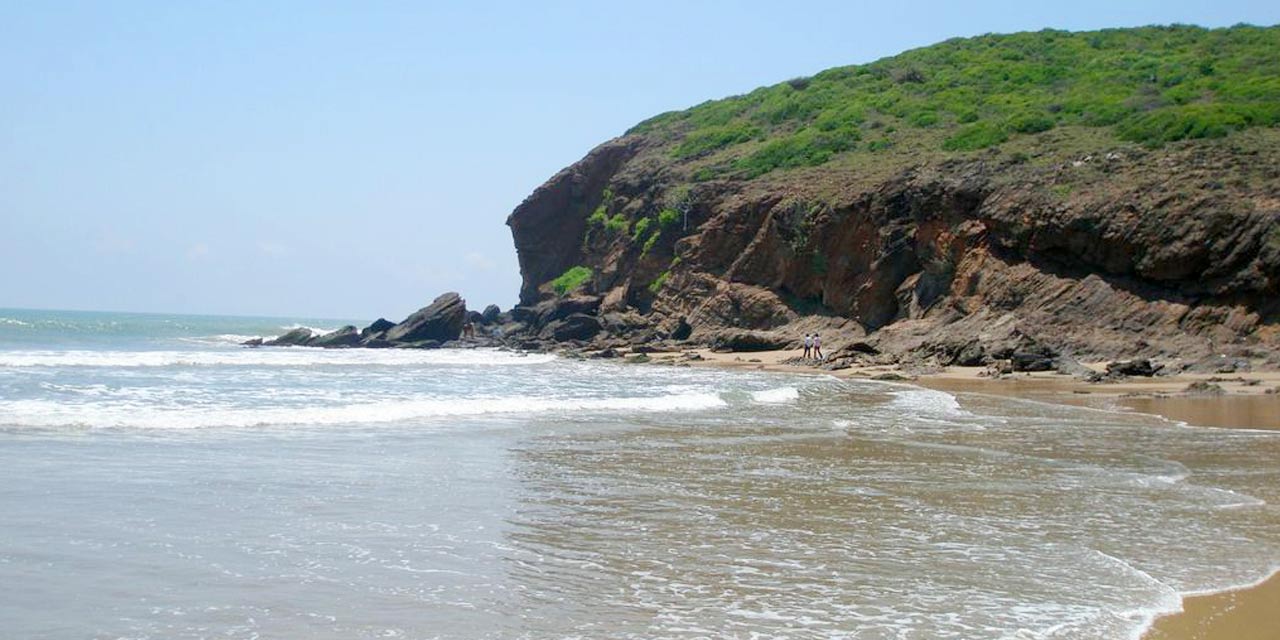 Yarada Beach Vizag Entry Fee
Yarada Beach Vizag Phone
N/A
---
Rating:
| 4/5 stars
Based on total 60 reviews
Yarada Beach Vizag Address: Visakhapatnam, Andhra Pradesh, 530005, India
---
Imagine relaxing your mind at a place surrounded by natural beauty, serene ambiance and unmissable charm. Think of forgetting everything about your daily stress and worries as you take a short stroll at the edge of the coastline. Doesn't all this look like a dream that you always wanted to live, if not twice, at least once? Undoubtedly, yes!
Nestled in the close vicinity of the city, Yarada Beach is one of the popular beaches of Visakhapatnam that offers an exceptionally romantic and a soothing environment to all the couples who are here for fun, enjoyment and entertainment.
A must-visit destination on your Vizag tour, Yarada Beach is a well-maintained beach in India at present and has a calm atmosphere for all age groups. Unlike other tourist attractions, it is far away from the madding crowd and presents an exclusive range of activities that never lets you get bored, no matter what.
On one hand, the lush greenery and scenic beauty let tourists admire nature as they overlook the breathtaking view of the sunrise and sunsets while on the other hand, soft golden sands when combined with crystal clear waters and deep blue colour of the sea, make the beach appear no less than a paradise.
From soaking the warmth of the sun, to lounging under the shade, to walking hand-in-hand with your loved ones, to enjoying a fun-filled family picnic, to capturing photographs with a die-to-fall background at the backdrop, to going on a bike ride in the evening and what not, you can wish for anything when you are at the beach. And Yarada Beach promises you to fulfil all your desires so that you can cherish your visit forever!
Places to Visit around Yarada Beach, Visakhapatnam
Dolphin's Nose is the first nearby attraction that you can visit after experiencing a peaceful beach life at Yarada Beach. Named after a hill that features a dolphin shape, the Dolphin's Nose offers a 360-degree of the Vizag city from the top and is a good place to hang out with your friends/families. Here you can just sit back and relax for a long time without worrying about the fast-moving life and screeching noise. It is just 4.6 km away from Yarada Beach.
Another equally fascinating destination is the Ross Hill Church. Constructed in the year 1867 by Mr. Monsieur Ross, the Ross Hill Church is a British era catholic church that provides a completely different and unique experience to your mind, body and soul, with splendid views of the port. It is only 11.4 km away from Yarada Beach.
VUDA Park, Simhachalam Temple, INS Kurusura Submarine Museum, Kailasagiri Park, Matsyadarshini Museum, Victory at Sea War Memorial and Indira Gandhi National Zoological Park are a few of the other tourist places to visit in Visakhapatnam that can be explored around the Yarada Beach if you are interested. All you need to do is to spare some time for yourself!
Entry Fee and Timings of Yarada Beach, Visakhapatnam
There is no entry fee to visit Yarada Beach in Visakhapatnam. Since it is open for its tourists 24 hours a day, you can go at any time throughout the week. The recommended exploration time is 2-3 hours.
Image Gallery of Yarada Beach Vizag
Travel Tips for Yarada Beach, Visakhapatnam
Do not try swimming at the beach. The water currents are high and the slope is steep too.
Make sure you do not bring pets along. The entry of the pets is restricted at the beach.
Carry your own water bottles with you. You might feel thirsty while roaming around the shoreline of the beach.
Be aware of the multicolour crabs. They might hurt you.
Best Time to Visit Yarada Beach, Visakhapatnam
Widely recognized as a famous attraction in Visakhapatnam, Yarada Beach attracts tourists from all around the world on a large scale. Thus, you don't need to wait for a specific season to spend some quality time at the beach.
However, if you want to make the most of your visit, you should plan your trip in the months of November to February. At this time, the climate is delightful and pleasant, with temperature varying from 18-degree Celsius to 32-degree Celsius, making it a great place for tourists of all ages.
Avoid visiting the beach during summers i.e., from March to May. At this time, the humidity level is quite high and the temperature rises as high as 42-degree Celsius and above, which is unbearable for holidaying at Yarada Beach.
The monsoon season that starts from June and continues until September receives heavy rainfall and because of the rains, no one is allowed to enjoy the water activities at that time. It is now up to you when you want to make your presence felt at Yarada Beach.
How to Reach Yarada Beach, Visakhapatnam?
Located at a distance of 15 km from Visakhapatnam, Yarada Beach maintains good connectivity to the centre of the city and its neighbouring areas via road and offers several modes of transport option for both locals and tourists.
By Airways: Visakhapatnam International Airport is the nearest airport to reach Visakhapatnam in the least possible time. It is well-served by various domestic and international flights such as SpiceJet, Air India, Alliance Air, Air Asia, Air Costa and IndiGo. After arriving at the airport, you can hire a private taxi from the list of top car rental companies in Visakhapatnam for hassle free experience.
By Railways: Approximately 12 km away is the Visakhapatnam Railway Station that offers regular train service from various prominent cities of India to Visakhapatnam and vice-versa. These include Mumbai, Hyderabad, Chennai, Bangalore, Kolkata and New Delhi. From Visakhapatnam Junction, opt for a shared cab or a local bus to get to your destination at your own convenience.
By Roadways: Last but not the least, there are several private and state-owned buses available that operate on routes that take you towards Visakhapatnam from the metropolis of South India such as Vijayawada, Chennai, Bangalore and Hyderabad. Though it's an overnight journey, if you book the bus tickets in advance, you will be able to enjoy it to the fullest!
---
To have a perfect time of your life, you can book an all-inclusive Vizag tour package with us. Suiting to your holiday preferences and budget requirements, we, at Vizag Tourism, a division of Holidays DNA, present a wide variety of travel packages that allows you to enjoy a visit of 1-day, 2-days or 3-days in Visakhapatnam at pocket-friendly prices.
Our experts also assist you in customizing the itinerary of your choice so that you can explore the popular tourist attractions on your Vizag tour. To know more about our offerings, we request you to please fill the Contact Us form.
Location Map for Yarada Beach Vizag