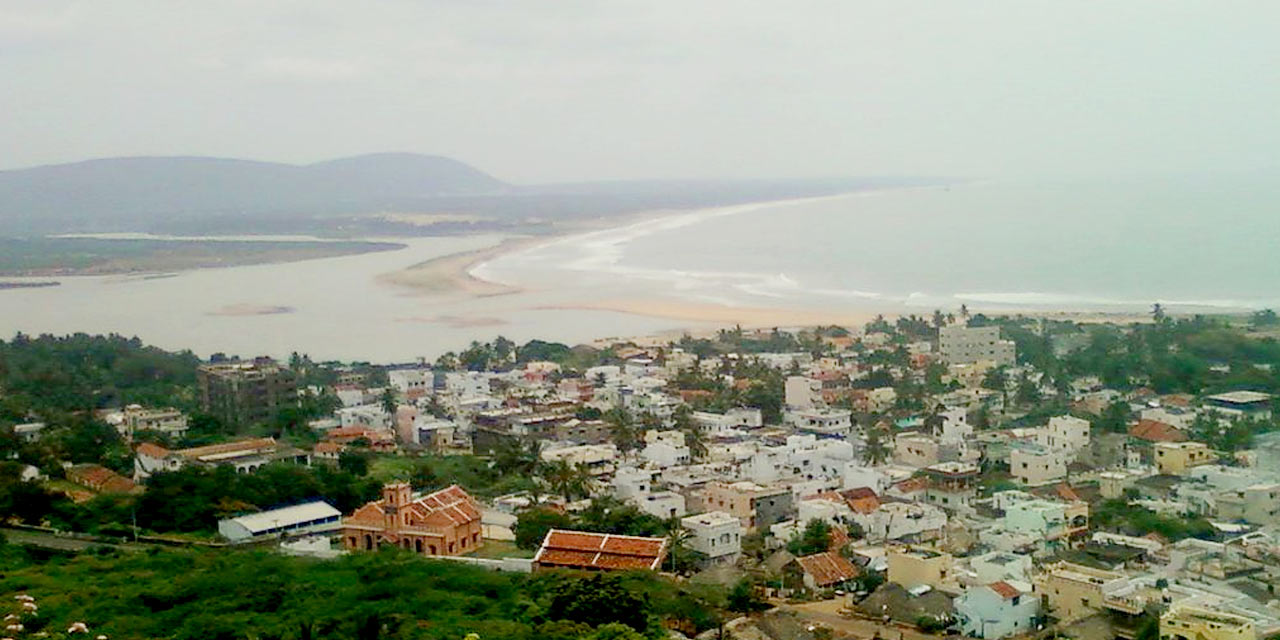 Bheemunipatnam Beach Vizag Entry Fee
Bheemunipatnam Beach Vizag Phone
N/A
---
Rating:
| 4/5 stars
Based on total 65 reviews
Bheemunipatnam Beach Vizag Address: Beach Rd, Visakhapatnam, Andhra Pradesh, 531163, India
---
No trip is complete without enjoying beach life at the beaches and your visit to Visakhapatnam is no different. Also known as the beach city of South India, Visakhapatnam or commonly referred to as Vizag boasts of a wide variety of beaches that are not only gorgeous but also worth-seeing.
The beaches in Visakhapatnam give you a chance to disconnect yourself for some time from 9 to 5 life and delight you with an experience that is hard to get anywhere else. One such beach is Bheemunipatnam Beach.
A preferable destination for weekend stays, Bheemunipatnam Beach, surrounded by verdant coconut plantations, palm groves, lush greenery and refreshing climate, promises its tourists a peaceful and serene ambiance along with breathtaking sea views. It is a great place for one-day excursions and an ideal spot for family picnics.
Situated at a distance of 24 km away from the city centre, Bheemunipatnam Beach offers full-fledged entertainment for visitors of all ages. Here you can tan your body on the sun loungers during the day, take a plunge in the water to add a bit of excitement or simply sit back with golden sand and crystal-clear turquoise waters all around you.
The beach also features several restaurants and bars alongside the coastline so that you can treat your taste buds with mouthwatering seafood whilst raising a toast of your drink.
Things to do at Bheemunipatnam Beach, Visakhapatnam
1. First and foremost, enjoy a refreshing splash at Bheemunipatnam Beach. It is considered as one of the safest beaches in Andhra Pradesh.
2. Another attraction that can be seen from the beach is Hollanders Green that traces its history back to the 17th century and overlooks the view of the ocean.
3. Visit the Lord Narsimha Temple to seek blessings from the presiding deity. It is the one of oldest Hindu temples located just a few steps away from the beach.
4. Take a short stroll to the Lighthouse to see a 36-degree view of the city from the top. Perfect for locals and photographers, the lighthouse is a good place to hang out with your friends/families.
5. Last but not the least, the beach also has a well-equipped bungalow where you can relax and rejuvenate after a full day of exploration. The views from the verandah are sure to keep you enticed every time you get to see this place.
Places to Visit near Bheemunipatnam Beach, Visakhapatnam
Although the list to explore the nearby tourist attraction around Bheemunipatnam Beach is never-ending, we have prepared a list of popular sightseeing places in Visakhapatnam that you can visit after having the time of your life at the beach. These include:
1. Sri Kanaka Mahalakshmi Temple - Dedicated to the devotees of Shri Lakshmi, Sri Kanaka Mahalakshmi Temple is a blissfully beautiful temple that exhibits a historical background with a symmetry driven architecture. It is 0.5 km away from Bheemunipatnam Beach.
2. Tyda Park – Widely famous for its wildlife sanctuary, Tyda Park is home to a variety of animals and exotic birds. It is an excellent place for bird watchers and is not less heaven for rock climbers. The park is 0.4 km away from Bheemunipatnam Beach.
3. Ross Hill Church – Step in Ross Hill Church to feel positive from inside out with a holy and divine atmosphere all around. Established in the year 1867, Ross Hill Church is said to be a place where everyone's wishes come true. It is only 1.5 km from Bheemunipatnam Beach.
4. Ramakrishna Beach – Nestled in the heart of the city, Ramakrishna Beach or RK Beach invites people to walk hand-in-hand with their loved ones in the evening. An excellent destination with plenty of souvenir shops, RK Beach is also recognized for its range of food options as well. It is 3.3 km away from Bheemunipatnam Beach.
Visakhapatnam has a lot more to offer for its tourists. If interested and have time, you can take help from the team of Holidays DNA to customize your itinerary as per your holiday duration and style.
Image Gallery of Bheemunipatnam Beach Vizag
Entry Fee and Timings of Bheemunipatnam Beach, Visakhapatnam
There is no entry fee for Bheemunipatnam Beach in Visakhapatnam. It can be visited by its visitors at any time on all days of the week.
Best Time to Visit Bheemunipatnam Beach, Visakhapatnam
October to March would be the ideal time to visit Bheemunipatnam Beach. During this time, the weather offers a delightful treat to its tourists and the overall temperature is pleasant too, ranging from 15-degree Celsius to 30-degree Celsius.
However, if you're an adventure enthusiast, you can plan your trip to Visakhapatnam in the summer season as well that begins from March and continues until May. At this time, you can swim and sunbathe under the shade of the sun.
Avoid visiting it from June to September. This is the period when the monsoon starts in the city and the region receives heavy rainfall. And, due to the rain, you'll not be allowed to indulge in the water sports activities at the beach.
How to Reach Bheemunipatnam Beach, Visakhapatnam?
With its easy connectivity to its neighbouring towns and prominent cities of India, Bheemunipatnam Beach in Visakhapatnam can be easily accessed by roadways, railways and airways. You can opt for your favourite mode of transport as per your budget and holiday style.
Board a direct flight to Visakhapatnam International Airport to enjoy hassle free journey on your Vizag tour. Visakhapatnam International Airport, which is nearly 40 km away from the beach, receives frequent flights from all over the world, making it possible for even foreigners to visit this destination.
From Visakhapatnam Railway Station, it is 30 km away that can be covered in approximately 1 hour if you're driving on the way from Visakhapatnam Junction. To reach the railway station, you can catch the train from New Delhi, Kolkata, Chennai, Hyderabad, Bangalore, Vijayawada, etc.
There are also several private and state-owned buses that are operated by the APSRTC department to and from Visakhapatnam for the convenience of tourists. Comfortable for senior citizens as well, these buses run on an everyday basis. After arriving at the bus stand, look for a local bus, a shared taxi or hire a vehicle from top car rental companies in Vizag.
---
We at Vizag Tourism, a division of Holidays DNA, guide our clients to choose a travel deal that caters to their needs and other requirements. Our team of experts carefully design all-inclusive Vizag tour packages for your convenience. You just need to fill out the Contact Us form to get in touch with us!
Location Map for Bheemunipatnam Beach Vizag