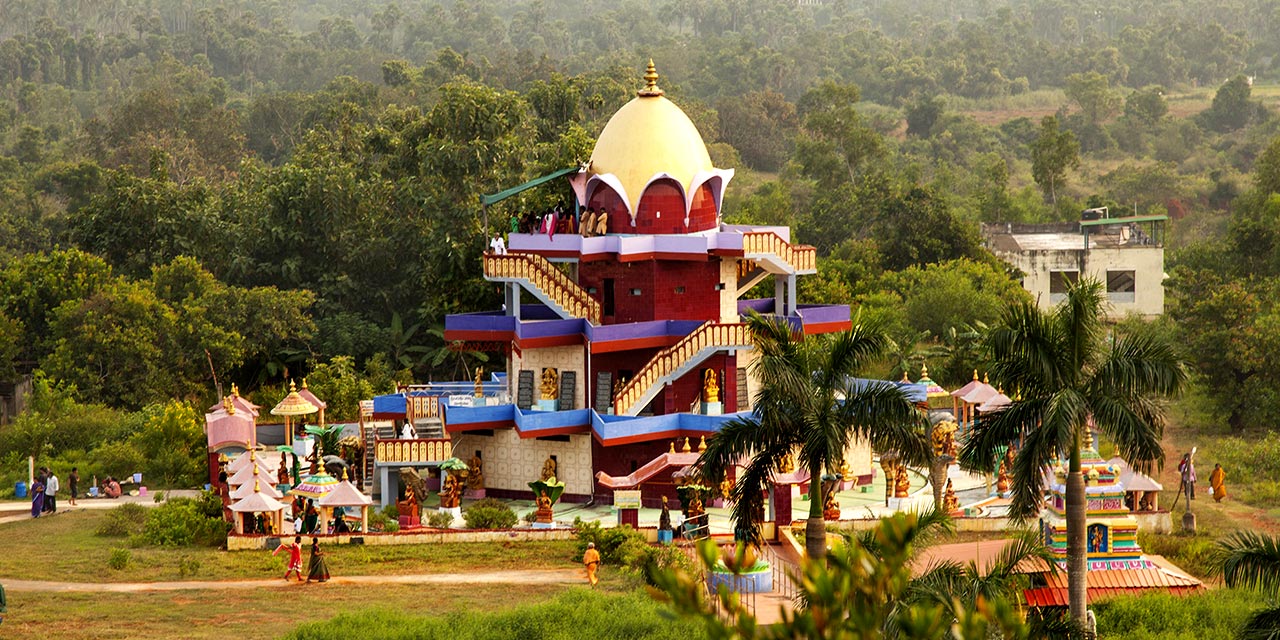 Devipuram Vizag Entry Fee
0 (No Entry Fee)
Devipuram Vizag Phone
---
Rating:
| 4.2/5 stars
Based on total 69 reviews
Devipuram Vizag Address: Via Ammulapalem P.O, Anakapalle, Visakhapatnam, Andhra Pradesh, 531001 India
---
Devipuram, surrounded by beautiful landscapes and a relaxing atmosphere, boasts of an excellent location in the city of Visakhapatnam. Also known as the heaven on the earth, Devipuram Temple is a place where you can find the inner peace in yourself along with elevating your physical, mental and spiritual strength.
Dedicated to Goddess Sahasrakshi who is believed to be an incarnation of Goddess Parvati, the Devipuram Temple features a great architecture with a 3-dimensional Sri Chakra that not only looks unique but impressive as well.
Combining theory with practice, the temple makes you feel like you have entered into another world as soon as you step inside the complex. It is an excellent getaway to re-energize yourself after exploring the famous tourist places in Visakhapatnam and a must-visit attraction for experience seekers.
History of Devipuram, Visakhapatnam
Devipuram, which was established in the year 1994 has an interesting tale behind it. It is said that Dr. Nishtala Prahlada Sastry, who was earlier working as a nuclear scientist at Tata Institute of Fundamental Research, left his job after a long career of 23 years to construct this temple in 1983.
Now, addressed as "Guruji" by thousands of devotees, Dr. Sastry, based on the instructions received by the Divine Mother, created the architecture of Devipuram in the form of Sri Chakra Meru. Home to a wide variety of murtis, each murti in this temple was specifically sculpted to Guruji's specifications, reflecting the real visions of these deities.
According to the reports, in 1983, when Guruji was performing Devi Yagam, he was approached by the Putrevu family. The family requested Guruji to build a temple to dedicate to the Divine Mother and donated a 3-acres of land for the same. After receiving the land where the temple stands strong today, he was looking for guidance to start the construction of the temple.
One day, while meditating, Guruji had a vision of Kamakhya Devi as a 16-year-old girl. She showed him everything which she enjoys and how she wants him to form the temple building. After taking her blessings, Guruji started work in 1985. It took nearly 10 years to turn the vision into reality and finally in 1994, Devipuram was officially opened for its public to have a glance at it.
Activities at Devipuram, Visakhapatnam
To spread the importance of religious and spiritual values all over the world, Guruji established a charitable trust – Sri Vidya Trust – at Devipuram in Visakhapatnam.
With the help of a large group of people including committed youngsters and volunteers, he initiated several activities and programs to educate people on the subject of women empowerment, ancient truth, Vedic and Agamic thoughts, drama, dance, songs and other rituals. He formed a cooperative thrift society to offer financial help to all those people who are in great need.
Other than that, several other rural activities related to family planning, health, hygiene and energy conservation have also been erected to improve the overall lifestyle of people and leave a long-lasting impression on society.
Image Gallery of Devipuram Vizag
Entry Fee and Timings of Devipuram Temple, Visakhapatnam
There is no entry fee to visit Devipuram Temple in Visakhapatnam. Coming to its timings, the temple welcomes its visitors from 7:00 AM to 6:30 PM on all days of the week. The recommended exploration time is 2-3 hours.
How to Reach Devipuram, Visakhapatnam?
Located at a distance of approximately 30 km away from Visakhapatnam, Devipuram can be accessed by your favourite mode of transportation that suits your holiday budget, style and preference. However, to reach Visakhapatnam, you can choose to travel by air, by train or by roadways.
Board a direct flight to Visakhapatnam International Airport to get down to the city in the least possible time. The airport receives frequent flights from all parts of the world for your convenience.
Catch a train from Hyderabad, Bangalore, Pune, Jaipur, New Delhi, Coimbatore, Kolkata, Chennai and Indore to experience the most comfortable railway journey of your life. Sometimes, the trains get over-crowded during the peak season, so make sure to book your tickets in advance!
Other than that, there are several buses operated by APSRTC department to and from Visakhapatnam at pocket-friendly prices. That means, you need not worry even if you're thinking of exploring the popular sightseeing places in Visakhapatnam without spending more. What else do you need?
---
Avail an all-inclusive Vizag tour package with us to make the most of your visit. We at Vizag Tourism, a division of Holidays DNA, have also prepared a list of top car rental companies in Visakhapatnam from where you can hire a private taxi to commute within the city at your own comfort.
Location Map for Devipuram Vizag