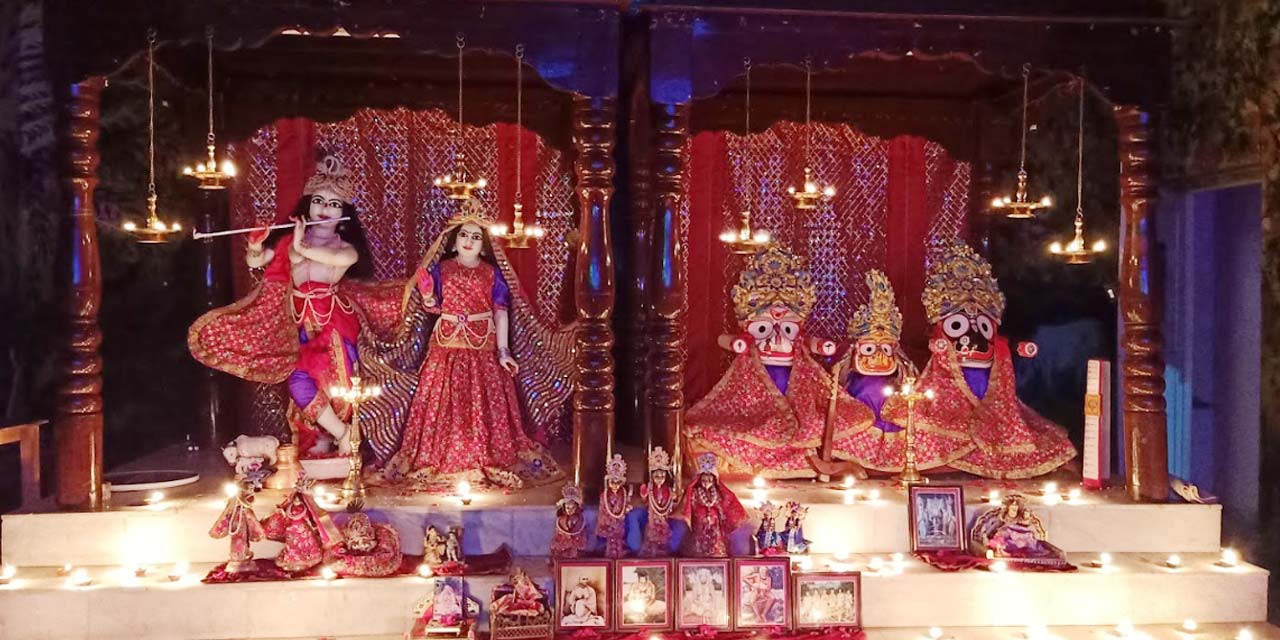 ISKCON Temple Vizag Entry Fee
0 (No Entry Fee)
ISKCON Temple Vizag Phone
---
Rating:
| 4.1/5 stars
Based on total 67 reviews
ISKCON Temple Vizag Address: Beach Road, Hare Krishna Land, Sagar Nagar, Rushikonda, Visakhapatnam, Andhra Pradesh, 530045 India
Vizag Tour Packages
ISKCON Temple Vizag Timings
Day
Timing
Monday
7:30 am – 12:30 pm
4:00 pm – 8:30 pm
Tuesday
7:30 am – 12:30 pm
4:00 pm – 8:30 pm
Wedesday
7:30 am – 12:30 pm
4:00 pm – 8:30 pm
Thursday
7:30 am – 12:30 pm
4:00 pm – 8:30 pm
Friday
7:30 am – 12:30 pm
4:00 pm – 8:30 pm
Saturday
7:30 am – 12:30 pm
4:00 pm – 8:30 pm
Sunday
7:30 am – 12:30 pm
4:00 pm – 8:30 pm
Links:
Website
|
Map
---
A temple that needs no introduction in this world is the ISKCON Temple. Widely renowned for its history, culture and heritage, the ISKCON Temple impresses its visitors with its magnificent architecture and has everything that you need to disconnect yourself from the hustle life for some time.
One of the most sought-after tourist places to visit in Visakhapatnam, ISKCON Temple is a promising temple of Andhra Pradesh state that offers holy and divine vibes to the devotees of Radha Krishna.
Home to Lord Krishna, the main deity of this temple, the ISKCON Temple presents an exotic combination of peace and mind and puts more emphasis on meditation, unity and togetherness for people of all caste, whether you're a Hindu, Muslim, Sikh or Christian.
Considered to be a heaven on earth, the temple is not just a temple but a spiritual complex where an array of activities, events and festivals related to Hindu religion are organized. Blending harmony with beauty, the temple is admired by all religions and is undoubtedly a not-to-miss attraction on your Vizag tour.
History of ISKCON Temple, Visakhapatnam
The temple has an interesting tale behind its origin. It is said that in May 1999, a couple named Mr. Samba Das and his wife Nitaisevini Dasi came to Visakhapatnam to build a temple for the devotees of Sri Krishna after receiving direction from their beloved guru. At that time, they had nothing in hand except the laminated photo of Radha Krishna and several books of Srila Prabhupada that were worth 5,000 rupees.
With a strong vision in mind, the couple started their journey from scratch and travelled throughout Andhra Pradesh to encourage people to chant the name of Hare Krishna through a mantra. They kept doing it for many years and finally in the year 2005, they were able to buy a piece of 3-acres of land in the Sagar Nagar area of Visakhapatnam.
In no time, the couple acquired the property and built a small complex over there which included a seminar hall, an Ayurvedic clinic, a guesthouse, a Brahmachari ashram, a kitchen and a goshala for cow care.
However, they still had a long way to go. The couple shared their dream with the local government and the government didn't say yes to their proposal as the land was facing the Bay of Bengal. In the meantime, while the couple was struggling to get the approval from the officials, they formed a temporary hall to install the idols of Jagannath, Subhadra, Baladeva and Shri Radha Damodar Ji.
On October 12th, 2014, when the province of Andhra Pradesh was directly hit by extremely severe Cyclone Hudhud, it was Vizag, the first city, that faced a lot of damage. Due to the unbearable speed of the cyclone, the temple and its surrounding areas were also destroyed, leaving everyone disheartened.
But, as people say, everything happens for a reason, after the storm, the community came together under one roof and decided to fix the damage. After lots of hard work and efforts put by the community, in January 2015, the temple was almost done.
Soon, the couple got to know that the government had also given clearance to their proposal of building a grand complex at the seaside. They completed the paperwork on March 1st, 2015 and on March 5th, 2015, on the day of Guru Purnima, the construction of the temple "Glory of Andhra" began, which was finally completed in February 2018.
Architecture of ISKCON Temple, Visakhapatnam
Spreading over an area of 67000 square feet, the ISKCON Temple's architecture is simple yet worth-seeing. Dedicated to Hindus, it is a 2-story building with a spacious basement. The entire complex is categorized into different sections as:
1. The Temple: Situated on the top floor, the main temple, which has occupied a total of 21,000 square feet of land, is beautifully designed and decorated with marble and carved stone. Home to plenty of idols such as Hanuman, Lakshman, Sita, Rama, Balaji, Narasimha deva and more, here the presiding deities are worshipped with all the rituals all day long.
2. Multimedia Theatre: This multimedia theatre is a place where you can learn more about Bhagavad Gita and Vedanta in detail. It displays small snippets that provide enough information on how the universe was formed. Other than that, you also get to know about the difference between good and evil through several presentations. The theatre, located on the 1st floor, can accommodate up to 450 people at a time and narrate the things in English, Hindi and Telugu language.
3. Naturopathy Centre: There is a naturopathy centre that is specialized in offering several ayurvedic, yoga and panchakarma remedies for your health and wellbeing. In addition, a meditation hall is also there for you to relax your mind and de-stress your muscles at any time of the day.
4. Annadanam Kitchen: This fully-equipped Annadanam Kitchen feeds the appetite of at least 8000 people at a time who are staying within a distance of 10 miles from the ISKCON Temple. From the kitchen, the nutritious meal is also supplied to government schools and hospitals who cannot afford the hygienic food.
5. Govinda Restaurant: Nestled amidst the Vedic gardens, the temple boasts of a Govinda Restaurant from where you can choose from a wide variety of pure vegetarian dishes to treat your taste buds with mouth watering delicacies. The food prepared here is completely sattvik, which simply means that you'll not find onions and garlic in any meal, whether having breakfast, lunch or dinner.
6. Goshala: To protect the cows from cruel killing, there is a goshala that currently serves 64 cows and bulls who are getting all the love and affection they need to live a happy and peaceful life, without worrying about anything.
7. School: This school, which is for students up to 10th standard, emphasises on educating the children about Vedanta and Gita along with focusing on normal subjects. For all those who are interested in extracurricular activities, there are classes of classical dance forms, cooking, stitching and computer usage.
A few of the other sections include the Prasadam Hall, Brahmachari Ashram, Seminar Hall, Guest House and a Children Park for the entertainment of kids.
Image Gallery of ISKCON Temple Vizag
Things to do at ISKCON Temple, Visakhapatnam
Unlike other temples that have nothing much to offer to its visitors, ISKCON Temple is a place that keeps you occupied throughout the time with plenty of things to see and do.
1. Attend Bhakti Yoga Residential Summer Camp that is specially conducted for kids between 9 to 16 years of age. In this camp, several fun activities are organized for children such as personal development classes, yoga, meditation, painting classes, dancing classes, outdoor games, music and dance so that kids can make the most out of it.
2. If you're planning to visit the ISKCON temple on Sunday, you cannot miss its Sunday Feast. To enrich your mind and heal your soul, there is a discourse on Srimad Bhagavatam that gives you an enchanting experience which is hard to get anywhere else. After the discourse, you can attend the Sandhya Aarati and then taste the delicious Prasadam.
3. Visit Bhaktivedanta Sunday School to encourage your children to know about Krishna consciousness. In the temple, the teachers at Bhaktivedanta Sunday School create an environment that helps the young generation to learn gita and other scriptures and establish a long-lasting relation with God. Open for 4 to 14 years of age groups, this school is for 2 hours from 4:30 PM to 6:30 PM on Sunday.
4. For all those who firmly believe in Krishna but cannot come to the temple to leverage the benefits of various programs, the temple offers the facility of home programs as well. So, if you are a resident of Visakhapatnam, you can ask the temple carers to host the home programs at your place.
5. Enjoy reading books that provide answers to all your problems in the most simple and effective way. These books help you understand the actual meaning of life and find new and innovative ways to fill your life with joy and happiness.
6. During the month of Karthika, you can become a part of the spiritual yatra every year that starts from Visakhapatnam to various holy places such as Dwarka, Vrindavan, Puri, etc.
Entry Fee and Timings of ISKCON Temple, Visakhapatnam
Although there is no entry fee to visit ISKCON Temple in Visakhapatnam but you can donate some money as per your own convenience for its upkeep. It opens its door for its visitors from 7:30 AM to 12:30 PM in the morning and from 4:00 PM to 8:30 PM in the evening.
Travel Tips for ISKCON Temple, Visakhapatnam
Since ISKCON Temple is a religious and spiritual place in Visakhapatnam, there are several things that you need to keep in mind while visiting this temple. These include:
1. Always wear traditional or ethnic clothes whenever you're in or around ISKCON. It is not advisable to go with crop tops and skirts that cannot cover your shoulder, knees and stomach.
2. Make sure to book the guest rooms in advance if you are planning to stay within the premises for a day or two. It features comfortable, spacious and well-maintained rooms for visitors.
3. Do not click pictures inside the temple. However, you can bring your camera along to get yourself photographed outside the place.
4. Refrain from drinking liquor before you make your presence felt here. If you do, you will not be allowed to enter the temple.
5. Try not to litter the place. The temple provides dustbins to throw the waste material. It is your responsibility to keep it neat and clean.
Places to Visit near ISKCON Temple, Visakhapatnam
After spending 3-4 hours at ISKCON Temple, if interested and have time, you can explore the popular sightseeing places in Visakhapatnam as the city has some of the unmissable tourist attractions. A few of them include:
1. Indira Gandhi Zoological Park: Nestled at a distance of 3.7 km from the temple, Indira Gandhi Zoological Park is a delightful destination for children to interact with different species of animals categorized as birds, mammals, carnivores, primates and ungulates. It welcomes its visitors from 9:00 AM to 5:00 PM on all days except Monday.
2. Rushikonda Beach: 10-minutes away from ISKCON is the Rushikonda Beach that is widely famous for its golden sands, tidy waves, crystal-clear blue-green waters and emerald greenery that makes it look picture-perfect for photographers. It is an ideal getaway to spend some quality time with your loved ones on weekends.
3. Tenneti Park: Facing the sea is the Tenneti Park that takes a total time of 15-minute from the temple by car. You can sit back, relax and enjoy the mind-blowing views along with admiring the laid-back atmosphere that is encompassed by full of greenery. Open from 6 AM to 9 PM throughout the week, the park is ideal for holidaymakers of all ages.
4. Kailasagiri Park: Owing to a distance of 6.5 km from ISKCON, the Kailasagiri Park is an attractive spot in Visakhapatnam that allows you to overlook the vibrant beaches, landscapes, dense forests and the entire city from a height of 360 feet on top of the hill. You can also witness the statue of Shiv and Parvati whilst trying your hand at adventurous activities.
How to Reach ISKCON Temple, Visakhapatnam?
Wondering how to reach ISKCON Temple in Visakhapatnam? Well, you need not worry! There are several ways to reach there and you can choose your mode of transport as per your own convenience.
Located on the beach road in Sagar Nagar, ISKCON Temple can be easily accessed by both locals and tourists coming from different parts of life. The nearest airport is Visakhapatnam International Airport, which is approximately 20 km drive away and the nearest railway station is Visakhapatnam Junction, which is an 11 km drive away from the temple.
If you are travelling directly from Visakhapatnam Bus Stand to ISKCON Temple, you can take a local bus operated by APSRTC department or hire a private vehicle from the list of top car rental companies in Visakhapatnam to drive all the way.
---
We at Vizag Tourism, a division of Holidays DNA, have carefully designed all-inclusive Vizag tour packages keeping everyone's holiday duration, budget and style in mind. You'll have the best time of your life while exploring the popular sightseeing places in Visakhapatnam with us. What else do you need? You can also avail the best travel deals to enjoy your trip at pocket-friendly prices. Please fill in the Contact Us form to know more about our offerings.
Location Map for ISKCON Temple Vizag