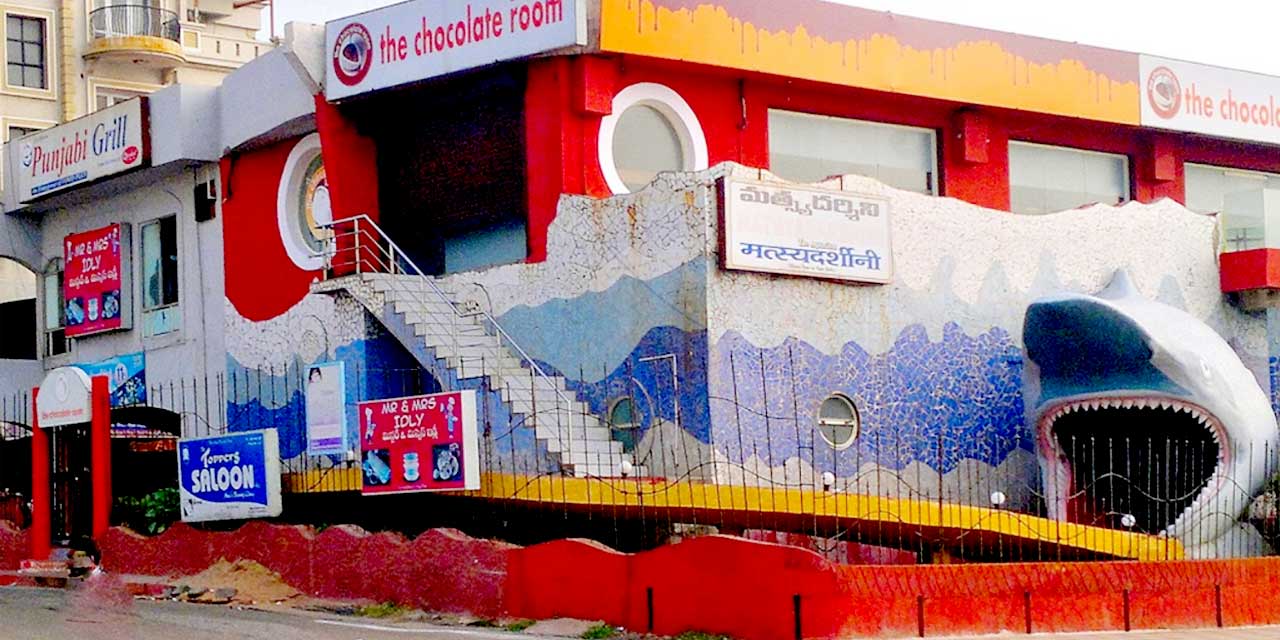 Matsya Darshini Aquarium Vizag Entry Fee
30 per person for Adults
20 per person for Children
20 per person for Still Camera
50 per person for Video Camera
Below 5 Years Free Entry
Matsya Darshini Aquarium Vizag Phone
---
Rating:
| 4/5 stars
Based on total 68 reviews
Matsya Darshini Aquarium Vizag Address: Beach Rd, Pandurangapuram, Chinna Waltair, Paanduranga Puram, Visakhapatnam, Andhra Pradesh, 530003, India
---
Imagine a museum that gives you interesting information about the world under water amidst the ambience of a sea beach while also presenting you with the mystery under the crystal surface. MatsyaDarshini Aquarium in the city of Visakhapatnam, or Vizag as it more commonly known as, is where this dream becomes real.
The aquarium exhibits unknown knowledge of sea life in an interesting, interactive manner as if fishing for curious learners. It is more popular among children but leaves no stones unturned to leave the adults also hooked.
History of Matsya Darshini Aquarium Vizag
MatsyaDarshini Aquarium features on the list of the many places you need to pay a visit to, since it reflects a prominent aspect of the city of Vizag; the sea. Vizag is an industrial and port city, where the sea provides the prominent commercial and social purpose. Additionally, it is a popular tourist attraction.
The year 1994 witnessed the establishment of MatsyaDarshini Aquarium, by the Municipal Corporation of Visakhapatnam. It was founded in a bungalow that was previously owned by a Municipal Commissioner until the year 1990. The aquarium contains about twenty varied sized tanks that are home to a variety of water creatures such as freshwater and sea, inclusive of exotic and invertebrates.
Things to do at Matsya Darshini Aquarium Vizag
MatsyaDarshini Aquarium makes for highly educative day-out plans for children where they can take a break from the concept of all work and no play. Adults, too, can witness peaked enthusiasm and curiosity at the aquarium. The aquarium has made science fun with the endless list of activities to enjoy from:
1. Aquatic Animals: An array of exotic animals are displayed at the aquarium, ranging from Long Horn Cow Fish, Peacock Wrasse, Electric Ray, Porcupine Fish, Red Squirrel Fish among various others, that have become its main attraction. Some marine invertebrates that can be seen at the aquarium include starfish, tentacle anemones and sea anemones among others. Malaysian exotic marine animals along with some from Singapore have found home here.
2. Shop: Day-out plans at popular tourist locations are incomplete without souvenirs to take back home as mementos from the day. MatsyaDarshini Aquarium has an in-house gift shop of their own where you can purchase key-chains, badges, coasters, etc. of some of the animals. They also have their own range of sea shell jewellery you can splurge on. Their reasonable prices make them more worthwhile.
Image Gallery of Matsya Darshini Aquarium Vizag
Entry Fee and Timings of Matsya Darshini Aquarium Vizag
Timings: Matsya Darshini Aquarium is open from 9:00 AM to 9:00 PM every day.
Fees: The entry fee to visit the aquarium is INR 30 for adults and INR 20 for children above 5 years of age. You can carry your cameras along at a nominal fee of INR 20 for Still camera and INR 50 for Video Camera.
There is no entry fee for children below 5 Years of age.
Places to visit near Matsya Darshini Aquarium Vizag
MatsyaDarshini Museum's location makes it convenient for more sight-seeing. Some of the places you can pay a visit to nearby include:
1. Dolphin's Nose: Located between Yarada and Gangavaram Port, the name has been derived from the fact that the hill is shaped like the nose of a dolphin. It has historical significance because it used to be a British military camp.
2. INS KurusuraSubmarine Museum: Located on the Rama Krishna Beach, INS Kurusura Submarine Museum is the first submarine-turned-museum in the country and in Asia. The museum demonstrates various systems in a submarine which are quite interesting to learn.
3. Visakha Museum: Get a panoramic glimpse of history, dating back to 260 BC. The museum fossilised the rich history of the city of Vizag. Museums are one of the best places to visit in a city and Visakha Museum is the ideal place to be at if you want to learn about the culture and history of Vizag.
Location and How to Reach Matsya Darshini Aquarium Vizag
MatsyaDarshini Aquarium is located on the Rama Krishna beach which is about 17.2kms from the city centre. The modes of transport to get there are:
Bus: RTC bus services can take you there from any point in the city.
Auto-rickshaw: You can even take an auto to the aquarium.
Cab: You can avail yourself a cab service from top car rental companies in Vizag for a convenient ride.
---
The city of Visakhapatnam is a popular tourist destination offering a number of places to visit in Vizag. You are bound to be spoilt for choice with the number of things you can do here; trek or hike on a hill, wander in a forest, swim in the sea, visit museums, etc. MatsyaDarshini Aquarium is one such place that teaches you about the sea while you are on a beach beside one. The experience is truly worthwhile.
To help you plan your trip to Vizag in the best possible manner, we at Vizag Tourism, a division of Holidays DNA offer Vizag tour packages. These packages are created keeping everyone's budget and travel requirements in mind. Choose the package that suits you best and have a great time visiting the port city. For more details on our offerings, please fill the Contact Us form.
Location Map for Matsya Darshini Aquarium Vizag