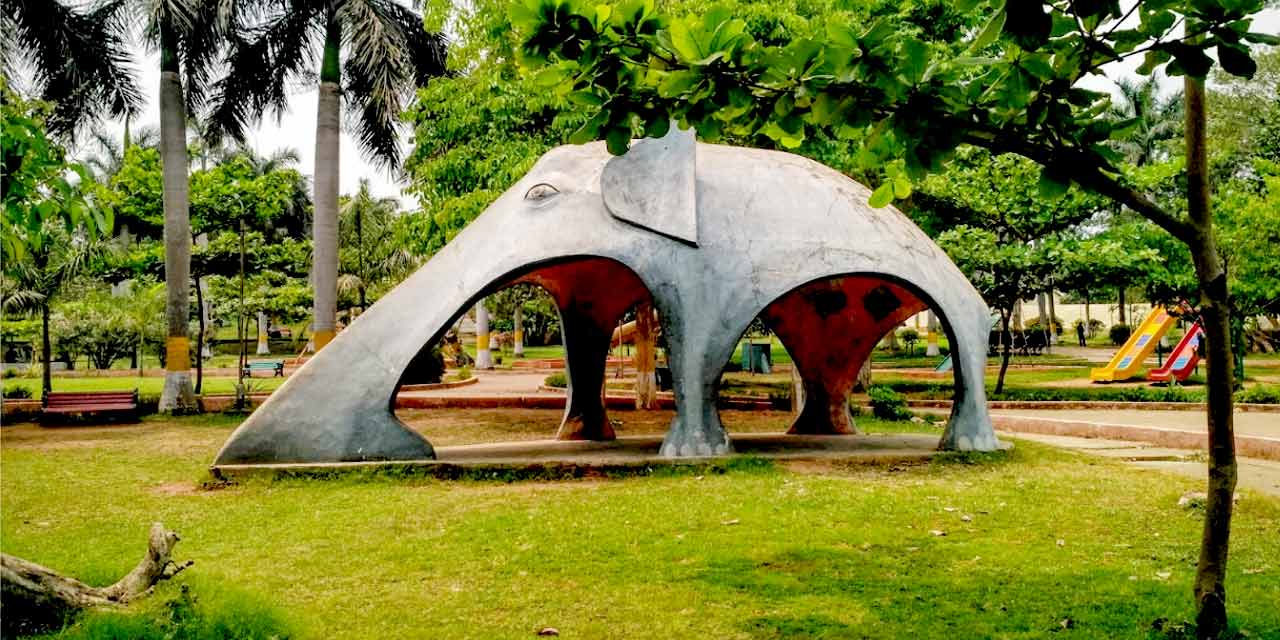 Sivaji Park Vizag Entry Fee
Sivaji Park Vizag Phone
---
Rating:
| 4/5 stars
Based on total 64 reviews
Sivaji Park Vizag Address: MVP Double Rd, Sector 5, MVP Colony, Visakhapatnam, Andhra Pradesh, 530017, India
Vizag Tour Packages
Sivaji Park Vizag Timings
| Day | Timing |
| --- | --- |
| Monday | 5:00 am – 9:00 pm |
| Tuesday | 5:00 am – 9:00 pm |
| Wedesday | 5:00 am – 9:00 pm |
| Thursday | 5:00 am – 9:00 pm |
| Friday | 5:00 am – 9:00 pm |
| Saturday | 5:00 am – 9:00 pm |
| Sunday | 5:00 am – 9:00 pm |
Musical Fountains Timings

5:30 pm – 8:30 pm on Weekdays

5:00 pm – 9:00 pm on Sundays and holidays
Links: Website | Map
---
An urban park surrounded by hills, located in the city of Visakhapatnam, Andhra Pradesh, Sivaji Park was a dumping yard not too long ago. But now it is one of the most popular tourist attractions in the city. The Sivaji Park was established for tourists back in 1999 with an investment of eight lakh rupees from the government. The entire park is spread over a total of a massive 16 acres of land full of gardens, flowers, trees and greenery.
Inside Sivaji Park
As you walk into the park, rolling hills in the background welcome you into the green gardens, full of benches and playgrounds. The large gate with the ticketing counter then makes way into a walkway made of stone that takes you around the park.
As you walk through the park you may stumble into orchid gardens, other flower beds, slides and swings for children with a huge number of lovely yellow benches spread all around the park.
The centre of the park has three huge fountains that pump water all through the day, and look even more beautiful when they light up at night. The circular dome-shaped structure providing shade for the walkway adds to the grandeur of the park.
Things to do at Sivaji Park
1. Kid's Zone:The children have a lovely time here, due to the number of rides that are offered for them. There are quite a few slides, some which are a part of the playground and others which are shaped like animals and spread around the park.
There are quite a few swings, jungle gyms, see-saws, and monkey ladders at the play area for children. They also have a huge fish-like structure at the play area, where you can walk into the fish's mouth and come out from the other side!
2. Roller-skating: Adults can indulge in roller skating, which is also open for children. The park has a section allotted for roller skating, where you can both learn, skate or just have fun with your friends and family. Every year they also hold a roller-skating dance show that is a feast to watch, as you can see roller skaters show off their well choreographed skills for you.
Image Gallery of Sivaji Park Vizag
Places to visit near Sivaji Park Vizag
Visakhapatnam is full of tourist spots and the park lies in a very bustling place of the city. Some of the top places to visit in Vizag while you're near Sivaji Park are:
1. Visakhapatnam Lighthouse: As you head straight for the beach from the park you will walk straight into the Visakhapatnam lighthouse. It is still in use till this day and lights up every night. It's a wonderful place to visit, day or night.
2. Ramakrishna Beach: The popular Ramkrishna Beach is very close to the park. If you're there during the summer and it gets too hot for the park, go beat the heat with a swim at the beach.
3. INS Kurusa Submarine Museum: The INS Kursura Submarine Museum is very close by and is a unique museum as it is built inside an old submarine which served during the Indo-Pak war.
4. Visakha Museum: If you want to learn about naval history and want to look at huge models of ships and submarines, make sure you visit the Visakha Museum. The place also has cultural artefacts and regional relics.
Entry Fee and Timings of Sivaji Park Vizag
Sivaji Park is open from 5:00 am to 9:00 pm on all days of the week. The entry fee is Rs. 10 per person. Parking fee is Rs. 5 and Rs. 2 per hour for cars and scooters respectively.
Location and How to Reach Sivaji Park Vizag
The Sivaji Park of Vishakhapatnam is located in MVP Colony area, precisely in Sector 5 of MVP Colony. MVP Colony is located just north of Ramakrishna Beach and is very easily accessible by road from both the airport and the railway station of the city. You can also choose to hire a cab from top car rental companies in Vizag to reach the park.
The railway station is only ten kilometres away from the park which is around a twenty-minute ride from the station. The airport, on the other hand, is located about twenty kilometres away from the park and takes about forty-minutes to reach it.
---
Sivaji park is a lovely place to go and spend your day during the winter season or just the evening in summers. The park is famous for its green foliage and visitor-oriented design, making it a lovely place to go for a walk, read a book, or just go meet and chat with friends. The park's ticket prices are pretty affordable and it's also easily accessible by all forms of public transport in the city, such as buses and cabs.
For those who wish to explore the popular tourist attractions of Vizag in a hassle free manner, Vizag Tourism, a division of Holidays DNA offers Vizag Tour packages at affordable rates. We ensure you have a great time during your Vizag tour with our easily customizable packages. Please fill the Contact Us form for more details.
Location Map for Sivaji Park Vizag