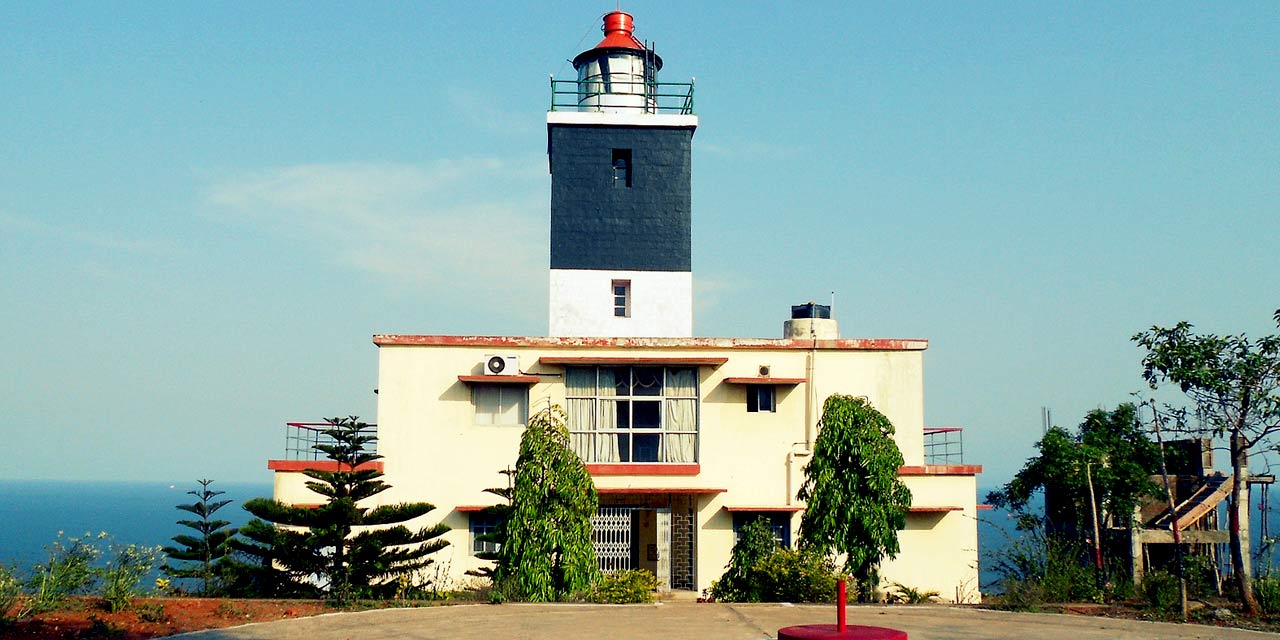 Dolphin's Nose Light House Vizag Entry Fee
10 per person for Indians
25 per person for Foreigners
3 per person for Children (3-11 years)
20 for Still Camera
25 for Video Camera
Dolphin's Nose Light House Vizag Phone
N/A
---
Rating:
| 4/5 stars
Based on total 58 reviews
Dolphin's Nose Light House Vizag Address: Visakhapatnam, Andhra Pradesh, 530014, India
---
If you're ready to walk an extra mile to witness the fantastic views of the ports, beaches and the entire city, there is no place better than Dolphin's Nose LightHouse. Nestled on the east coast of India, Dolphin's Nose LightHouse is one such place that gives you an opportunity to overlook once in a lifetime view that is hard to describe in words.
An ideal getaway for experience seekers and sightseeing lovers, Dolphin's Nose LightHouse, owing to its unparalleled beauty, serenity and cool and breezy atmosphere, draws thousands of tourists every year and has become a preferable hotspot for locals who want to get one step closer to the nature. It is indeed a paradise for vacationers who are seeking some time away in the city of Visakhapatnam and can be visited by couples and families with children.
Things to do at Dolphin's Nose LightHouse, Visakhapatnam
1. Stroll around the park to surround yourself with a wide variety of flowers and trees all around. It has a well-maintained park where you can sit back, relax and enjoy a picnic with your family before or after your visit to the lighthouse.
2. Capture innumerable pictures with a die-to-fall background at the backdrop. The place allows you to take some memories back home in the form of photographs.
Places to Visit around Dolphin's Nose LightHouse, Visakhapatnam
Make sure to spend some time at Yarada Beach whenever you are on your Vizag tour. Also recognized as one of the popular beaches of Visakhapatnam, Yarada Beach offers a calm, peaceful and tranquil setting for people who are after a mix of sun, sea and sand. It is just 4.6 km away from Dolphin's Nose LightHouse.
Ross Hill Church is another tourist attraction that you cannot afford to miss in Visakhapatnam. The iconic landmark of the city, Ross Hill Church, built by Britishers, is a beautiful catholic church that features a serene environment to soothe your mind, body and soul. Established in the year 1867, Ross Hill Church adorns an attractive architecture with divine vibes that makes you feel good not only from outside but from inside as well.
VUDA Park, Sivaji Park, VMRDA city Central Park, Indira Gandhi Zoological Park, Matsyadarshini Museum, Submarine Museum and Tenneti Park are a few of the other places you can explore on your 1-day, 2-day and 3-days visit to Visakhapatnam. If interested and have time, take assistance from the team of Holidays DNA to customize your itinerary and get ready to explore the must-visit sightseeing places in Visakhapatnam.
Image Gallery of Dolphin's Nose Light House Vizag
Entry Fee and Timings of Dolphin's Nose LightHouse, Visakhapatnam
The entry fee to visit Dolphin's Nose LightHouse in Visakhapatnam is INR 10 per person for Indians and INR 25 per person for foreigners. It opens its door for its visitors from 3 PM to 5 PM on all days of the week. You can also take your children along as the lighthouse charges INR 3 per person for kids between 3 to 11 years of age.
Travel Tips for Dolphin's Nose LightHouse, Visakhapatnam
Take care of your children while climbing up the stairs.
Make sure to bring your camera along. If you don't, you'll end up regretting your visit to Dolphin's Nose LightHouse.
Best Time to Visit Dolphin's Nose LightHouse, Visakhapatnam
Though there is no specific time to have the time of your life at Dolphin's Nose LightHouse, we recommend exploring it during the winter i.e., from October starting to March ending. This is generally considered as the peak season for tourists from all around the world.
You'll fall in love with the weather at this time as the overall climate is pleasant, the air is free of humidity and the temperature ranges between 15 to 30-degree Celsius, making it a perfect fit for you to roam around.
How to Reach Dolphin's Nose LightHouse, Visakhapatnam?
Since Dolphin's Nose Light House is nestled on the way to Yarada Beach, it can be easily accessed by tourists of all ages. To reach Visakhapatnam, you can opt for your favourite mode of transport to get to your destination at your own convenience.
The nearest airport is Visakhapatnam International Airport that serves frequent flights for both domestic and international travellers. From the airport, there are several options available that take you wherever you want to go within the city. Hence, you don't need to worry about your travel from the airport.
Another way to be in Visakhapatnam is via railways. Visakhapatnam Railway Station, which is a 16 km drive away from Dolphin's Nose LightHouse receives trains from the prominent cities of India to Visakhapatnam on an everyday basis. After arriving at Vizag Junction, book uber or a private taxi from top car rental companies in Vizag for hassle free experience.
Last but not the least, catering to your needs, the APSRTC department also operates several buses to and from the city. However, please note that there is only one bus that runs from Visakhapatnam Bus Stand to Light House in a day. So, it is advisable to check the time and frequency if you are planning to come by bus. Other than that, you can also get an auto-rickshaw from the bus stand.
---
To enjoy your visit to Visakhapatnam at pocket-friendly prices, book an all-inclusive Vizag tour package with us. At Vizag Tourism, a division of Holidays DNA, we design the travel packages keeping everyone's holiday duration and style in mind. Please fill in the Contact Us form to know more about our ongoing deals.
Location Map for Dolphin's Nose Light House Vizag